Tomorrow is the 119th birth anniversary of the founder of Lake House :
D. R. Wijewardene and the freedom struggle
Whilst promoting the nationalistic sentiments, Wijewardene took care not to be harnessed by the communal forces instead.
by Nelson S. Perera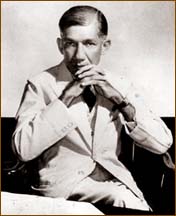 The national freedom movement in Sri Lanka was spearheaded by the privileged segment of the then society. In the freedom struggle, press baron D. R. Wijewardene played a dominant role. His family background, and the fact that he was the son of a successful businessman helped him a lot in consolidating his position in the colonial society.
His father, Don Philip Wijewardene was the proprietor of the well-known, 'Sedawatte Saw Mills'. Wijewardene's marriage contract with the daughter of another leading businessman of the day, Dep Weerasinghe was a filip to ameliorate his business interests. Alexander and Lewis emerged as the young, prosperous entrepreneurs to succeed their father Philip Wijewardene on his premature demise at the age of 38.
Born on February 28, 1886, D. R. Wijewardene had his preliminary education at St. Thomas' Cololege, Mutwal, Colombo. He returned to the island in 1912 having studied law at the Cambridge University, England.
To Wijewardene, the young lawyer practising at Hulftsdorp, the citadel of legal fraternity, the English lawyer, F. A. M. Cobert gave the idea of starting a newspaper. However, Cobert's efforts at securing the, "Independent" newspaper to Wijewardene did not succeed but his initiative had a lasting effect on the latter's venture into the newspaper business.
Wijewardene took the epoch-making step towards building his newspaper kingdom by acquiting, 'Dinamina' pioneered by H. S. Perera, in 1914. In quick succession he next took over, 'The Ceylonese' in 1918 and rebaptized it as 'Daily News'.
A milestone in his odyssey towards press baronetcy was the outright purchase of the then 90 year old Observer in 1923.
The inauguration of Silumina gave the necessary muscle for Lake House to stand on its own feet.
Martin Wickremasinghe, the versatile writer says, "Wijewardene started altogether seven newspapers namely, Dinamina, Silumina, Ceylon Daily News, Observer, Sunday Observer, Thinakaran and Sunday Thinakaran.
He had a generation of journalists specially trained for the job, supported by an equally fortified organization. He had also installed modern printing machinery which could churn out 20,000 copies of newspapers in vivid colours within an hour. It is stupid to claim that money could do everything; but it is more appropriate to say all these could destroy monetary resources. As if one atop a mountain claims victory, Wijewardene prided himself having built the Lake House edifice on a solid foundation. (Silumina 18.06.50).
Greater significance could be attached to Wijewardene's historic performance due to (a) establishment of a successful newspaper company in Sri Lanka and (b) the pioneer role he played in the political articulation in Sri Lanka. It was his intellect and commitment that resulted in the build-up of a prosperous newspaper industry in the country. Whilst promoting the nationalistic sentiments, Wijewardene took care not to be harnessed by the communal forces instead. His talents in human resources management were in fact unrivalled.
The former sports Editor, M. M. Thoufeek who worked at Lake House for over 43 years bears enough testimony to this effect.
He says: Forty two years ago one day towards the end of October whilst being at the Times of Ceylon, I met a person of mature age but of wonderful make-up. For over an year I had to while away my time at the Times of Ceylon casting eyes on the day the war would be over.
The Times Management which promised employment encouraged me to contribute articles to the 'Sunday Illustrated'. I had written about 15 articles for which I was handsomely paid. The old gentleman called me in and said in a thin voice, "the Lake House chief, D. R. Wijewardene likes your style of writing. You had better go and see him with all that you have contributed so far. The appointment was fixed for 4.30 in the evening. The day dawned. Now I am before the newspaper magnet, D. R. Wijewardene. The Daily News editor H. A. J. Hulugalle was also present.
"You are the type of man we really need to work as a sub-editor and feature writer. We shall pay you double your present salary. You would also be further trained in journalism, Wijewardene assured me.
Accordingly, I was appointed sub-editor and worked as feature writer to Sunday Observer as well. Training was provided to me in provincial news, sports, commercial news etc. which a newspaper needed very much.
Going back down memory lane, I remember coming across Wijewardena about ten times, but three of which are indelible in my memory. Once to his question whether I had any misgiving or apprehension about my job in Lake House, I frankly said, 'No'.
However, when I related what my father told me then that the minority interests were safeguarded at the Times of Ceylon under European management, but in Lake House ..., giving a chuckle of delight he interjected,
Now, who is your editor? Mr. Janz, - a burgher!
Your Secretary, U. C. A. Nelson - another burgher.
General Manager, G. K. Stewart, - an European
And your Printing Manager, Raju, - an Indian himself!
So my myth was debunked!
He, in fact assured me, "please remember this organization is managed by the members of minority communities.
"Please convey to your father that you are safe under me". It boosted my morale (page 56-59 D. R. Wijewardene biography).
D. R. Wijewardene was not only endowed with the genius for newspaper industry but he had mastered journalism himself as evidenced by the way he dealt with the Soulbury Commissioners.
Lord Soulbury, Sir Fredrick Rees and Sir Fredrick Burns who constituted the Soulbury Commission arrived in Sri Lanka in 1944 with a mandate to report on the constitutional reforms. They enjoyed themselves their weekends at D. R. Wijewardene's Diyatalawa mansion, arcadia.
Referring to this, Wijewardene's biographers, H. A. J. Hulugalle and Piyasena Nissanka state as follows:
"Despite his failing health, Wijewardene showed interest in what the Soulbury Commissioners did on constitutional reforms. The Commissioners were hosted at his Diyatalawa mansion at weekends. Lord Soulbury's letter dated 6.4.45 to Wijewardene reads, "Since we leave tomorrow morning I write to convey my sincere thanks to you for all that you did to us during our sojourn at Diyatalawa.
Both your advice and help could be of much importance to us when seeking solutions to various problems (Page 113).
Wijewardene's subtle management of his newspapers is well-explained by what M. E. R. Abeysekera who wrote the editorials for Ceylon Daily News and Ceylon Observer says.
"To improve the efficiency of his newspapers the argus-eyed Wijewardene had his intellect fully harnessed while holding the keys as Chairman and Managing Director of Lake House. He had his attention always drawn not only on the editorial but minor items and the gossip column as well. I had my basic training under the observer editor - Hilary Janz and specially under the tutelage of his chief sub-editor and news editor, E. C. B. Wijesinghe before I was transferred to Daily News.
My main job was to write the editorial. Once in a blue moon, Wijewardene got me to write the editorial or an article on one of his selected themes. To encourage me in my job he got his peon to bring me bundles of old foreign newspapers with some parts highlighted in blue.
Wijewardene was gifted with a fine memory and also possessed innate skill for perfect work. He had and insight to the future to advise me to maintain a file for articles obtained from different newspapers for my guidance. (pages 27-28 D. R. Wijewardene biography).
That D. R. Wijewardene was the trail-brazer in the newspaper industry in Sri Lanka who pioneered the political articulation, is no cause for wonder.
To anybody who sees Lake House, the magnificent edifice which epitomizes the inherent power of newspapers, no introduction is necessary about its founder.
Translated by K. D. M. Kittanpahuwa.