Business
Features
Editorial
Security
Politics
World
Letters
Sports
Obituaries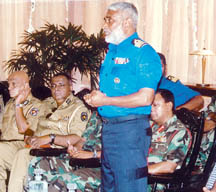 Chief of Defence Staff and Commander of the Navy, Vice Admiral D. W. K. Sandagiri, accompanied by the Army Commander, visited Trincomalee on Friday, July 15. He held discussions with the Senior Officers of the Army, Navy, Air Force and Police about the current security situation and gave necessary instructions. He also discussed with senior citizens and religious dignitaries in the area. Picture courtesy Sri Lanka Navy
Unseen hand behind Trinco violence
by our political correspondent
On receipt of intelligence reports concerning the possible subversive involvement of a leading political party in the South, in the recent disturbances taking place in Trincomalee, the Government has initiated a full probe into the entire range of incidents in the area during the last few weeks.


Full story
Clinton commends President
Representatives from several UN agencies and countries affected by the tsunami made presentations at a panel discussion held at the UN's Economic and Social Council. At this well attended widely covered event President Clinton praised affected countries for their commitment to recovery. However his highest praise was reserved for the President of Sri Lanka.


Full story
---
Other Stories