A jewellery designer par excellence
The hands that turn rough diamonds into jewellery
It was a story of discovering a new field by a talented young artiste. Ravindra who hails from the Southern province enters into this exciting field of jewellery designing with a firm determination of becoming a master jewellery designer.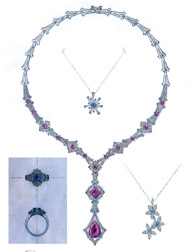 Knowledge coupled with years of experience in the field, Ravindra Jayatilake designed most of the jewellery, which were pieces of art symbolizing artistic ingenuity and mastery of designing aimed at the international market.
According to Ravindra, the ability of drawing along won't make one a good designer and a master designer should be able to tune himself with diverse cultures in order to cater to different segments of the international market.
It was his sister-in-law who introduced Ravindra to the field of jewellery designing. In order to gain an insight into the various techniques of designing and to gain theoretical know-how, Ravindra joined the School of Jewellery in Colombo and followed a 2-year diploma course in Jewellery Designing and Manufacturing.
"I learnt Jewellery Designing Manufacturing Gemmology, Metallography and casting subjects under the supervision of Rex Bilingham and Don Betan. It's only now that I realize the importance of those projects.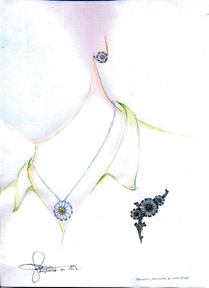 When something went wrong in the production of jewellery items we had to restart the process from the very beginning, as it afforded the opportunity to complete the work successfully without any defect. They didn't show us any leniency during the period of training. Because of this we took special care in the manufacture of an item." Says Ravindra about the strenuous and rigorous training that he underwent at the School of Jewellery in Colombo.
Explaining the international experience that he gained, Ravindra recalls how he worked at Al Musalli Factory for Gold and jewellery (Saudi Arabia), large-scale jewellery with over thousand employees.
During the years he spent in Europe, he often flew to Italy and the UAE to visit international jewellery fairs. It was at the Al Musalli Factory for Gold and jewellery that Ravindra underwent special training in market focusing design and manufacturing under Nilam Alawdeen of Alawdeen Ltd in Japan. (Chairman of the Coloured Stones Committee of the Japan Jewellery Association). The industrial training gave Ravindra the chance of visiting major jewellery manufacturing companies owned by Kazuo Ogawa and Nubuko Ishikawa, Gosho.
Returning to Sri Lanka, he joined Alankara Pvt Ltd, a large jewellery business establishment. This was a turning point in Ravindra's career as he is exposed to a wide range of specialized areas in Jewellery design.
Low market- Silver and low cost metal with Semi precious colour stones, Medium- 9 Karat to 22 Kt gold with semi precious stone and valuable synthetic stone, High Market- 18 Kt white, pink or yellow gold or 21 Kt light yellow gold with diamonds and precious stones or valuable semi precious, synthetic stones, cultured or natural pearls and quality workmanship. Luxury Market-Platinum, Palladium, Tungsten, white gold with quality diamonds, precious colour stones, natural pearls and high polished jewellery are some of the categories that Sri Lankan jewellery manufactures cater to.
In addition to specializing in diamond designing, Ravindra also designs coloured diamonds in pink and blue, which is rarely done in Sri Lanka.