Will Karu dream of DS again?
Seven years ago,when Ranil Wickremesinghe proposed Karu Jayasuriya to be his deputy,Jayasuriya walked up to Wickremesinghe and disclosed a dream he saw. There were many senior UNPers who were witnesses to this dream story. Karu said, "Sir, last night it was D. S. Senanayake who came in my dream and requested me to accept this responsible position". Ranil was overjoyed and quipped, "Senanayakes' have always put the country before them". Though the Father of the Nation, DS appeared in Karu's dream, he failed to appear so in a dream of his grandson, Rukman, to tell the latter that he was destined to be the chairman of the party. Rukman was scheduled to take over the chairmanship last Tuesday. Why was it put off? Because of whom? Except for one man all others stood by the decision to make Rukman the chairman to succeed Malik Samarawickreme.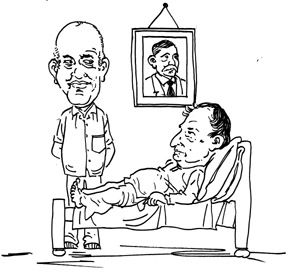 When the UNP Working Committee met on Tuesday, the stage was set for Ranil to propose Rukman's name and for Malik to second it. In the customary fashion, Ranil arrived earlier and called a meeting with Malik and Karu to convey his decision on making Rukman the new chairman of the party for a two-year period. In a shocking manner Karu Jayasuriya who earlier extended his fullest support to Ranil's decision said, "Sir, I want time to consider this move". Ranil was taken by surprise. Karu continued that he wanted to consult some seniors in the party. "I thought you were in agreement", shot back Ranil. By then Rukman had conveyed to Ranil that Karu had already sent of his (Karu's) emissaries to "Woodlands", Ajith Perera, brother of Major General(Rtd), Janaka Perera to convey that as deputy leader he was in full agreement to appoint Rukman as chairman. Not giving into the move by Karu, Ranil said he as the party leader had spoken to all party seniors and it was his choice as well. But, Karu insisted on a postponement to consult some seniors without mentioning names.
Ranil reiterated that there were no seniors left to discuss as he had discussed the issue with all of them. Later, it became obvious to Ranil that the 'senior' Karu had in mind was S. B. Dissanayake who was overseas. S. B. is known to be an ardent supporter of Karu from the time the struggle for a new leadership was launched after the presidential election. The other seniors Karu had in mind were Mahinda Wijesekere and Rajitha Senaratne. But, Ranil cut across to say that Rajitha had endorsed the move to have Rukman as chairman giving a shock to Karu. Ranil then briefed Rukman on the outcome between him (Ranil) and Karu. Senanayake, a soft spoken man told his leader that he was ready to give the choice to the party and added that if Karu wanted time till the next Working Committee meeting he had no objection.
Karu Jayasuriya, who hails the policies of the late D. S. Senanayake has been chief guest at all functions to commemorate the births and deaths of Senanayakes'. On every election platform, he has stressed the need to follow the Senanayake policies to inculcate a new political culture in this country.Senior UNPer, John Ameratunga on his feet questioned Ranil as to why the party was delaying the appointment of Rukman, when the electronic media had already announced it on that day. Bandula Gunewardene backed Amaratunga to say that it must be done early and all other appointments too should be made on that day. At this point, Gunewardene also moved that no member should be allowed to hold two party posts at the same time. This proposal is likely to prevent Karu Jayasuriya from being made the Executive Chairman of the UNP in addition to being deputy leader. With Rukman likely to be next UNP chairman, the party will scrap the move to appoint an executive chairman. S. B. Dissanayake will continue to be the National Organiser, the third high ranking position. The three senior Vice-Chairmen will be Alick Aluvihare, M. H. Mohamed and Dharmadasa Banda who entered parliament in 1965. Tissa Attanayake is tipped to be the General Secretary with two posts created as Deputy General Secretary for which Lakshman Seneviratne and Gamini Lokuge have been earmarked. Ten Assistant Secretaries will be appointed from the younger crowd that would bring in Ravi Karunanayake, Rajitha Senaratne, Gayantha Karunatilleke, Kabir Hashim, Mano Wijeratne, Lakshman Kiriella, Milinda Moragoda and three others yet to be named.
Meanwhile, the controversy over the rejection of the UNP nomination list for the CMC polls has taken a dramatic turn. Ranil appointed a three man committee headed by former minister and diplomat, U. B. Wijekoon to probe the 'tippexing' issue on a request by T. M. Sanghadasa. But, Sanghadasa wrote back objecting to the chairmanship of that committee of Wijekoon claiming that the latter was an ex-employee at Mercantile Group of which Moragoda was a shareholder. "I have no faith in such committees", stressed Sanghadasa.
Fingers are pointed at Moragoda and Mohamed Maharoof over the tippexing issue as two aides of the MPs are alleged to have played a key role in that dirty episode that had Sanghadasa out of the list by tippexing his name. Wickremesinghe has again acceded to Sanghadsa's request.
Another committee comprising three other persons would be named this week prior to Wickremesinghe's departure to the West for three weeks.