Musaeus College choir presents choral concert: Musical Boulevard
Musical Boulevard was presented by the Primary, Junior, Intermediate and Senior Choirs of Musaeus College, on August 18, 2006 at Bishop's College Auditorium.
Musaeus College for the first time came together from the primary to Senior Level to produce a choral concert, which was the brainchild of the Principal of Musaeus College - Mrs. N. K. Pilapitiya, directed by the choir teacher, Mrs. Subhashini Talwatte.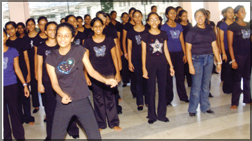 The concert was a mixture of musicals, pop and jazz and a little bit of drama thrown in to bring out the talent and the character of the songs.
The young Musaeites, seniors and Intermediates took to the stage in their theme song on 'Love' which was sung with great passion and was beautifully rendered.
Naduni Balasuriya and Irandi Kuruppu with their interpretation of 'Love Never Fails' and 'Love is a splendid thing' gave the audience something to remember.
Isuri Munasinghe an all-island winner gave a beautiful performance of 'Greatest Love of All' with the rest of the choir chipping in to make it a very fitting end to the first session of the programme.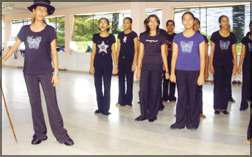 'Sound of Music' with its beautiful harmony and well-modulated tones, was acted very well.
Dhanushka Dodangallegama and Heshara Ranasinghe all-Island winners gave a very different version off going on sixteen and the leader of the section Piyumi Wijewickrema gave a performance of Mother Abbess.
Naduni Abeywardana's with her beautiful soprano voice will set the pace in the opening song "Sound of Music".
The young Museaites of the Primary section bounced back with rhythm and character in 'Snow White' and 'Bare Necessities'.
Menik Neydorff choreographed the pop and jazz session with a new look and a few Sinhala Numbers thrown in.
The Junior Choir did "Cinderella" and "Little Mermaid" with a high sense of drama in it. The Senior choir offered a Medley from "My Fair Lady" and Piyumi Wijewikreme - an All-Island Winner rendered "Loverly" and "I could have danced all night".
Yehani Weerasinghe as the dashing young man performed "On a street where you live". The curtain came down with "Aladdin" with all the magic of the Arabian Nights thrown in with a high sense of drama and quality singing as the young prince and princess dance to the delight of the audience with the choir singing "A Whole New World".