They believe in meditation
Natasha and Stephen a Sri Lankan sister and brother, born in France came to Sri Lanka this time not to enjoy the sunny beaches or hospitality, but to develop their souls. "We came to learn meditation. So we meditated, learned the art of meditation gained a lot.
It is something that one cannot explain in words.!," beams Natasha Dilrukshi, a 20-year-old Dental student who carries a smart and straight figure and is six feet tall. "Yes, meditation is a marvellous experience," agrees her brother Stephen Dilshan, an 18-year-old prospective Chemical Engineering student, also a strapper like his sister.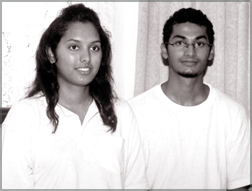 Dressed in full white T-shirt and a pair of three-quarter length trousers Natasha picks up words in English and Sinhala to converse. Stephen, in full white casuals sat straight beside his sister listening quietly for most of the time.
Their parents had settled down in France 25 years ago. Natasha and Stephen have been visiting Sri Lanka since they were infants. After they got use to the creche, their parents started sending them alone with a known Air hostess They started sending us alone as they did not have leave to come along with us every time. But they used to come down to fetch us back," reminisces Natasha.
So little Natasha and Stephen since the age of three of four spent their French Summer holidays with their maternal grand parents at Moratuwa. Thanks to their grand parents they could polish their Sinhala . Their first language is French, and have learnt Spanish and English as second languages.
They love piano music, and have excelled in many sports. Badminton, Tennis, swimming, soccer, volleyball and you name it they have done it.
"Now we are more into studies. It will take about six to eight years for me to become a Dental Specialist. I'm still in the first year," says Natasha.
Four years ago, Natasha had followed a piloting course. "A friend of my parents is a pilot-trainer at 'La ferta Hale' in France. It's a place that exhibits aircrafts used in France from the very inception (including those used during the second World war) . What I did was a basic course, but I can pilot a small personal flight," she smiles .
France is predominantly Catholic , but the present generation leaves a broad margin for other faiths as well. "None can show their religious differerences in school. Muslims are not allowed to cover their heads nor can Christians or Catholics wear the Cross. The school rules are very strict.
What they say is that children should come to school only to study and not to display their personal religious beliefs. It is the home environment that provides them separate beliefs and faiths," says Natasha.
Stephen listens and looks calm. "Soon after I return to France I will get myself registered for the two-years-compulsory-intermediate course call 'Class Preparatoire' before I start the full fledged course in Chemical Engineering. In this course the student has to work strenuously day and night.
Maths, Chemistry, English, French history and philosophy will be among my compulsory subjects. If we get through this only we could go further up in higher studies. Passing A/Ls is not the only requirement," says Stephen.
Browsing the Internet and painting were among Stephen's hobbies other than sports and playing piano like his sister. "I accompanied my Akki when she learnt piloting, but I was not interested in that," he grins.
Sigiriya, Anuradhapura and Kandy were the few places the sister and brother have visited during this vacation.
The three-week holiday was spent in a worth while manner, they think. "We went to Devanapatissa Vipassana International Meditation Centre, Pallekele, Kundasale in Kandy during our last year vacation too. But since we found difficult in the language we acquired nothing. But this time we were successful. We stayed there for a week and practised 'Ana-Pana Sathi' (meditating by concentrating one's own breath).
And we are going to continue the practise as it brings serenity to the mind. And it also enhances our concentration limits which would directly help us in our studies. Also we will share this experience with our friends in France too," says Natasha. When asked whether they would prefer to live in any other place other than France the duo smiled.
The French consider health as the most important thing of all, and issue free medical cover to all the citizens. And France is relatively a peaceful country with less colour-bar problems. Sri Lanka is good for a holiday as most of our relatives live here. Hereafter we will be visiting Sri Lanka not only to see our kith and kin, but also in search of advice for meditation," explains Natasha.