Things went unbearable: Little angel never returned home
The parents of Joe Geeling, the 11-year-old cystic fibrosis sufferer who was beaten, stabbed and dumped in a park, yesterday watched their son's killer jailed for at least 12 years.
After Michael Hamer was sentenced to life for killing his schoolmate last March, Tom and Gwen Geeling spoke of their outrage at the crime, their "grief and bitterness" over the death of their "little angel".
The couple, from Bury, Greater Manchester, also said they had difficulty in understanding why the judge would need a "victim impact statement" which, they said, describes what is "blatantly obvious".
Their statement, read by Joe's father in Manchester crown court said: "The police have explained the victim impact statement scheme to me and my wife Gwen.
"We have been asked to make an impact statement explaining how the family has been affected and how we feel about what has happened.
"Firstly, we need to be writing this in 25 years' time for it to be accurate. "Secondly, we find it difficult to understand why a judge who will have been selected for his wisdom and expertise in many traumatising cases of suffering and loss would need what seems to be blatantly obvious describing to him. Our son meant everything to us. We spent many happy years grooming him into the smart, witty, loving, young man he had already started to become.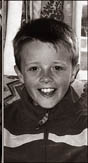 "In spite of the drawback of being born into this world with cystic fibrosis and enduring more than his fair share of hospital visits, we had managed to instil in him a 'no self-pity' attitude.
"He understood that those were the cards God had dealt to him and together we made the best of what we had.
"On occasions he would even remark on other youngsters at the hospital as being a lot worse off than he was, which would make us silently very proud of him. He was indeed a very brave and kind-hearted little lad.
"Joe loved school and was coming along well. He had many friends and loved playing. Even though we have another little boy, Joe was always the centre of attention with his corny jokes and his comical outlook on things.
"Because of his size, older people were often surprised by the way he could hold a long and meaningful conversation with them, indeed once you met Joe he generally left an impression on you. "Since the day when our son never returned home from school, things just went from bad to worse to unbearable.
The facts of the case you may already know but in our case the drip-feed of information regarding his suffering throughout his ordeal has been enough to break any man let alone a loving and devoted mother. "We have no choice but to stay strong for the sake of James and in my case for the sake of my older children who loved and cared very much for Joe.
"Unfortunately I was made redundant just prior to this happening but dealing with this has for a long time left me unable to pursue a career again. I have never been out of work from leaving school 30 years ago, and in fairness I have been offered a few responsible jobs but I cannot take them, as I know I would let them down at the moment. I do work now but just driving a van. Work these days is nothing more than a distraction to try and stop me thinking about this.
"We cannot make any sense whatsoever out of Hamer's actions. We feel he will leave us never knowing the truth about the many gaps in his version of events. This we find extremely difficult to come to terms with.
"My wife and I privately weep all the time. We weep about what we could, would and should be doing with Joe now. We cry whenever we reminisce over every little thing he has done or made in the past and the grief and the bitterness all comes back over and over and over.
"We each have some very bad days where you simply cannot function and you just can't explain to anyone what the problem is.
"Our son James often gets upset when he comes to situations where his big brother would have helped him or played with him and nobody has realised he is all alone again.
"Sometimes he is inconsolable and putting him to sleep some nights can take an eternity.
"James has just turned seven and although honesty is our policy, we have not yet been able to tell him the fuller facts. "It was so painful and upsetting to tell him that Joe was lost, that Joe was found but he was dead and later that he was stabbed by someone. "James still has worse to come because as he will inevitably find out if we don't tell him. "At his tender age his perception (rightly in our opinion), is that if you do something really wrong like murdering somebody, a policeman will catch you and you will go to jail and the key would be thrown away.
"We considered this a part of teaching what is right, what is wrong and what is totally unacceptable, when he discovers what really happened to his brother and that life imprisonment does not mean what it says, even we won't come close to the horror and fear that he is going to suffer. "So far we have made it through without counselling.
By talking everything out we are a strong family and our church, our relatives and friends and even some relative strangers have helped us where they could, but we fear for James's future, and we fear about the time when Hamer would be released.
Will he be safe? Will we be safe?
"We could ramble on for ever giving endless examples of how this despicable crime has devastated our family, but like we mentioned at the onset, we think any judge, in fact any parent, will know this is their worst nightmare and they only need to ask themselves - 'How would they feel?'
"We just pray to God that as the years pass the pain may ease and the happy memories return."
(Guardian)