Madonna baby flown out of Malawi
Madonna and her husband, Guy Ritchie, have been granted an interim adoption of a Malawian baby, giving them temporary custody of the child for 18 months, the singer's spokeswoman said last week. A court in Malawi issued 13-month-old David Banda with a passport and visa earlier today, allowing him to travel outside the country.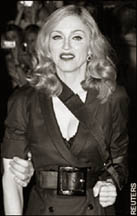 He was then put on a private jet to South Africa accompanied by a group of aides believed to include a nanny and a bodyguard.
Madonna's spokeswoman, Liz Rosenberg, said David would be reunited with his "new parents" within the next few days. A statement from the publicist said: "Madonna and her husband, filmmaker Guy Ritchie, have been granted an interim adoption of baby David by the courts in Malawi.
"He was issued a passport and a visa was granted earlier today which allows him to travel outside of Malawi.
"This interim adoption grants David's new parents temporary custody for 18 months, during which time they will be evaluated by the courts of Malawi per the tribal customs of the country.
"It is expected that the family will be reunited within the next few days."
An immigration official at the airport in Lilongwe, Malawi, said David was believed to be heading for Britain via South Africa. He said the baby had also been issued with a US visa.
On the same day Madonna took the little boy from his home to start a new life, human rights groups filed court documents asking a judge to review the adoption.
They are concerned that the process has been fast-tracked due to Madonna's celebrity, and claim the authorities may be bending the rules in return for the singer pledging $3 million to help children in Malawi, one of the world's poorest countries.
Boniface Mandere of Eye of the Child, a local child protection society involved in the legal challenge, said: "Being a good parent is not about money, it is about caring, having heart. It's about love."
Madonna, 48, wants David to be a brother to her children Lourdes, nine, and Rocco, five. Two months ago she announced she would donate o3 million to the country through the Raising Malawi charity.
Her partner in the project is Michael Berg, founder of the Kabbalah Centre in Los Angeles.
(NY Times)