FBI raids home of Weldon's daughter
Three weeks before Election Day, an FBI corruption probe involving Republican Rep. Curt Weldon went public Monday when agents raided the homes of his daughter and a close friend.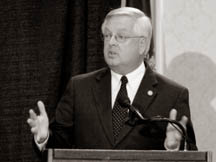 The FBI swept in and searched six sites in the Philadelphia area and Jacksonville, Fla., including his daughter's lobbying firm and one of its clients, a Russian energy company, FBI spokeswoman Debbie Weierman said. The congressman's home and his offices were not searched, she said.
"I have not done anything wrong and my daughter hasn't either," Weldon said at a press conference late Monday afternoon. "I would absolutely never use my position to help anyone in an unusual way."
Federal investigators are looking into whether Weldon used his influence to help Solutions North America secure lobbying contracts worth $1 million from foreign clients, two people familiar with the inquiry have told The Associated Press.
The company is run by Karen Weldon and Charles P. Sexton Jr. Sexton is the Delaware County Republican Party Chairman and a close friend and adviser to the lawmaker.
Weldon called the timing of the raids suspect.
Weldon, a 10-term Republican from the Philadelphia suburbs who is vice chairman of the House Armed Services committee, is locked in a tight race for re-election on Nov. 7 against Democrat Joe Sestak, a retired Navy vice admiral.
"What I find ironic, if there is an investigation, is that no one would tell me until three weeks before the election," Weldon said. "This incident was 2 1/2 years ago."
Weierman confirmed that the six raids included Karen Weldon's upscale town house in the Queen Village section of Philadelphia; Sexton's home in Springfield and two offices related to their company, Solutions North America, including one in Media.
The FBI also searched two Jacksonville properties of Itera International Energy Corp., including its headquarters, Weierman said.
The Russian natural gas firm was paying Solutions $500,000 a year for public-relations help, according to a 2004 Los Angeles Times article. Around the same time, Weldon gathered 30 colleagues for a dinner in Washington honouring Itera's chairman, the newspaper reported.
The FBI arrived at the Itera Corp. headquarters with three large trucks and a dolly, wheeling out several boxes of documents and carrying away large manila envelopes. Earlier, agents searched a private home in Ponte Vedra Beach, which is southeast of Jacksonville.
Last week, the Democratic Congressional Campaign Committee mailed fliers to voters in Weldon's district accusing Karen Weldon of getting help from her father on lobbying projects.
Weldon said his daughter received no special consideration because of him.
Weldon said he has not received a target letter and has had "no communication or contact with anyone, nobody from the Justice Department."
Weldon, regarded by some as a foreign policy expert, has clashed at times with the Bush administration. In the last year, he has repeatedly said a secret military unit called "Able Danger" used data mining to link four Sept. 11 hijackers to al-Qaida more than a year before the attacks. A Pentagon report rejected the idea.
Weldon acknowledged that Republicans now control the Justice Department, but said he still may have foes there.
"I understand that. I'm not stupid," he said. "I may have offended some people. I've been known to do that from time to time in Washington in both parties."
The FBI, through Weierman, declined to respond to Weldon's charge that the probe is politically motivated.
Karen Weldon, 32, previously worked for Boeing Co., which has a helicopter plant just outside Weldon's district. Her attorney, Joseph Fioravanti, did not immediately return a telephone message on Monday.
Sexton announced last year that he would step down from the county party post at the end of 2006, in part to pursue business opportunities in South America and Eastern Europe.
Given the probe, Sexton will take a leave from his role as an adviser to the congressman's campaign, Weldon said. Sexton did not return a message left Monday at his home.
(Associated Press)