IOI 2006: Mexico
The International Olympiad in Informatics (IOI) is one of the most prestigious and healthy educational competitions that happen annually. The team that represented Sri Lanka in IOI 2006 held in Mexico, returned to the country with one Silver and two Bronze medals last August.
Assisted by Dr. Gihan Wickremanayake (UCSC) as Team Manager and Sifaan Zavahir the Sri Lankan team had four participants, Parinda Jayasiri, Chetiya Abeysinghe, Sandaruwan Gunathilake and Nuwan Samarasekera.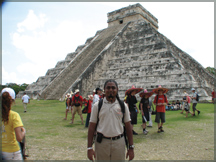 For these young achievers, the IOI 2006 experience in Mexico was not only an educational one. The Mayan Pyramids, bars, beaches, theatres, water rafting, television interviews, and singing and dancing in the city streets had showed them a culture unique and unmatched while giving them an opportunity to explore and discover a totally different world than their own.
Nuwan, who seems to be the cultured man of the lot, talked passionately about the Mexican culture.
"They have a really nice culture. I went with Sandaruwan to a theatre and you can see that they are really into aesthetics."
"When we were returning to hotel our guides were singing Spanish songs and all the people in the streets were supporting. It was really surprising."
"When they hear the music in the theatre, even the people walking near it stop and start dancing in the road. It's so common and natural to them. They are like born to sing and dance. One guide even taught us some Latin dancing steps."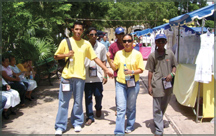 "Every Sunday, they go to the town, get together and dance" adds Sandaruwan. "It's a nice country. For a guy who loves cultures its worth visiting."
The team had also gone to visit the ancient Mayan Pyramids while they were in Mexico.
"Actually we went to Mexico in August and I can't remember most of the things we did," says Chethiya. "But the most significant thing that remained in my mind is the pyramids and the old Mayan Culture."
"We went to a place where they have played a sport like football," says Sandaruwan. "There were a few carvings and they mentioned one important thing, the winner of the game gets the chance to sacrifice himself to God."
"They thought it was an honour. Sounds crazy right?"
Mexico is not only famous for its culture but also for the beautiful girls or Latinas that reside there and seem to capture everyone's hearts. So culture was not the only thing the boys had their eyes on in Mexico.
"Nuwan wanted to talk to a girl," says Sandaruwan. "So, he started eating grass hoppers."
Though the claim by Sandaruwan was probably exaggerated and misplaced, Nuwan didn't want to hide the underlying truth anyway.
"We had a day where we could eat prehispanic food," explains Nuwan. "There were grasshoppers, cockroaches, worms and I ate all of them. She was the most gorgeous girl guide of all. So dukatath ekka kawa."
Winning medals for their country, learning ancient Mayan traditions, learning a few Spanish words in the process of communicating with the not-so-fluent English guides and falling in love with beautiful girls were not only the learning points they got out of the whole event. It seems that the team had an interesting encounter with the Mexican Media as well.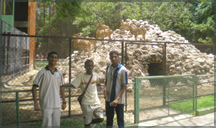 "By the way, I was in the TV," says Nuwan casually as possible. "A channel called Azteca interviewed me and asked about the competition, how I feel about Mexico, etc."
"They only showed him for about 15 seconds," adds Sandaruwan mischievously. "But they interviewed him for about 10 mins. Nuwan started using fair and lovely after that!"
Parinda, Sandaruwan and Chethiya who are the senior members of the team also belong to another family. They (and couple of others) have a small software company called paradox to their name.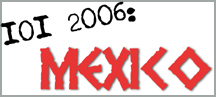 "We got together when we were competing for the National Best Quality Software Awards held by the BCS," says Sandaruwan. "There are three categories, school, university, and business. So five of us got together and started to create a Sinhala search engine. Some of us were in school, and some in universities, so, we had to go for the business section."
"Our competitors were like Dialog GSM, hSenid, MAS Holdings, etc. but however we managed to win a bronze. And we took the concept and made it into a business."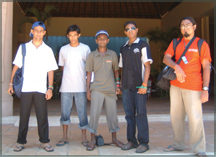 The International Olympiad in Informatics may have been over and finished without the world or country even knowing of it. But for these young achievers the Olympiad has given birth to a whole array of opportunities and prospects. Learning from the best, learning with the best and having the self-confidence in oneself to a degree of representing the country without hesitation, has molded these boys into young men.
As long as they keep this rhythm going, its guaranteed Paradox software Ltd will not be the last entrepreneurial concept that will come out of these brilliant minds. And Mexico will not be the only place they'll be visiting.
---
Parinda Jayasiri, Silver Medalist
Finished AL. Applying for University.
School: Royal College, Colombo
Achievements:
IOI 2003 - Silver Medalist
IOI 2004 - Gold Medalist
Winner of all three Olympiads (Mathematics, Physics, Computer) in 2006 (Sri Lanka)
Member of Computer society in school
Ambition: Top Secret
Interests:
Management, Graphics design,
Astronomy (gave up), movies (not given up yet)
How you see yourself in 10-15 years: can't see
Chetiya Abeysinghe, Bronze Medalist
Finished AL. Applying for University.
School: Maliyadeva College, Kurunegala
Achievements:
IOI 2002,2003, 2004,2005, 2006 Bronze Medalist
President of the computer club in the school
Active member of the science society
First place in National School Software Competition twice
Hobbies: Not doing anything as a hobby.
So everything I do can be counted as a hobby.
Ambitions: have no idea yet
How you see yourself in 10-15 years: Silent.
Sandaruwan Gunathilake, Bronze Medalist
Software Engineering undergraduate, IIT
School: Sivali College, Ratnapura
Achievements:
Member of Science club in school
Fourth time in IOI
Bagged two bronze in 2004 and 2006
Ambitions: no ambitions
How you see yourself in 10-15 years:
A director of a big company called Paradox
Nuwan Samarasekera
Engineering undergraduate, University of Moratuwa
School: Ananda College, Colombo
Achievements:
Won the Australian scholarship in chemistry
All island winner in organ music (way back in timeā€¦)
Interact Club: Treasurer
English literary union: Treasurer
Mathematics club: asst Secretary
Technological club: Secretary
Represented his school in zonal mathematics, computer, science and English competitions
Ambition:
Want to do something that will have a big effect on the world
How you see yourself in 10-15 years:
CEO of a Multi national company + social worker