Disaster Warning using ICTs
Sarvodaya's community based approach
Theoretically, ICTs are supposed to enhance the quality of life, bridge the digital divide and empower the poor and rural communities to stand up on their feet. Theoretically.
But practically, things are different. There's always a fair amount of marketing involved to get anything started and in the end it's human beings who use ICT. And human beings are ignorant, unreliable and super-saturated with vanity. So usually even if the ICT in question is foolproof, the system will not necessary be so.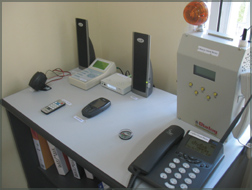 But a recent visit to Sarvodaya's Disaster Warning Hub left us with fresh hope. LirneAsia together with Sarvodaya has put together a disaster warning system that directly involves the villages in the selected Sarvodaya villages.
When the Disaster Hub receives any sign of disaster from its sources it will notify a villager who has been chosen by a number of ways.
A CDMA fixed telephone line is used to warn the villager. But in times of a disaster the telephone lines are not always dependable. Therefore 3 more Communication Technologies are used.
The ICTs
The Dialog Early Warning Network Remote Alarm Device (jointly done by Dialog Telekom & University of Moratuwa) which is a kind of a fixed device operates on a Dialog SIM card. What it does is that it let's out a loud siren, a flashing light and a message that's displayed on its small screen. It also has a receiver so when the villager picks it up on his or her end it directly connects with the Disaster hub.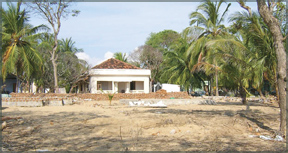 Then there's the WorldSpace satellite radio network. Sarvodaya has given another set of villages this instrument and are trying to start a separate radio station where educational programs and disaster awareness programs will be telecast. But most importantly this also acts as an alarming device. The villages are monitored by giving a number everyday to type in and renew the connection with the disaster hub.
The third one is an impressive little phone software which gives off a siren (not the normal ringtone) even when the phone is on silent mode after which a brief description about the disaster would follow.
The backbone is a satellite internet connection called VSAT that provides a reliable and dependable source of information and that can be relied upon in a time of crisis.
The Human Factor
But technology is not the main reason why this disaster warning system proves to be promising. It's the way that Sarvodaya has used its community service as a way of establishing it in tune with the local villages. When it comes to making a call to evacuate or take necessary steps, it should be done so by a well respected and accountable party. As well as by a strong voice that can get the message across without being questioned.
So a voluntary group of youth were chosen from each village and were given a training. They were to go back to their villages, make detail lists of the inhabitants, tell everyone else what's going to happen, look for an emergency evacuation area near - a area which is safe near the village - and finally give the responsibility of calling for a evacuation to a respectable village elder.
After the elder has been chosen and the equipment given him/her, the disaster warning hub has been constantly keeping a log of messages they've successfully sent across and if it wasn't delivered a log of the reason for that as well.
So it's kind of like a centralized de-centralization of responsibility. The success of the pilot program will be determined by a test run that will be conducted by Sarvodaya, Lirneasia and all other stakeholders soon.
Technology for the Community
Most of the time the technology developed in other countries are not directly compatible with our communities. Not only the language but also the cultural aspects and even the design approach may be too foreign to grasp. Especially when designing technology for the rural community these facets should be considered over and over again.
After the design, the implementation also has to bear with the same issues. Here there has to be someone who knows the technology well enough and also someone who knows the community even more thoroughly. Organizations like Sarvodaya can be of much value in this realization stage.
For some, designing and implementing technology for the rural community is a useless undertaking. "The rural people are lazy and they don't know what they want. It doesn't directly boost the economy, and it's a waste of energy, time and resources."
But once in a while, it's grateful to know that our IT professionals do care about the rural community (specially when it came to the voluntary work done in Sahana and etc) and it's grateful to know that there are organizations capable of sending the message of technology across to a community that needs the technology more than anyone else. Let's just hope that these two can combine forces and work towards a better country in the days to come.