Elizabeth Moir school presents:
Fashion show at Dazzle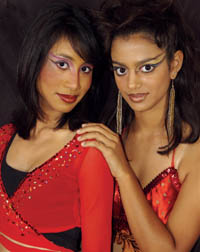 Elizabeth Moir School's grand new production, Dazzle, is a unique blend of many modes of theatre. We spoke to some of the cast about their opinions on the production, modelling, singing and life in general.
Rex, one of the male leads, played by Nathan Kerner, is an arrogant, self-serving, ruthless rock star who proves to have a rarely-seen sensitive side. In an interview with Nathan we asked how like his character in Dazzle he was in real life. He drew a parallel between Rex's love of music and of performing and his own, but was quick to point out that while he shows different sides of his personality to different people he hoped that he was not as arrogant as Rex!
Sheyann Kerner plays Samantha, the love interest of one of the male leads. Her character is that of a modest tomboy who lives with the secret that she is in love with her best friend, Gavin, bottled up inside her.
We asked "In Dazzle Samantha is reluctant to tell her best friend that she loves him because she fears he will reject her as he spends his days surrounded by beautiful models. How important a role do you feel looks play in love?" Sheyann commented that while looks may play a part in first impressions they have little to do with liking a person once you have gotten to know them.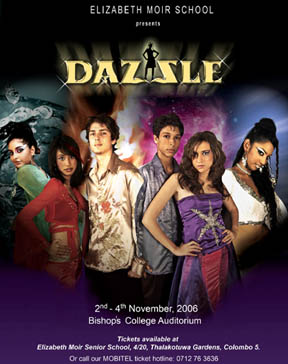 The final lead is played by Nathan Imboden, who has acted in numerous plays and concerts and is renowned for the hyperactivity and comic timing he brings to his characters, but in Dazzle he plays Gavin, a quiet, happy photographer. In order to prepare for the role Nathan said, "before I go on stage I run through all Gavin's actions and characteristics to get into character. It has not been difficult, but it has been time consuming to slip into the role".
As well as acting, the dancing component of Dazzle features heavily, with a number of different routines and styles, from hip hop to baila choreographed by Natasha Jayasuriya. Juhi Subba, one of the extremely talented dancers in the cast who is in most of the dance sequences, commented that "the dancing is really fun, but it takes a long time to learn the routines. While rehearsing is tiring, we support one another and put in all our energy so its very rewarding."
While the acting and dancing is sure to induce feelings of nervousness on the night, the pressure to perform well is also keenly felt by the soloists. In Dazzle it is clear that the singers have worked very hard on their performances, and Devika Menon who sings Its Raining Men says that while she is, very nervous, she is sure that the atmosphere on the night combined with all the hard work all the soloists have put in will ensure that the songs will be a huge success.
The truly unique aspect of Dazzle is its inclusion of a fashion show between the two Acts. The beautifully designed costumes are being worn by many models both male and female and have been designed by Sonali White of Haddai. Dazzle is directed by Aida Mansoor, while Nathan Kerner and Hashir Milhan, two final year students, are assisting her.
Catch Dazzle at Bishop's College Auditorium from the November 2-4. Box plan and tickets are at Bishop's College Auditorium or call the Mobitel ticket hotline - 071263636 for details.
R.C.