"Why was she foolish enough to marry you?" In this series, we ask couples how they met - and then the rest...:
Happy journey: Patience rewarded
Hey you guys, are you fed up of waiting for a positive word from HER? Or how many years have you been waiting for her hand? DON'T give up! Thyagarajah Thamotheram had waited TEN long years for his 'Ukkum Baba'. "I would have waited for twenty years," he butts in. "The glamorous girl whom I got married 46 years back is today a humble housewife," whispers Thamotheram.
Ambihai Maharajah alias Ambika alias 'Ukkum Baba' was born on March 25, 1927 to a famous radio artiste C. R. Maharajah and Gowrambal Maharajah at Kotahena. Ambika is her shortened name and 'Ukkum Baba' was her pet name. She was the youngest of the three daughters of Maharajah.
Ambika lived a wonderful life with her family at their bungalow adjoined to their own property, the famous Maharajah Dharma Chathram and Temple at Kotahena. "Both parents were famous musicians who played live music at The Radio Ceylon.
They also conducted music classes at the Dharma Chathram," reminisces Ambika. "My father was a very jovial six footer with a heroic build. He was a landed proprietor, and had a good income. So, the rest of his time was dedicated to music. We, all his three daughters were also music lovers.
So, we had a family orchestra and used to have live concerts at various places and live radio programmes. Those days there wasn't a recording system so that the Radio Ceylon does not have my parents' songs," she sighs still with a smiling face.
Thyagarajah Thamotheram was born on September 01 in 1922. His father V. Thyagarajah, a small time landed proprietor was a playful mortal who loved wine and violin. "My father's ancestral place was Hendala (where they still live) and my mother was from Vaddukottai, Jaffna.
My mother was a very practical person. Nothing made her either very happy nor very sad. In fact she never showed her emotions. But she was the driving force in our lives, all her seven sons and the daughter," reminisces Thamotheram.
"My father had three boutiques at Kyman Gate, Gasspa Junction and he ran the family out of the rent he drew from them. But it was quite sufficient to lead a contented life. Hence he had less worries and had a jolly-good time.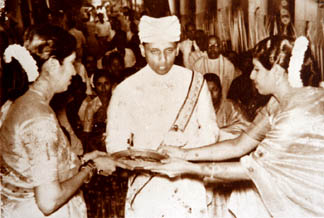 Thamotheram had studied at the Good Shepherd Convent, Nayakkanda up to Grade four and then entered St. Benedict's College, Kotahena where he studied upto his London Matriculation. Thamotheram's next aim was to have a job. So he applied for the government service and the bank, and selected the Bank of Ceylon (BOC). "It was tedious.
Working under Europeans was not easy. But once they came to know that I was an honest person, things became easier," recalls Thamotheram.
Hard work
Thamotheram had to work very late and many days he had to catch the last bus from Pettah to go back to Hendala. He hardly had time even to continue his further studies. But there was one thing which he never failed to attend - that was to visit Ambika's place every weekend. Ambika and Thamotheram were related by an aunt-uncle marriage, but had been very close since their birth.
Thamotheram had some kind of inclination towards her which he couldn't exactly figure out, when he was small. Unlike Thamotheram who had the great gift of patience with less talks, Ambika was a very forward and radiant young woman who had an incompatible beauty with a glowing pink complexion.
Even while studying at Wolfhendol School, Kotahena she started learning Manipuri dancing under Mrs. Noble Paullicpulle at Rajagiriya. Actually, my dream was to be an actress in India," she says. Ambika smiles every time. I (the writer) never found her face without a smile throughout my stay with them at Hekitta Road, Hendala.
She learnt Kandyan dancing from Nalini Samaraweera, a senior student of Paullicpulle who later took over the dancing school. "I loved Kandyan dancing a lot. Since I was not fluent in Sinhala I wrote all the 'Vannam' in English and studied. My Kandyan Drum Guru was Sirineris Gurunnanse.
I was devoted to music and dancing so that I never bothered about any admirers," she laughs as if she knew the next question I would throw at her might be about her. "No, no, I never had a boy friend because ours was a very orthodox family. Even when Thamotheram Anna (brother) visited us I sat and talked with him only when my sisters were around. But, I always admired him, and decided that I should also get married to a teetotaller like him who would not go for a dowry.
He was so decent. Everybody liked him including my parents and sisters. Even my little nephews and nieces adored him. They waited to see him every weekend," she laughs again. Though Thamotheram did not say anything, his mother suspected her son's heart and soul had already been stolen by the pretty dancer. All his brothers and sister were settling down.
And it was his turn. He was too shy to forward his proposal by himself to Ambika's parents. So he sent it through his uncle. The Maharajahs were benevolent over it. But! Ambika had many other visions other than getting married so soon. "I am still nineteen.
I want to go to Lucknow, India to further my dancing talent," was her answer to her elder sisters who continued blaggarding Ambika for not saying 'yes' to his proposal. The angry sisters went on to say " You foolish haughty idiot. You think no end of your beauty. Don't ever think a decent guy like him would wait for you tolerating your upishness."
But they were wrong. He stayed for ten years. He was hurt over the refusal, but made up his mind. "She would say 'yes' to me one day," he believed and continued his usual visits to Ambika's place and tried to be casual.
Ten years passed. While things were going on smoothly, one day some mysterious thing happened. Ambika's elder sister's two and a half year old daughter, Gayathri came to Thamotheram when he was chatting with Ambika's mother. She held his hand and fetched him to a corner. "I want Anta (they called Ambika by that name) to be your friend," she said. Thamotheram was shocked over this tiny toddler's remark, but kept it to himself as he did not want to dig the past memories back.
Thamotheram took a firm decision. "Whatever happened I will wait for her for any length of time," he pledged. But he didn't have to wait long. A miracle was awaiting him at Ambika's place. Next day, when he visited Ambika's place, her sister came to him and said Ambika had given her consent.
Thamotheram had his second shock! He was elated. But didn't reveal it and tried his best to be cool. Nearly thousand relatives and friends attended their glamorous wedding held at the Maharajah Dharma Chathram on a Thursday, August 25 in 1960.
Thamotheram spent for the whole wedding. Ambika was dressed in an elaborate white saree for the 'Manavaram' (Virgin Pooja), and wore a luxurious red Manipuri saree for the main Pooja. After exchanging garlands they went around the fire thrice which was set to offer the Hindu gods. The gods and goddesses might have blessed the new couple to have a long married life.
Hindu custom
According to the Hindu custom they spent their first night at Ambika's own house and took part in the dinner arranged for the relatives on the third day after the wedding.
Then, they went to stay at the rented house at Mount Lavinia. "It was my condition. I want to be non-interfered with and independent. I started my own Kandyan dancing school and was leading a happy life.
We built this house later at Hendala and settled down here. I continued my dancing class until 1983," she recalls. "We lost our property at the communal mob. But we have no grudge against the Sinhalese as we have been moving around with them since we were small. It was done by a few thugs during that era. We even speak Sinhala at home. Our two children studied in the Sinhala medium. We hope this civil war would end soon," they sigh.
The Thamotheram couple is blessed with a well devoted son and a daughter. Their son, Mohanlal is a Swiss qualified pastry chef while their daughter, Shermila is an MBBS doctor at Ragama Hospital.
"There's one more thing I would like to say," butts in Ambika. "Always have a smiling face, especially when your husband steps into the home. And, never argue in front of your children. That was our recipe for a happy life," concludes Ambika with a broad smile.
"Apoi, wear your hat and go," she said when she saw her husband stepping out in the hot sun. "She started calling me 'Apoi' (father) after our children were born," he smiled. "And how do you call her now?," I asked knowing that she had many pet names. " 'Sweety'.... since our marriage," she smiled back.