Sailing the rough seas
For the Sri Lankan Navy, it had been a tedious journey from fleet of just a single ship fifty odd years ago, to become a force with its unique identity.
(The Navy commemorated its 56 anniversary yesterday, 09)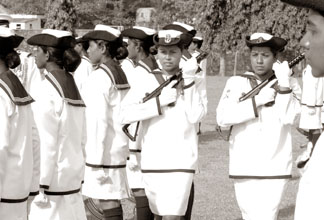 It is a long and tedious journey from an infant Navy in a newly independent British colony to be one of the most battle hardened sea warriors. The transformation of the Sri Lankan Navy is itself a juxtaposition of the changes in the post independent Sri Lankan state.
Fifty odd years since the country's independence, the Sri Lankan Navy is itself a unique force A Navy which was once assigned to arrest illegal Indian immigrants, is now the only Navy in the world which is fighting a war.
The years of experience of fighting the Sea Tigers, responsible for the largest number of seaborne suicide missions in the post Second World war history, has made the Sri Lankan Navy a force of its own. It's a trove of experience.
It was none other than the Commander of Royal Navy Admiral Jonathan Band, who a few months back observe a training mission of Special Boat Squadron Commandoes, Sri Lanka's equivalent to British Seals and later confessed that it was his first experience in that kind of mission.
The history of the Sri Lankan Navy runs back to colonial Ceylon, when the Ceylon Naval Volunteer Force (CNVF) was set up in January, 1938 under the Volunteer Naval Defence Force Ordinance No 1 of 1937. The decision for a maritime security branch for Colonial Ceylon was a result of the Defence Conference in London which concluded that the countries under the British Empire - irrespective whether they are colonies, dominions or protectorates should devise their own methods for their own security.
Three years after its inception, Royal Navy (RN) accepted CNVF as a Volunteer reserve Royal Ceylon Naval volunteer Reserve (CRNVR), which was also mobilized for service during the Second World War.
CRNVR's duties during war time included escort and guard duties, search and rescue missions, patrolling and light house relief activities.
At the end of the war, CRNVR was handed back to the Ceylonese Government. Seventeen sailors under Lt. Rajan Kadirgamar, the brother of late Foreign Minister Lakshman Kadirgamar took part in the victory parade in 1946.
In 1949, after independence, H.M.S Flying Fish was given to the then Ceylon Navy and commissioned as H.M.Cy.S Vijaya. During the same year, the Navy Act was enacted and Commander. G.R.M.De Mel was sent to UK for training. Those who had served since 1937 were deemed as members to the Regular or Volunteer Force of the Royal Ceylon Navy.
From 1951 to 1956, sailors were assigned for security duties at the Colombo port. Several bases were also set up, which included H.M.S.Gemunu, H.M.S Rangalla, H.M.S.Lanka, H.M.S.Elara. H.M.S.Tissa and several patrol boats-Hansaya,Lihiniya and short patrol boats-Seruwa,Diyakawa,Tarawa and Korawakka were purchased.
During the regime of United People's Front Government which took over the Trincomalee harbour, Katunayake Airbase and several training camps in Diyatalawa from Britain, the role of the Navy, like other forces expanded.
The Ceylonese Navy which had 48 officers and 510 sailors in 1951-1952 grew to 136 officers and 1,650 sailors in 1957-1958.
In 1958, giving the Navy the blue water capacity, H.M.S.Parakramabahu, H.M.S.Mahasena and H.M.S.Gajabahu were purchased. The two blue water vessels, H.M.S.Mahasena and H.M.S.Parakramabahu were sent to Singapore.
In early sixties, the top brass of the Navy had their share in an abortive coup attempt against then UPF led left leaning regime.
Captain of the Navy, then Rear Admiral G.R.M.De Mel was relieved of the command and nine officers were decommissioned and 8 other officers were sent on compulsory retirement. Meanwhile, due to financial constraints H.M.S. Mahasena and H. M. S. Parakramabahu were sold.
However the navy thrived despite limitations. A naval and Maritime Academy was set up and the Navy was assigned to provide security to nationalised ports.
The leftist insurgency in 1971 took the unprepared and under armed security forces by surprise. Even the crew on board the SLNS Gajabahu