Women in love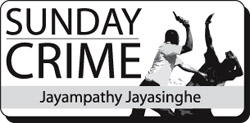 Why are women so gullible when it comes to love and romance? Why do they get swindled by men who promise marriage and disappear with their wealth without leaving any trace? The Colombo Fraud Bureau has launched several investigations into such complaints made by desperate women who had been swindled and left in the lurch by confident tricksters.
What made the unmarried woman fall head over heels in love with a man she had never met or seen before? This happened when she (42) boarded a bus opposite the Regal Theatre in Fort. She usually boarded a long distance bus bound for Aluthgama. She was then followed by a strange man who boarded the same bus from the same bus halt. Obviously he would have spotted the vivacious woman at the bus halt on previous occasions too.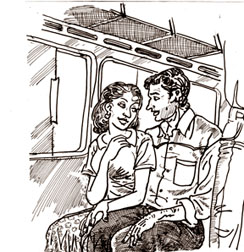 The man with good looks (45) was a notorious confident trickster wanted by the police in connection with other crimes he had committed. The man's aim was to befriend the woman and then to steal her wealth. He had done this to other women on a number of occasions. Having boarded the bus he sat next to the woman and boldly initiated a conversation with her.
The man spoke flawless English and she was quickly drawn towards him. She was delighted to hear him speak because of his Westernised accent. In fact the woman had returned to Sri Lanka some time ago after being employed in the United Kingdom.
She had worked in a factory in the U.K. and had amassed sufficient wealth before returning to Sri Lanka. She was making preparations to migrate to Australia this time. It was in this connection that she came to Colombo to follow a course at a five star hotel in Colombo. The confident trickster probably would have spotted the vivacious woman at the bus halt on previous occasions and may have even followed her to her village in Aluthgama.
The man was a seasoned criminal and with little effort he made friends with her. He was able to charm her and she instantaneously fell for him. He introduced himself as a Flight Engineer although he had worked as a chauffeur before. He had a knack for charming women aud used this skill for criminal purposes. After chatting for some time and getting to know her a little bit he invited her for a cup of tea when the bus reached Bambalapitiya.
The woman too accepted his invitation and joined him at a plush restaurant. With his fluent English he was able to win her confidence. After partaking of a sumptuous meal, he reached for his wallet in his trouser pocket to settle the bill.
The expressions on his face changed when he discovered that his wallet wasn't there. It was a cooked up story. He informed the woman that some one had picked up his wallet while in the bus. However the woman believed his cock and bull story and lent him Rs. 2,000 after settling the bill.
Thereafter he began visiting her home regularly at Aluthgama pretending that he was madly in love with her. However he never stayed beyond 9.p.m. and always got out of the house before 9 p.m. for some unknown reason.
When the affair was blossoming one day he proposed marriage and consented even to migrate to Australia with her. After finalising their marriage, he told the woman that they should buy a spot of land and put up a house for them to live soon after marriage.
The couple thereafter visited a property development company at Nittambuwa and agreed to purchase a block of land for Rs. 7 lakhs. In the meantime the man cunningly coaxed her and got her to withdraw Rs. 7 lakhs from her bank account. Thereafter she gave the money to her intended husband for the purchase of the land. In the meantime he cajoled her to part with her personnel computer and the fax machine saying that he needed them to fax massages to Australia.
However things became sour for the man at the registration ceremony when several photographs were taken of him. The woman's brother too had returned from abroad to attend his sister's marriage which was fixed for December 10. Her brother's presence too had upset him knowing that he would be unmasked soon. So before they discovered his true identity the man decamped from the house along with the cash, the personnel computer and the fax machine.
The woman thereafter lodged a complaint at the Colombo Fraud Bureau. The Director, Colombo Fraud Bureau, SSP Pinidiya has instructed Chief Inspector Suni Shantha to investigate the matter and arrest the suspect.