Will it be Nimal Lewke or Michael Jayasekera?
RUGBY: Come January 6 and the outcome will be known to all. This is the day when the election of office-bearers to the Sri Lanka Rugby Football Union (SLRFU) are to be elected.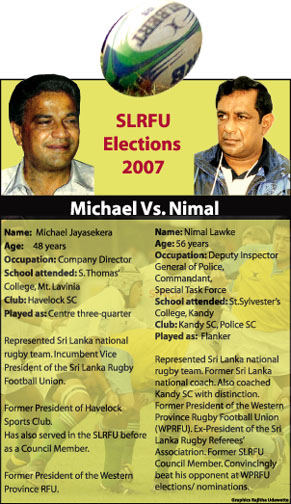 Who will be the President of the SLRFU? This is the important question on the lips of most of rugby enthusiasts - not only club members.
It has been the tradition that the Deputy President takes over the reins from the incumbent. This has been the practice right along from the inception of the then Ceylon Rugby Football Union (CRFU).
The current President is former St. Anthony's College, CR & FC, CH & FC, Kandy Sports Club and Sri Lanka second-rower, Priyantha Ekanayake, who completes his two-year term in office.
His deputy is Michael Jayasekera, the former crack centre three-quarter hailing from S. Thomas' College (Mount Lavinia) who later turned out with distinction for Havelocks and Sri Lanka too.
However, Deputy Inspector General of Police (DIG), Nimal Lewke, who is the Commandant of the elite Special Task Force (STF), is contesting Jayasekera for the top post of President of the SLRFU.
Lewke has been a player/administrator of the sport for over 25 years. He received his education at St. Sylvester's College (Kandy) and later turned out for both Kandy Sports Club and Police as a dynamic flanker who also went out to represent the country. He was the coach of Kandy SC when they emerged triple champions for three consecutive years. Lewke is also a former national coach who also headed the influential Western Province RFU.
The battle hardened Lewke said that there is nothing wrong in contesting at an election. It's a democratic right of any individual he says and that it's "good for the game". This former national Boxing champion (he was a terrific southpaw) says that he has nothing personal with Jayasekera, and its not going to harm the game. He is determined to expose Sri Lankan players to international tournaments from a young age and try to help them financially to remain in the game.
Lewke is determined to send a couple of coaches to New Zealand for 7's coaching to learn new techniques who has close links to the Kiwis and even to have a properly qualified Sri Lankan to coach the national 15's outfit.
He is also determined to get annual scholarships for about five players to play overseas and train too.
Jayasekera says that he is ready to face the challenge from Lewke, and his aim is to get Sri Lanka to the top three countries in Asia. He wants to develop the game at grass root level and have more teams featured in the 'A' Division. Jayasekera continued to say that he is determined to get a coach from either New Zealand or Australia and have "full time" professional players.
There are 47 votes available at the annual general meeting. Already, the Central Province RFU (10 votes) and Western Province RFU (8 votes) have indicated that they are behind DIG Nimal Lewke. Michael Jayasekera has been assured of the votes from Southern Province RFU (10 votes), Sabaragamuwa RFU (4 votes) and North Western Province RFU (1 vote). Yet undecided on whom to support are Uva Province RFU (8 votes), North Central Province RFU (4 votes) and Sri Lanka School RFA (2 votes).
Whom will it be on January 6? Will it be Michael Jayasekera or DIG Nimal Lewke? It will be very interesting to see the final verdict.