Shane Warne signs off on high note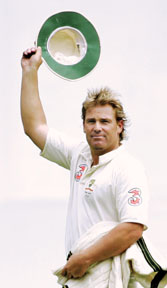 CRICKET: There are two bowlers in Test Cricket who are very much in the news these days. They are Australia's right-arm leg-spinner Shane Warne and Sri Lanka's Muttiah Muralitharan.
Before the year ends, Australia's magical off-spinner Shane Warne has got to that cherished dream of 700 wickets as he has collected on 706 wickets right now after the Boxing Day Fourth Ashes Test against England at his 'home' Melbourne Cricket Ground.
Shane Warne is 32 wickets ahead of Murali. The Lankan off-spinner Murali had a haul of 674 wickets. Murali had a wonderful 2nd Test against New Zealand where he had a haul of 10 wickets for 118 runs - the 19th occasion in Tests that he has taken ten or more wickets. Warne has played in 144 Tests and Muralitharan in 111 Tests - that 33 Tests less.
Muralitharan had a superb year in Test cricket, having a haul of 90 wickets in just 11 Tests, beating his previous best of 80 wickets in 2001.
Shane Warne's Test haul in the calendar year was 96 in 2005. However, Warne had taken 15 Tests to accomplish the feat.
So, it is very much a continuation of the dual between Shane Warne and Muralitharan in the year 2007.
Warne is a bowler who has been in and out of trouble spots. "Don't hang me just because I've stuffed up once." he said. And throughout his life people have generally obeyed. He has been regularly forgiven by his coaches, by his teachers in his young days and by his teammates, as talented sportsmen so often are. No one close to him or no one has ever taken him aside and told him what he cannot do. All have been in awe of his extraordinary talent.
Warne has broken every record in the book.
Australia, stung by last year's series loss in England, regained the Ashes after winning the opening three Test matches to make certain of the Ashes, but after their sensational win by inning in the fourth Test at Shane Warne's home ground in Melbourne in three days, will make every effort to emulate Warwick Armstrong team's 5-nil ashes sweep 85 years ago.
The Aussies will go to Sydney on Tuesday with the intention of getting that vital win and give their ace leg-spin bowler Shane Warne a fitting farewell.
Warne is one of two best bowlers in the spinners trade, the other being Muttiah Muralitharan - the Sri Lankan off-spinner. Warne has broken every record in the book. He has given pleasure and excitement to millions of people. He has entertained and electrified the games. Love him or hate him - and few people are lukewarm - you cannot deny that the man is a genius.
Had he not become a sporting superstar, Shane Warne might still be down at the beach in Beaumains playing some beach games. And instead of hogging the headlines and dancing with the stars, he might be changing beds for a quick nap, delivering pizzas for Pizza Hut or driving a truck round Melbourne's bayside suburbs, which is what he did in the 18 months before he shot to fame.
What askes before he shot into fame what he intended doing with his life if he couldn't spin a ball better than anyone else in the world, Warne shook his head and said: "Mate, I honestly don't know - a bum on the beach - I don't know, I honestly don't know what I would do."
Shane is happy to admit he is a simple bloke with simple tastes, who takes little or no interest in the outside world. He likes beer, pies and pizzas, loved Abba and Boney M, and counts Dumb and Dumber and Meet the Focckers as his favourite films.
But fame, more than anything, is what Shane Warne always craved for. And fame, with all the pitfalls, is what he got.
Among the many nicknames he was known by in his youth, Hollywood is the one that best sums up the man. With his earrings and his blond hair, he always longed to be the centre of attention.
Even at school, he was the clown, the joker, the one who pushed it a little too far. It was never his boyhood dream to play cricket for Australia. He just wanted to be someone. To be noticed. To be loved. To be a star.
That desire is still what drives him. It is also what continues to get him into trouble.
It was in December 1991 when Shane Warne was picked up to make his Test debut for Australia. His parents have been the driving force and they never missed a game from his young days. Shane's parents - father Keith and mum Brigitte. Keith is a reserved type and mother who was a runner in her youth, used to do the talking.
If Shane did have dreams of a sporting future, it was not as a cricketer.
It was not a secret fantasy that he wanted to be an Aussie Rules footy legend, pulling chicks, driving fast cars and making heaps of money, like his sporting idol Dermot Breton, who was the famous flashing centre-half forward from the Hawthorn Hawks, who bleached his hair peroxide blond and wore an earring and drove a Ferrari.
When he came into Test cricket, from 1993 to 1995, Warne was at his peak, the best anyone would ever be. For six Test series in-a-row, he was Australia's leading wicket-taker, often by miles, taking 129 wickets in 21 matches at an average of 21.54 and at a rate of almost three an innings.
Against South Africa in January 1994, he was simply brilliant. At the SCG in Sydney, he took 12 wickets with a series of balls that were quite as good as the one he bowled Gatting, a couple of them flippers, a few of them big turning leg-breaks. In the process, more records tumbled - it was the first time he had taken 10 wickets in a match and the best performance ever by an Australian against South Africa on home soil.
Came next Ashes series in Australia in November 1994, he was still on fire. England's batsmen were so worried. His 11 wickets in the first match propelled him to number one in the world rankings while his eight scalps in the second innings sent England to a crashing defeat.
In the second Test against England at the MCG in December, a six-wicket haul in the first innings took him to 151 Test wickets. In the second innings, he took a hat-trick and had fans waiting three hours for autographs, which dutifully signed as he sat in the boot of his new BMW car.
So what was it that made him so good? And why had it so suddenly come together? The best answer is that - Success breeds success and that his remarkable natural talent was at last reaping its due reward. But those who had spotted his abilities several years earlier, such as Jim Higgs, could point to a succession of things that marked him out:
First was his technique, which allowed him to bowl accurately for hours on end.
Next was his control over a huge variety of deliveries.
Third was his intelligence - knows which ball to bowl to whom and when.
Fourth was his ability to deceive batsmen about where the ball was going to land and what it was going to do.
And last was his nerve and confidence which allowed him to try everything most of the time. He was also a risk taker.
What made Shane Warne so good a bowler was what made him such a landful off the field. He did not observe limits or obey rules.