Darling we aren't too old, though we pass the Jubilee Gold:
Taming of an intellectual
The fame of him strives (after perfection), is mindful, is pure in need, considerate, is restrained, righteous and heedful, spreads far and wide.
The wise man by endeavour, alertness, self control makes for himself an island which no flood of defilement overwhelms.
Amara Hewamadduma with his Manike was relaxing in the open verandah at their home at Vijayaba Mawatha, Kalubowila when we met them this week. The thick green foliage including the few Jak trees in the garden provided shelter to the green lawn and the gravel path heading to their main door. It was like as if we had entered a hermitage.
The soothing and relaxing effect of the slight wind that blew across the foliage and the serene atmosphere would diminish the mental and physical fatigue of whoever entered this plot of land. Adjoining the main house a three storey white colour library building indicated to us that we were about to meet a genius.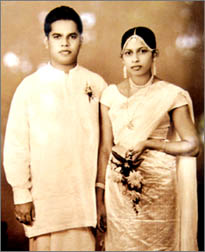 "I fell in love with her pride and reserve type personality. Also, she was an extremely cultured and decent girl from a very good Sinhala Buddhist background. Unlike other girls at the 'Chandralekha' Institute she tried to maintain her distance with me," begins Amara Hewamadduma. He might have felt it a bit of a challenge as well. And the lovely attractive looks of his 'Menike' which has not still withered off might have been the other secret that enticed the 'dynamore' more towards her.
"I was born three days after Hitler declared war against Poland; on September 5 in 1939," declares Amara Hewa... "My father owned some paddyfields and land and a boutique. But in every document of mine I have written cultivation' as my father's occupation.
I am really proud and respect his extremely independent life pattern. My mother was Kavani Hamine Subasinghe. We are from Matara. I was born and bred in a small village called Lenaduwa which was in the middle of a huge paddy land that borded the Nilwala river. Our village was three miles away from the Matara town," he reminisces.
"Ours was a family of six girls and six boys, and I was the tenth. We, the boys studied at Rahula College, Matara. My father used to give me 50 cents for the daily travelling and meals.
I used to save 30 cents by going to school on foot for six miles daily up and down, and then filling the tummy with tap water. During that time we could have a good diet with 20 cents.
But I saved all that money to buy English story books of Pelican and Penguin Publication," he says. "Also, since I wanted to save my shoes I used to wear a pair of slippers on the road while taking my shoes in a Pan bag. And later I wore the shoes when I reached the College," he recalls.
After campus Amara Hewamadduma joined as a lecturer at the Sri Lanka Vidyalaya, Maradana, an academy which had classes from the kindergarten to the degree level. And that was for boys. The ladies' branch was at Chandralekha Mawatha, Borella. He got the appointment to teach for the A/Ls as well as for the G.A.Q. class in both places.
And so, that was the place he met his angel, Sandapali. "She is an angel," he talks about her with an overflowing compassion in his heart. It was a great pleasure to observe how a couple gets so close to each other and strengthen the bond between them with age.
"When I evaluated my love for her yesterday and today, the love I had for her at the very beginning was not pure love as it was combined with lust. But today, it is hundred per cent love, the utmost affection.... You know children, Rome (Italy) was the land of the most beautiful women in the world. Mark Antony was the emperor of Rome.
When the Romans requested Mark Antony, the emperor of theirs to return to his kingdom from Egypt leaving the defeated queen Cleopatra with whom he was infatuated, Mark explained the reason why he couldn't do it as follows:
'Age cannot wither her/ Nor custom stale/ Her infinite variety'
"And so is my wife," he smiles. An intelligent woman can tame her man well without taking a stick to her hand. The only weapon for it is compassion, care and faith. Even being a male I have been devoted to my wife right along," he claims.
In 1964, the post of full lieutenant was gazetted, and Amara Hewamadduma decided to join the Army. Though he had not expressed his love to Sandapali, she felt he was interested in her. But the cultured maiden continued her usual gentle and reserved ways.
However, by now, she was quite friendly and open with him.. He had made her to be so... On the other hand the famous young teacher had become the heart throb of many young pretty female degree holders by that time.
But she had noticed that almost all the time his eyes were focused towards her, even during the lecturing periods. "Sir, that type of job won't suit a gentle person like you," was the only sentence she said staring straight at his eyes when he declared his departure to join the Army.
That day after classes he walked with her on the Chandralekha Lane until she came close to her hostel at Rosmead Place. Her words engrossed in his heart more than in his mind.
And she was the only dream he had in his half sleepless nights at the Training Camp, Diyatalawa. However, still neither of them had declared their love for each other. Amara Hewamadduma could not stay away from her. He quitted, and returned back to Colombo.
"I love you and want to marry you," at last he opened his heart to her at the very first meeting on Chandralekha Lane. "I do like you, Sir. But I cannot go against my parents.
My father is a very strict person who has his own stern ways. If Thatha and Amma don't give their consent, the only thing that I could do is to live my whole life single," she said. His heart melted. Amara Hewamadduma had not been defeated so far and would not step back.
Sandapali Sandanayaka was born on July 20 in 1945. Piyasena Sandanayaka, a landed proprietor and Magilin Siriwardana of Kuliyapitiya were her parents. Sandapali is the youngest to one elder sister with whom she still has a very close bondage.
The landed proprietor Sandanayaka's strict ways dispersed in no time after he met his future son-in-law. In fact he did not see any reason to say no to this determined apt young fellow who seemed madly in love with his younger daughter.
Under the shower of blessings of both families Amara Hewamadduma and Sandapali got married at the Galle Face Hotel on September 29 in 1966. At the wedding both wore handloom kits as it was the time that Sri Lanka had a flourishing industry of handlooms.
"Following me, a lot of my friends too wore handloom National suits at our wedding," he smiles. The wedding took place just six days after she sat for the final exam of her degree. Though she got through her degree with flying colours she opted to be a typical Sinhala cultured housewife instead of perusing a career.
Amara Hewamadduma joined the Ceylon Administrative Service as the Assistant Commissioner of Agrarian Services in the Ministry of Agriculture on June 15 in 1965. His first appointment was at Anuradhapura. "I worked under almost all the leaders in Sri Lanka since Premier D.S. Senannayake's time until my retirement in 1999," he reminisces. Amara Hewamadduma was known as a strict and efficient administrator.
That was why once he was called a 'walking Dynamore'... Wherever he headed, he knew his subject and rendered his utmost service without any hesitation.
He had held many titles such as Chairman of Jute Corporation and Tobacco Industries simultaneously, Government Agent in Anuradhapura, Chairman Ceylon Transport of Board (CTB), Permanent Secretary to the Ministry of Religious and Cultural Affairs and retired as the Permanent Secretary to the Ministry of Social Welfare and Social Services.
Amara Hewamadduma is not only an efficient administrator and a family man by being a loving husband and a dutiful father of two girls and a son who are today in well to do appointments in life, but also a poet and a writer. He had published more than 50 books so far.
The present Thripitaka series of Buddhist Doctrine (57 volumes) which was re-published recently by the Buddhist Cultural Centre, Nadimala, Dehiwala to mark the 2550th Anniversary of 'Buddha Jayanthi' was originally obtained from the private library of Amara Hewamadduma.
"I bought the whole Thripitaka series during the first 'Buddha Jayanthi' in 1950 when I was a Senior School student. I was really glad that I could lend them for the re-print which has been distributed by Buddhist merit seekers all over Sri Lanka," he says.
"I respect and love my mother, wife and daughters, so that I can render my respect to all the others' wives, mothers and daughters if they are my own. We gained this from our background; mainly from the parents. That's why we say the whole society is based on the family unit and the family unit is based on a happy marriage. Never be unfaithful to your wife or husband. That is the only message I can give you, the younger generation," he stresses.
"Today there are three things that keep me going; my wife, books and my five grandchildren, heh! heh! heh!," he concludes. Nearly after three hours of interesting discussion we bid farewell to the Hewamadduma family.