Biggest credit card fraud, unravelled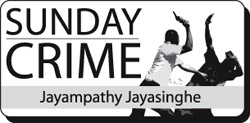 Police have blown the lid of an international credit card racket where millions of rupees belonging to British nationals have been robbed from Automated Teller Machines (ATM) in Sri Lanka by using fake credit cards.
This is the biggest credit card fraud to be detected by the local police so far when they arrested a Chief Inspector of Police pilfering monies from Automatic Teller Machines (ATM) in Sri Lanka. The money he had robbed came to a staggering sum of Rs 4.9 million.
The Chief Inspector of police who joined the Police Department as a sub-Inspector, rose quickly in rank and file and became the Officer in Charge (OIC) of the Harbour Police Station at Trincomalee.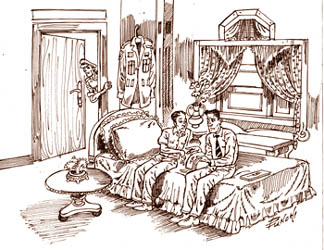 He had a clean record of service and was selected by the United Nations for a mission to serve in Liberia. It was learnt that the Chief Inspector had fraudulently drawn money from Automatic Teller Machines (ATM) by using fake international credit cards of foreign nationals.
Police are investigating how he acquired the expertise and the knowledge to rob foreign banks from Automated Teller Machines.(ATM) and whether more persons are involved in the racket. Meanwhile it was learnt that Police will seek assistance from Interpol to trace more suspects involved in the fraud.
Police learnt that the suspect whilst serving in Liberia had applied for a multiple Visa to visit the United Kingdom and was granted visa because of his United Nations status.
After a year's stint in Liberia, the suspect had returned to Sri Lanka. While still being on official leave, he travelled to United Kingdom on holiday last April and returned only in December.
However it is not known what he was up to while in U.K. On his return, to Sri Lanka he had hired a Pajero inter-cooler vehicle for a sum of Rs 100,000 a month for his private use. Last month he travelled to Matara with a business acquaintance from Trincomalee and checked into a hotel at Pamburana in Matara.
The Chief Inspector had a penchant for displaying his official uniform which was hung inside in the inter-cooler Pajero vehicle. He knew that no one would dare to mess around with him when they got to know that he is a policeman.
However people were suspicious of his movements and kept an eye on him throughout his stay in Matara. His behaviour was viewed with suspicion by the locals who tipped off the Matara police. A police team from Matara searched his hotel room on January 15 and found cash worth Rs. 4.6 million along with 71 credit cards in his possession.
The Chief Inspector while being questioned by the Matara police had told them that he had earned the money abroad whilst on a United Nation's assignment. However when they questioned him regarding the 71 credit cards, the Inspector had not given a plausible explanation which alerted the police.
The Chief Inspector and his business acquittance from Trincomalee was taken in for further questioning by the Matara police.
When the matter was brought to the notice of IGP Victor Perera, he realised the seriousness of the case. He then instructed the Director, Colombo Crime Division (CCD) SSP.
Sarath Lugoda to investigate the case. A team from the CCD proceeded to Matara and brought the Chief Inspector and his business acquittance to Colombo for further questioning.
The CCD sleuths while interrogating the suspect learnt that he had drawn the money from Automated Teller Machines (ATM) from various locations in Matale, Kegalle, Colombo, Matara and elsewhere by using fake foreign credit cards. Police soon learnt that he had masterminded the art of robbing British nationals without their knowledge whose monies have been deposited at various British banks in the United Kingdom.
Later, a team of CCD sleuths who searched the home of the suspected Inspector at Dematagoda were in for a shock when they discovered 600 more fake foreign credit cards along with cash worth Rs. 4.5 million stashed and in his room.
The suspect had told the police that the money found in his room too had been robbed from Automated Teller Machines in Sri Lanka. Several documents containing secret numbers of British credit card holders too have been found by the police.
Meanwhile, the Director Colombo Crime Division, SSP Lugoda said that they are interrogating the businessman from Trincomalee to find out whether he along with the suspect Inspector has had links to LTTE clandestine activity. SSP Lugoda said that they were in the process of recovering more robbed monies of foreigners, from Automated Teller Machines in Sri Lanka.
The two suspects are being detained further in connection with the case.