Some well-known monuments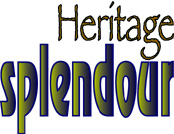 Sri Lanka is home to a host of monuments spanning across many kingdoms and centuries. They are found in almost all parts of the country and belong to many different eras in the history of this island. Today, we feature some of these attractions which have captivated both locals and foreigners alike.
Maligawila Temple
The Maligawila Temple lies about 15 kilometres off the Buttala town towards Okkampitiya. Its famous seventh century statue was discovered fallen and broken into pieces in 1951. An unsuccessful attempt to raise this statue was made in 1974. However, a local engineering team managed to raise this statue and restore it back to its former glory in 1980.
This statue is carved out of a single limestone and stands about 14.5 metres high; it is the tallest free-standing Buddha image in the country. It is believed to have been created by a prince called Aggabodhi who ruled the 'Rohana' region of Sri Lanka in the seventh century. There had been an image house surrounding this gigantic statue; its remains can still be seen.
About 500 metres away from this statue is another image carved out of rock. This is thought to be the image of the Maithree Natha Bodhisattva, sometimes known as Avalokitheswara Bodhisattva. This image is also known as Dambegoda Bodhisattva statue.
Just left of the stairway to the Bodhisattva statue stands a protected inscription on a pillar. This stone pillar had been created by King Mahinda IV (956-972 AD) on his 10th year.
The inscription records the work done by the king to uplift Buddhism and also the rules laid down by him to administer certain Buddhist sites.
****
Sculpture of King Parakramabahu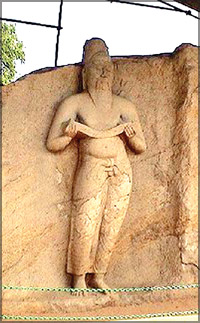 "Not even one drop of water must flow into the ocean without being useful to man" declared Parakramabahu the Great in the 12th century. This 3.5 metre (11 1/2 foot) rock sculpture of a barefoot man, clad only in what appears to be a sarong, is believed to be that of the great king.
The statue is situated just north of the town of Polonnaruwa, near the eastern bank of the king's greatest achievement, the Parakrama Samudra (Sea of Parakrama). This man-made tank covers an area of 6,000 acres (2,430 hectares) and supplies water to a vast area through 11 irrigation canals and minor tanks.
But there is another school of thought that this statue is that of a sage holding a stack of manuscripts written on ola (cured palm) leaves.
***
Nelum Pokuna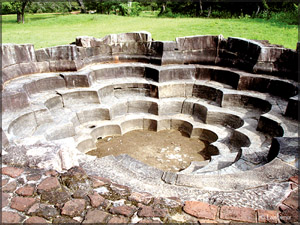 The ponds found at Polonnaruwa are of comparatively modest dimensions. The Nelum Pokuna (lotus pond) is also a small stone pond of a completely unique design, built in levels of eight petalled lotuses in descending form.
The fine cut granite is in excellent condition and provides a nice view to all visitors. Its garden-like surroundings, with its ancient flowering trees enhance the magnificence of the area.
The chronicles speak of a lotus pond among the many ponds constructed by Parakramabahu the Great. It is believed to be the pond provided by the king for the monks belonging to the Jetavana Vihara.
****
Ath Pokuna
Have you heard about the marvellous waterway system in Sigiriya? Our ancient kings employed great technology to work with water and this pond is an example of that.
This 10-metre deep public pool was just one of the ponds built north of the Abhayagiri University complex in Anuradhapura. It was connected to a network of underground tunnels that brought water from several reservoirs. Archaeologists were amazed to discover three stages of water filters made of stone here. Only water filtered three times by these filters would reach the Ath Pokuna.
One of the key underground water lines was from the Perimiyankulam reservoir in Vanni. This water line, with automatic pressure systems, still works. On rainy days, the Ath Pokuna still gets water through these underground tunnels.
***
Kumara Pokuna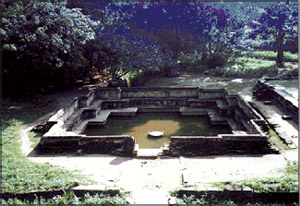 The Kumara Pokuna is a systematically built bath for royals in Pollonnaruwa. This pond made of stone slabs could be reached after passing the Royal Court of King Parakramabahu. It had been used in the time of King Parakramabahu (1153-1186).
The water to fill the baths had been diverted through underground channels from the Parakrama Samudra. The changing rooms stand alongside the baths and had been equipped with toilet facilities as well.
****
Gal Potha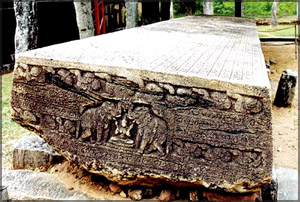 King Nissankamalla, heir to the Great King Parakramabahu, wanted the world to know of his achievements, so he had these achievements inscribed in glowing terms on the Gal Potha, an enormous stone slab beside the temple.
This huge stone slab was apparently brought over from Mihintale, some 60 miles (100 kilometres) away, and is about 26 feet (eight metres) long. It is one of the most famous works of King Nissankamalla (1187-1196) and describes himself, his rule and the eligibility for being a king of Sri Lanka. The text is written in three columns and contains over 4,300 characters in 72 lines.
There are signs that liquified metal had been pored onto the carved characters to make the letters much clearer.