All for the love of a soldier
Anoma talks about life with Lieutenant General Sarath Fonseka: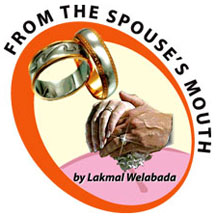 "If you think you would not be able to make 'sacrifices' then don't marry a soldier," says Anoma Fonseka, the beloved wife of Lieutenant General Sarath Munasinghe, Commander of the Sri Lanka Army.
Seated in her office at the Army Seva Vanitha Headquarters, Anoma begins to recall the past and present of her life with her Army husband.
"My love for him began when I was a fifteen-year-old school girl," she blushes. "Well, one of the Army friends of my elder brother was invited for dinner at our place at Base Line Road, Dematagoda.
He accompanied another friend of his, and that was 'Sarath Aiya' (she calls the Army Commander by that name). He was about 22 years old and I was about 15. Since my elder sisters who were 17 and 18 were very much closer to the young Army officers' age, my mother didn't let them appear in the sitting room. And I, the youngest (probably thinking I was still a child) was sent to serve a drink for them," she laughs.
Anoma served and talked to the two young Second Lieutenants of the Sinha Regiment casually as she was quite used to befriending the mates of her elder brothers. It was not a strange thing to her at all. But this particular handsome young Army fellow who was introduced as 'Sarath' had a different approach, she thought.
His gaze was straight, though he still looked shy. He talked less and listened more. "And he is still like that," she adds, Anoma exchanged a humble yet hearty smile with him and went into the house.
'Maani' is the pet name for Anoma at home. The following day 'Maani' got a telephone call from a young man. It was 'Sarath Aiya' whom she met the previous day. They chatted a bit. Sarath pretended that he was talking to a child. Anoma was still a child, afterall.
Since then his telephone calls became a part of her life. The continuous dialogues over the phone was not a secret to her family, except to her father. In fact Anoma was still a school girl at Gothami Balika Vidyalaya, Colombo, a clever all rounder in studies, sports, music and dancing.
However Sarath knew when to phone her. During the afternoon, when her father returned to his office after lunch, and when her mother went for a nap, the phone used to ring. The youngest of the family was the only person at home to pick the receiver up.
The two Second Lieutenants once invited the whole family for lunch at the Army Mess at Echelon Square. Sarath somehow found this opportunity to sit beside Anoma at the dinning table, and tried to exchange a word with her. With great difficulty she ignored it as her father and the rest was around. However Sarath began to visit them often as a good friend of Anoma's brothers.
Anoma Indumathi Munasinghe was the youngest of five siblings in the business family of D.J. Munasinghe and Eugine. Her two sisters and two brothers have been the jewels of her life. "I'm blessed in many ways, I suppose," she says with a broad smile.
Gardihewa Sarath
Chandralal Fonseka was born Down South to Peter and Piyawathie Fonseka. He had his education at Dharmashoka, Ambalangoda and Ananda College, Colombo. Anoma entered wedded life with him under a shower of blessings at the Hotel Samudra (presently known as Taj Samudra) on April 29 in 1979.
"His very first gift to me was a Silver broach on my Sixteenth birthday," she smiles. "And the two most precious gifts are our two daughters - Apsara and Aparna," she laughs.
"Both are studying in the States. Apsara studied Finance and banking and Aparna has been doing Accounts," she says.
Question: Your husband might have been out of Colombo most of the time. How did you cope with the family matters?
Anoma: That is the destiny and the fate of a wife of a soldier. We have to keep a broad margin for them. I rarely tell a family problem to him. I raised my two daughters like a mother-bird who kept and protected them under her wings. Now they have already flown away. But still their love for us is the same.
My daughters and I discuss the problem first and put fact to him as if we are forwarding it to the court for a verdict, his decision is final," she smiles. "He and I never call one another by our names. If I want to talk about him with somebody I would either call him 'Commander' or 'Sarath Aiya'. Both of us have respect for each other. I'm a religious person and my blessings are always with him," she claims.
After the marriage, Anoma followed a Pre-school course and worked as a pre-school teacher at the Visaka Nursery, Colombo from 1990 to 2000. "I think teaching is the best profession for a soldier's wife as she gets more free time. This is really helpful as she has to play both roles of the father and mother since the husbands are always on duty," she points out.
Question: If we don't talk about the incident (the suicide bomb blast targeted at the Army Commander) which took place at the Army Headquarters last April 25, it would be a laps . Would you mind recalling this event?
Anoma: I was here at the Seva Vanitha Headquarters. I heard a sound and thought it was thunder. How can you believe that something like that would happen inside the Army Headquarters? I asked Captain Erandi Mohotti what it was.
When I learnt my husband was targeted I tried to get up and go, but was tightly held to the chair by my fellow Army members. I went blank for sometime, and nothing came to my mind. I heard that he was able to get off from the jeep by himself, and was rushed to the National Hospital.
The doctors told me that his condition was on the fence and could not be predicted until 48 hours. I .... (pauses) knew that I would not be a widow. Our whole family is religious.
I meditate, and believe a lot that if we lead a good life, showers of blessings of the Triple Gem will pour on us every time. I have never done a wrong thing in my life. I'm responsible for what I'm saying. And that is the 'Sathya Kriya' I did beside his sick bed.
She was not shocked though tears were flowing from her eyes throughout. I phoned Kollupitiye Mahinda Thero, the Chief Incumbent of the Kelaniya Raja Maha Viharaya to conduct a Bodhi Pooja. Velamitiyawe Kusala Dhamma Thero was the first Buddhist Priest to visit us, and then he immediately went to Anuradhapura Sri Maha Bodhiya to conduct especial Bodhi Pooja.
There was a sea of saffron robed Bhikkus visiting the Hospital. The Army Seva Vanitha, all the fellow members of the Army, my siblings and relatives were with me like one family. Our daughters were in the States. Defence Secretary, Gotabhaya Rajapakse helped them to return and it was a great thing at that time," she says.
"This attack was the third attack he had. First, at 'Yaldevi' mission at Kalali in 1993, and secondly at 'Jayasikuru' operation at Mankulam. But he survived. He won't part from us. I know that. He gets angry and within seconds cools down.
I'm a person who rarely gets angry. To the outer world the Army Commander is a strict warrior, but to us he is a family man. Apart from his job the two daughters are his life. Apsara is his 'Chooti Duwa' and Aparna is his 'Chooti Pana' (life).
Now our eldest is married. I have to mention about our son-in-law, Dinuna Thilakaratne, son of retired Brigadier Tissa Thilakaratne. Dinuna and Apsara had started their affair since they were teens when we were residing at the Summit Flats.
He is a Computer Systems Analyst. The youngest daughter, Aparna is still studying. All three are in the States, and only the Commander and I are at home. Both of us begin our day after giving a telephone call to our daughters, and then offering Poojas to the Buddha. It's a daily routine," she says.
Among the various mass scale projects of the Army Seva Vanitha looking after the welfare matters of those and their families of missing in action, killed in action, disabled and of those in the service at present, Anoma, the current President has launched a special project for mentally retarded children of the Army personnel.
Her excellent service to the nation along with the Army Seva Vanitha, as well as being the courageous wife of the present Army Commander, Anoma Fonseka was honoured with the title of 'Shasanamamaka Deshabhimani Diriya Maatha' by Sabaragamuwa Amarapura Siri Saddhammawansa Maha Nikaye Eknaligoda Section on August 25, 2007.