What does the year hold for you?
Manjula Peiris is a young astrologer who has been giving accurate forecasts to the nation for quite a long time. This is what he has to say about each Lagna (star) of the year 2008 that will begin from day after tomorrow. The star forecast is given in general, and would change according to the birth planetary charts of each individual.
The year 2008 is named as a year of 'Sarvadhari'. We can expect two solar eclipses and two lunar eclipses within the year. Rain will fall on time. This is a great period for the present Government, with victories in every aspect, especially in demolishing the power of enemies, and receiving the support and blessings from religious leaders. A successful excavation in an oil deposit is shown.
Hence, the banks of the country will flourish with more deposits, and along with it a lot of investments in the industrial sector will take place. The Government will be acclaimed with praise, and unexpected aid will flow to the country through out the year.
New areas will be opened in the educational field. But an unsatisfactory period is shown for some leaders.
Mesha (Aries)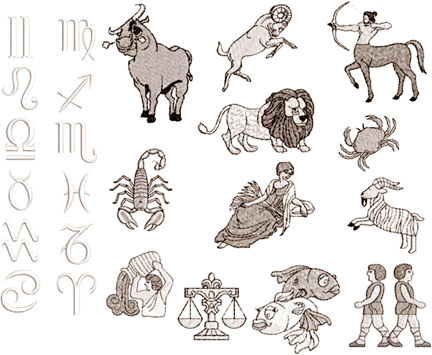 The planetary change in your Lagna with Jupiter's arrival to the 'Bhagyasthana' (the ninth house) occurred last November 22, and Saturn's coming to the 'Vidyasthana' (fifth house) which took place last July would give you mix results in the coming year.
Good for business ventures. You will get assistance from your siblings. Employees, both in the government or private sector tend to get into trouble and you should be careful when dealing with your counterparts and superiors.
A step that you take to strengthen your economy might lead you to the courts. You will find yourself brave and energetic in whatever you do. You tend to waste time in aimless journeys.
Always think twice before you leap. Act wisely. Get advice and support from an elderly relative or friend before you do anything as you would ruin your victory at the last moment. Guard against food poisoning. An unexpected expense on an illness either of your children or parents is shown.
Among all these bad effects you will find yourself attending long and happy journeys, and a special meritorious activity that would take place in a remote area.
Association with spiritual leaders shown. If you are under the 'Maha Dasa' period of 'Guru' (Jupiter) or 'Rahu', you will definitely get a foreign trip. A victory in your child's eduction will bring you a lot of happiness.
Auspicious colour - red, day-Sunday, Numbers-1 and 2.
Vrushabha (Taurus) -
Jupiter has come to the 'Ayushthana' (eighth house) and Saturn to 'Bandhusthana' (fourth house) in your Lagna - horoscope.
A good period is ahead along with help and support from your spouse. If you are a person in business, new business ventures are shown.
Heavy expenses are indicated. Sometimes you tend to spend in vain. You might think of buying a new vehicle. Better to keep away from money transactions.
And try to postpone court cases in property matters as you tend to lose. Be careful when dealing with your superiors. You might get deceived or find yourself in trouble thanks to somebody who associates with you closely.
If you are a male, be more attentive of your wife's health, and also the accusations that would arise from the females you associate with.
You might have to spend and strain yourself on the death of an elderly relative. However much good you do, you tend to get a bad name. So better not expect praise from others. Guard against the ailments that would occur from your neck upwards.
Auspicious colour - white, day-Wednesday, number - 6.
Mithuna (Gemini)
Be happy, you have already overcome seven and half years of the 'Erashtaka' period along with Saturn's change which occurred on July 17.
You must be already enjoying a peaceful period at the moment. Clearance in property matters and confirmations in matrimonial matters are shown. If you are a cultivator, protect your crops from insect infestations. Your economy tends to fluctuate.
Not a good period for your pets as well as your bank deposits. Unfavourable for your parents and relatives. A positionary change either in the place you stay at or work in is shown. Guard against rheumatic ailments.
But if you are under 'Guru' (Jupiter) major period, you will see a vast development in your career along with assistance from your superiors. Good for your children. You'll be fit, both mentally and physically. You will spend on a nuptial matter of a close relative.
Educational victories and lottery fortunes shown.
Auspicious colour - green, day - Thursday, number - 5.
Kataka (Cancer)
Saturn has reached to 'Dhanasthana' (second house) and Jupiter has come to 'Rogasthana' (sixth house) in your Lagna.
Losses in money, wealth, business and cultivations along with animus activities, problems in career, unreasonable accusations, unhappiness and high expenditure in pointless things are indicated. Problems with superiors shown.
Hence you tend to get transfers. A decline in your health and education are also shown. Be attentive, (if you are a married person) do not take the pressure you encounter over your spouse and children. This will make things worse.
Change of the place you stay is indicated. However, a friend will come to your rescue. Attend to religious and meritorious activities and try to be spiritual as far as possible because it would help you to reduce the effect of the bad planetary change.
Auspicious colour - cream, day - Sunday, number - 7.
Sinha (Leo) -
Saturn has come to the Lagna (first place) and Jupiter has reached 'Puthrasthana' (fifth place) of your Lagna horoscope.
Path of prosperity along with developments in business shown. But you would experience mental unhappiness through out. Something would prick you from time to time. Property matters are indicated. If you are a female guard against accidents, health ailments, animus activities and other calamities that would prop up in life.
You would tend to spend, in order to keep your house nice. You would like to buy or collect antiques. Good for matrimonial matters. New love affairs shown. If you hope to get married during this period it would lead to a successful marriage. You would launch a profitable plan for your future.
If you are under 'Maha Dasa' of 'Shani' (Saturn)
you might get heavy mental worries and accidents.
But, good period for education. Victory in examinations indicated. You may get enthusiastic about learning new things. If you expect a promotion, you tend to get it, but would not be satisfied with what you gain. A happy and fortunate trip on to a far away land shown.
Be conscious over your appearance as you tend to neglect yourself due to the heavy work schedules you encounter. Especially scars and marks would appear on your face if you do not get proper treatments on time.
Sometimes, you tend to feel lethargic and inactive, so be alert that you are fit both mentally and physically. Good period for your children. A mixed year for Sinha (Leo) people.
Auspicious colour - red, day - Wednesday, number - 1.
Kanya (Virgo) -
Jupiter is in the 'Bandhusthana' (fourth house) and Saturn is in the 'Veyasthana' (twelfth house) of your Lagna. The year starts with 'Erashtakaya'.
Losses in income and heavy expenditure indicated. But some can expect profit from business. Also if you are under 'Maha Dasa' of 'Rahu', you would enjoy happiness in every aspect.
A debt will be settled with an arrears. If you are in metal business, this is a profitable period. Do not accept promotions as it's an unfavourable period for career development. You might feel like resigning from your job, but do not make hasty decisions.
The power and respect you have had so far would decline. You tend to prefer to stay away from your home. An unsatisfactory period indicated. Be active in religious deeds and try to be spiritual as possible. Be positive!
Auspicious colour - green, day - friday,, number - 5.
Thula (Libra)
The year 2008 starts with Jupiter in the 'Wikramasthana' (third house) and Saturn in the 'Ayasthana'/ 'Labasthana' (eleventh house) in your Lagna horoscope.
Gains in house and property shown. Relatives will visit you often. An extremely happy period. However you would feel uneasy through out. Be attentive if you have to work with elderly people as you could be fooled and misled. Victory in examinations along with good health shown. But if you are a male the planetary positions of your wife and children seem to get affected adversely.
Unexpected gains in wealth and lottery shown.
Auspicious colour - multi-colours, day - Tuesday, number - 6.
Vrushchika (Scorpio)
The new year starts for you with Jupiter in the 'Dhanasthana' (second house) and Saturn is in the 'Karmasthana' (tenth house) in your Lagna horoscope.
Gains in wealth, increase of income, development in wisdom, promotions in career, investments and deposits shown. Along with the glamour you get, you tend to get into uncultured associations. Guard against them. You might spend over a death of an adult.
If you are under 'Rahu Maha Dasa' period, be careful until May. But you will gain property, furniture and a good harvest from your cultivations. If you are a contractor, be more cautious as you tend to get deceived.
If you are under 'Guru (Jupiter) Maha Dasa', you will get honour and respect throughout. You will attend to many happy functions and enjoy delicious meals. If you are expecting a baby you will either conceive or give birth to blessed children during this year. If you hope to get married, a successful marriage is indicated.
Your words would be honoured and appreciated by others. But you tend to neglect your studies, so give more attention to it. A peaceful period is ahead. You will get a lot of blessings from meritorious deeds, so try to get involved in them.
Auspicious colour - red, day - Sunday, number - 1.
Dhanu (Sagittarius)
A year with expenditure shown. But at the same time you tend to draw a good income as well. A change in career or the place you live is shown. No promotions in career indicated. Be careful when dealing with superiors. Use your wisdom before you leap. Gradually, you would get away from refined persons. An unfavourable time for your close friend.
A long journey is shown, but this would lead to unhappiness. During this period, if you make an enemy, he/she would be somebody whom you have helped a lot before.
So, be attentive. Disturbances shown in education and health. A year with mixed results.
Auspicious colour - yellow, day - Saturday, number - 6.
Makara (Capricorn)
The year starts along with 'Shani Erashtakaya'. Unfavourable period indicated. Unexpected accidents, operations, heavy expenditure and unreasonable accusations shown. Sensuous feelings will take place within you, which would lead you to indulge in despicable acts. A weary long journey indicated. Expected profits would get delayed.
If you are under 'Rahu Maha Dasa' period, the year ahead will bring unfavourable results. Heart ailments, weaknesses in blood circulation and infectious diseases indicated.
Get yourself involved in meritorious deeds.
Auspicious colour - blue, day - Tuesday, number - 9.
Kumbha (Aquarius)
Jupiter is in the 'Labhasthna' (eleventh house). Extremely good period, as whatever you think and do would be successful.
Gains in wealth, new developments in business, raise in bank deposits and promotions in career shown. You will shine wherever you go and will gain a lot of honour and respect. You would get back something precious which you have been searching for sometime. Assistance and encouragement from superiors shown.
If you are under 'Rahu Maha Dasa' you will get involved in meritorious activities a lot. Others will see calm and quiet qualities in you, and they will talk about it.
If you are under 'Guru Maha Dasa' period, you will experience the most happiest period in your life in the year to come. Associations and assistance from the elite and refined crowds of society along with functions that would give you a lot of grace, shown.
But be attentive after the middle of the year. You tend to get ailments in your mouth.
If you are a pregnant woman, be careful as you tend to get complications, in your health.
Auspicious colour - red, day - Thursday, number - 8.
Meena (Pisces)
Jupiter has come to 'Karmasthana' (tenth house). Heavy expenditure, long journeys, lottery luck and prosperity in business indicated.
If you are under 'Rahu Maha Dasa' you tend to get into unfavourable situations with mental unhappiness. A death of a close one indicated.
But after the middle of the year, associations with superiors and gains of delicious food and new clothes shown. Good period to purchase a new vehicle. Your house will get flooded with friends throughout the year.
You can gain profit from iron and industrial equipments. Guard against eye ailments and other slight disorders in health. Auspicious colour - yellow, day - Thursday, number -9.