Brave new world
***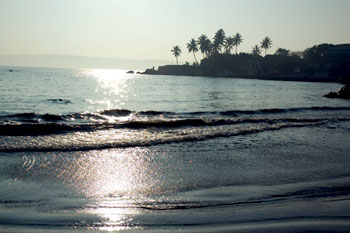 Here on the beach at Beruwela, in outward appearances the last day of 2007 is like any other day of the year; there is no pause in the waves embracing the sand, no breathless moment of silence to note the end of another twelve months.
Yet, no man or woman selling their wares on the beach has quite the same thoughts today, that they have on other days. Today they look forward to 2008 with renewed hope.
***
When the three ladies with wrap-around skirts hanging from their arms, on the beach at Beruwela glare at me and tell me to get lost I do just that- get lost. I know I have no way of proving that I am not "one of them".
"There were reporters like you before this" says the older of the three, "they talked to us, wrote about us and got foreign donors to give us money. But the money never reached us". She glares at me from head to toe "O.k, O.k" I tell her, backing away with my hands raised in defence. If she doesn't want to talk with me, fine.
Not knowing what to do next, I stand on the beach, staring at the horizon, "alone, alone all alone" as Coleridge's Ancient Mariner had cried. If everyone on the beach is going to react to my press ID, the way the three ladies had done, I would not have a story to work on, this week.
Angry with myself and wondering who the "others' before me were, who had made money by writing about the tsunami affected beach vendors, I kick a fallen kaduru near me and watch in horror when it flies towards a temporary hut filled with knick knacks.
"Watch out" cries a young man who had been lounging on some rocks a few feet away. My mis-aimed kaduru falls quite close to a small black elephant but does no harm and rolls back on to the sand. "Sorry" I tell him. "That's o.k" he grins and suggests "Buy.
Cheap. Made in Sri Lanka. You give gift. Yeah?". It's my turn, now to grin at him. "Who made these?" I ask him in Sinhala. "Oh!" he says in disappointment. "I thought you were an Indian. I have seen some Indians on the beach, the past few days and I thought you were one of them". He explains and good naturedly agrees to talk with me when I describe my mission to him.
With the kind of optimism Norman Vincent Peal would have approved of, twenty two year old Ruwadi says even though business is bad at the moment, he hopes things will improve in the new year. Yes, Ruwadi is his name.
It is a German name and he likes it because Germans are the ones who buy his home made elephants the most.
As if to prove his point, a German tourist looking greatly like Homer in the Simpsons, walks up to us, points at a statue of the Buddha and asks how much it is in German. Ruwadi bends and draws the figure five with his finger on the sand. "Five Euros".
"Hmmmp" says Mr. Simpson-look-alike, mutters something incomprehensible and walks off. Hard luck? "No! says Ruwadi. "He'll come back. They are like that. Never make quick decisions.
"But they are good at heart" chips in a middle-aged bearded man who had been listening to our conversation. "This is Bandula Aiya" Ruwadi introduces him to me. "I know because fifteen years ago a German tourist bought this boat for me" he continues pointing to a blue and white boat moored on the beach.
"I named her Claus after the Sudu Mahathaya. She is lucky because on the day the tsunami came she was not on the beach, but in my garden receiving a new coat of paint."
The tsunami. What does he remember of that day when the sea turned traitor. "We were lucky that it was a full moon poya day. If not, none of us would be here today". (Poya hinda shape una. Nathnam ape bajar ekama na).
"I still stay awake most of the night, listening to the roar of the sea and wonder if it would rise eleven feet high as it did three years ago...if a tsunami comes in the night we will all be gone" says a lady I had not seen before who also has wrap-around skirts on her arms.
"Don't worry" she assures me. "I am not like the first three you spoke with. You can write about me all you want". Her name is Gunawathi and she has been on this beach for the past twenty years. "A Suddha saved my life when the tsunami came.
I held on to a concrete post grasping for breath. He lifted me in his arms and carried me to the hotel. I am alive today thanks to him." She wipes a tear from her eye. "From that day on, she doesn't bargain with foreigners. She sells her skirts even for two hundred rupees", explains her friend Mangala. "Whatever we sell within a day, we share between us. Even though business is bad at the moment, we hope things will pick up in the new year".
"Are you sure things will improve in the new year?" I continue this line of thought as I fall in step with a dark skinned, needle thin, young man who is strolling the beach with three conch shells in his hands.
He shrugs his shoulders to indicate he doesn't know. "Can you really make a living by selling sea shells to the occasional tourist?" "No" he shakes his head, gives me a sideways look and says "Some tourists ask me to bring them drugs.
I take their money and give them lime (hunu)". I realize I ought to tell him who he is talking to. He nods to say he already knows who I am, in fact the whole beach knows why I am here, and that he doesn't mind. After all he is doing the foreigners a good turn by giving them a harmless substance instead of what they really want.
He has no ambitions for the New Year and assures me if I came back at the end of 2008 in search of another story I will still find him here on this very spot with some conch shells in his hands. "I am not scared of the next tsunami.
Now that I know what to expect I will run and save myself. He explains, stops and adds "No, I do have one wish for 2008". I hold my breath. Is he going to give me the conventional wish for peace and prosperity?. No! Looking at the horizon he says "I hope in 2008 I will laugh more".
If you happen to see a falling star one of these days, do remember to make this wish for him, and for all of us as well.