When will we quit this hell?
Tiger women write home
Two more letters found from the possession of two female Tiger women in Wanni early this week amply prove that they had been forced to serve the LTTE under trying circumstances and untold hardships. They also speak of their pathetic mental agony, malice against the outfit, desperation and also the fear of continuing abduction on their family members. Translation of the letters and photocopies of the originals below is an eye-opener to those who sympathise with the LTTE.
---
31.12.2008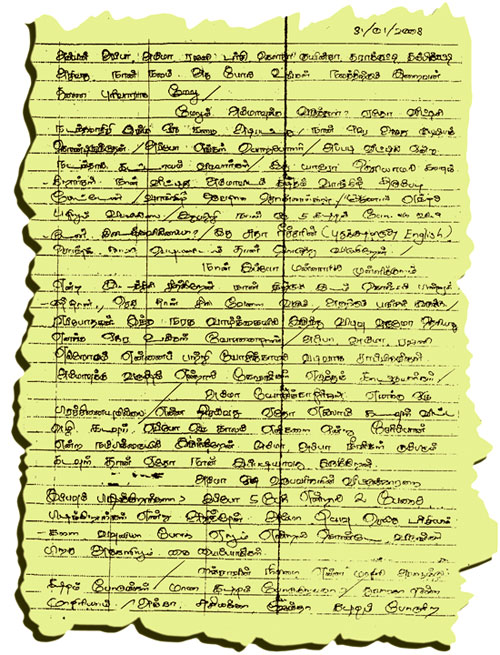 Loving Appa, Amma, Rajini, Dercy, Gamri, Kuyinsa, Tharakutti, Thambakutti, I am all right, I pray god that you be blessed. Is Amma well? There is a rumour here that something has happened at home. I am shedding tears here. Our caretaker will send us home if there is a problem at home. But nobody knows. I sent a letter to Amma.
They who took the letter promised to bring a reply from Amma.
But so far no results. I sent five letters home. Didn't you receive them? I will send this letter in the hand of Suda teacher's Shanthi (English teacher at Pudukudirippu). I am now at the rear ground of Mullikulam in Mannar.
The area is always shelled. We run to bunkers for protection. When will I be able to get out of this hell?
Amma, Appa, Rajini and all, I always remember you. Don't be in hunger thinking of me. If Amma falls sick seriously, inform me. Then they will show me her. Amma, don't worry about me.
I am all right. Can't help. This is the path that god has created for me. I live with the hope that god some day or the other will unite us.
Appa I am saved here by the god that your worship. Amma, do they still arrest the family members of deserters?
Now they abduct two if there are five in the family. Amma, please dispatch Sarasila to Vavuniya. Otherwise, she will also be abducted. How is Jagsa?
Is uncle writing to you? What is Thuvajara doing? How is Shashi Akka? Getting my release from here is only a dream but you must not be moved by that.
Let's wait and see whether they will let me go home. I am sorry that my age is passing. What else shall I write? Dercy, Kawsita, be careful don't be obstinate. Kara, Kutti, Thambi you also be careful. God bless you.
---
Amma, Appa, Thambi (Mother, father, younger brother) and all,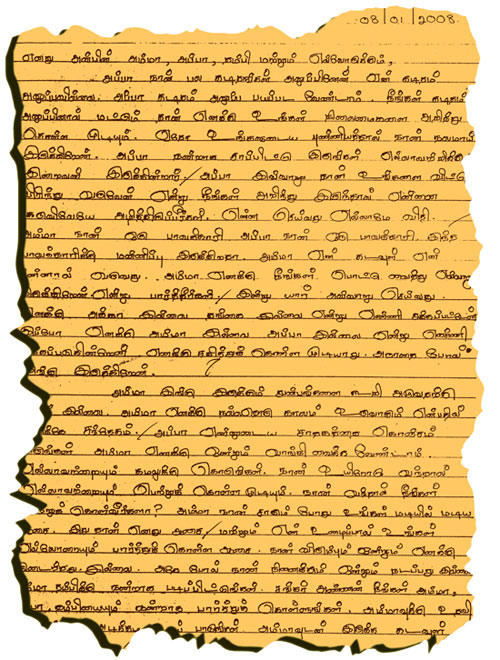 I sent a number of letters. Did you receive them? Why did not you reply? Appa, have no fear to send me letters. I want to know how you are getting on. Due to some merit of yours, I am happy. Appa, enjoy your life. God will take care of everything. Appa, if you had known that I would leave you like this, you could have killed me before I was born. But nobody can go against the fate. Amma, what sin have I done? Why does the god treat me like this. Appa, I am a sinner. Will I ever be forgiven? Amma, those days you put a dot on my forehead and looked after me but today nobody is there to do that. Those days I was worried over the absence of Akka and Thangachchi (elder sister and younger sister) at home. Now I have lost the company of Amma and Appa. I cannot bear this. I live like an orphan here. Amma there is no one here to tell my grievances. I don't know when happiness will come to me. Appa, get my horoscope read to see how long will I suffer this. I will not live if something happens to you. Amma, don't leave anything for me. Give everything to Kamal. I can get anything if I come alive. Will you accept me if I come to you? Amma, I want to die on your lap. I want to earn money and look after you but I know none of those will happen. Amma, give Thambi a good education. Sanker Anna (Elder brother), look after Amma, Appa and Thambi. Help them. I am not destined to be with mother but you can do it. Amma, take me to you at least for a short time.