Market prospects for Ceylon tea in 2008 'optimistic' - Report
The market prospects for Ceylon tea in 2008 look optimistic said Asia Siyaka Commodities (Pvt) Ltd in its annual report 2008.
Local and global factors would play a part in a year full of opportunities as well as some uncertainties.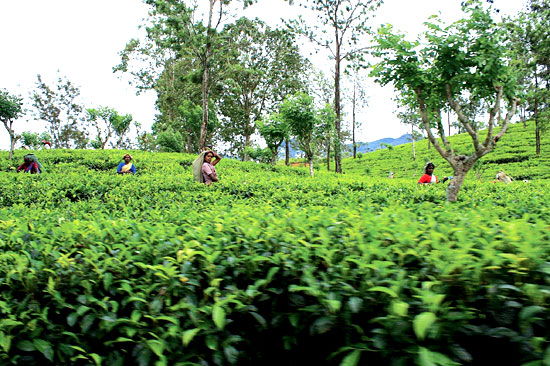 Low Grown teas, together with whole and semi leaf grades from other elevations will enjoy good marketing conditions throughout 2008. Price levels set in 2007 should hold, other than during high producing period of Q2 when we could see comparatively lower prices if the production surge does take place.
Small leaf grades from higher elevations too should follow a similar pattern. In this instance, however, external factors may influence prices even during rush months of Q2, the report said.
On the positive side, Sri Lanka's main tea export markets in the Middle East and North Africa (53%) and Russia and CIS (23%) are all likely to enjoy relative economic stability as oil prices would remain strong in the year that economists forecast recession. Also tea is a part of the basic food basket for many families in these countries.
The liberalisation of tea markets such as Iran, Libya and Iraq will add demand. Even Russia who has its sights on entry to the WTO in 2008 has been compelled to reduce its import duties to the advantage of producer nations.
Sri Lanka is the largest supplier of tea to this market and was granted duty free access for Bulk Tea shipments.
Problems in Kenya will definitely have an impact on global supply during Q1, 2008. Long-term implications will unfold in Q2 and Q3. Kenya could have problems with seasonal dry conditions as well, if they extend beyond Q1. Kenyan quality will also be compromised due to instability.
Food prices have risen around the world, enabling marketers to increase prices. Prices once increased do not easily come down. Packers should therefore be able to at least hold 2007 tea purchase prices.
India's domestic consumption continues strong and exports have been below the 200 million kg mark since the year 2000.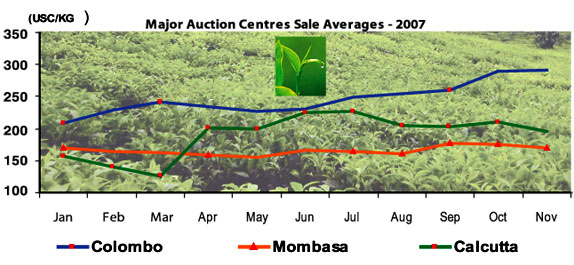 It was only in 2006 that 203 million kg was shipped (including imported tea re-exported).
Judging from preliminary data released to November 2007, export volume is likely to be in the region of 175 million kg.
Serious droughts have-not been forecast in producer countries, but Kenya's Q1 weather is exceptionally dry.
Sri Lanka too will have a dry low producing Q1 while North India and Vietnam will be in winter during this period.
China the biggest global Green Tea supplier has been stocking up for the Olympics. Their have also been reports of crop loss caused by the sever winter. On the negative side, rising costs could affect agricultural inputs and slow a Sri Lankan production recovery.
The smallholder sector as well as plantation companies will face rising fertiliser and wage bills.
Sri Lanka cannot afford another strike in the plantation sector and further damage our reputation as a reliable supplier.
The negative fall out would have a long term impact not just on the Companies but workers themselves and the industry on the whole.
Another year of crop loss would compel hitherto loyal customers to seek alternative sources of supply.
The Indian Central Government has been pumping in money to subsidise conversion to orthodox manufacture.
Simultaneously, India has budgeted for substantial promotional expenditure in Russia.