Colombo Dockyard records noteworthy achievements
Colombo Dockyard(PLC) is one of the top ship repairing companies in the world, said Assistant Manager (Marketing-Ship Repairs) Darshana Chandrasekera. "We earn much foreign exchange and have recorded massive achievements. Our turnover for ship repairs in 2007 was almost Rs. 4.5 billion and it was significant year for us in the yard's history as it crossed the record number of 21 tankers.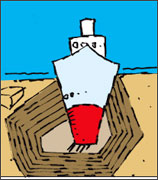 The total number of vessels accommodated in the dry dock passed 102 while 89 vessels were handled afloat. This record feat in ship repairs was accomplished with a reduced repair capacity".
Chandrasekera said the Colombo Dockyard(PLC) has repaired various ships from all over the world that have called at the dock yard for routine repairs. "The MV (motor vessel) orion" a container carrier(25,003 DWT (deadweight)) managed by Alpha Ship Management/WMC Marine consulting GMBH, Germany is undergoing routine repairs at Colombo Dockyard(PLC)'s enormous dry dock No-4. Maximising the operational occupancy, we have accommodated a Steel Barge "Villa barge 4" for underwater damage repairs and Tug Vijayabahu (owned by Sri Lanka Port's Authority and built by Colombo Dockyard (PLC)) for routine dry dock repairs.
He said the Dock No-1 is also busy with the MV.Maldives carrier (8538 DWT) General Cargo Carrier owned by Maldives National Shipping Agencies. Along with this vessel we have accommodated a "Single Point Mooring Buoy" owned by the Ceylon Petroleum Corporation, for conservation work. Dock No-3 is entirely occupied with the "MV. KALIGHAT" (2943 GT (Gross Tonnage) passenger vessel owned by the Shipping Corporation of India, and the second "Single Point Mooring Buoy" owned by Ceylon Petroleum Corporation
A container carrier owned by the "Kotoku Kaiun" Company, Japan which is undergoing repairs afloat, will be accommodated in the dry dock No-1, after repairs on the MV.Maldive carrier are completed. Colombo Dockyard(PLC)'s main repair berth is fully occupied with the 242 meters "Sadanand" (94,520 DWT) and an enormous oil tanker owned by "Mercator Lines Ltd",India. This tanker has called for spacious steel renewal repairs.