Brave new world
Remember Shawshank Redemption.?That rather old fashioned movie in which Tim Robbins plays a 1940s banker wrongly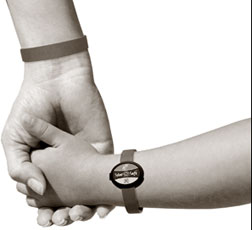 jailed for his wife's murder, while Morgan Freeman plays his protective prison mentor? You are forgiven if you don't remember the names of the actors or the title, but you surely ought to remember the four letters Tim holds onto while in prison "Hope".
Though she has not seen or heard of the movie this is exactly what Miranda Hemalatha too holds on to, in her tireless mission to make the world a better place for children with Down Syndrome. She voices almost the same words heard in Shawshank when she says "Hope is a good thing and there is hope for all those special children out there" .
Formerly the Director of Aesthetic Education of the National Institute of Education, Maharagama, Hemalatha now spends her time conducting classes for children with Down Syndrome because she strongly believes that, if given the right kind of support and encouragement these children will reach their potential. Quoting medical records she further adds that the intellectual capability of children with Down Syndrome varies from individual to individual.
With opportunities and knowledge, a person with Down Syndrome can become a valuable member of the workforce and their community. "Most parents feel unhappy when they learn their child has Down Syndrome. Their biggest worry is that there will be no one to look after the child when they die". Says Hemalatha.
Even though educationists and researchers are still discovering the full educational potential of children with Down (DS) Syndrome, most children with DS have intelligent levels witch range from mild to moderate, and so, they too like all other children demonstrate a wide range of capabilities.
"Irrespective of their gender, these children should be taught to cook. If they can make their own meals they can lead independent lives" observes Hemalatha. She also reminds that society should not underestimate these children nor forget that they respond tremendously to encouragement.
" Most of my children are doing very well" she says with the pride of a teacher who has done her best for her students. She names two, Uditha Kumara and Yasass Madushanka who had achieved a lot through the education they had received from her - all through music. The outstanding star among them however, is a girl who is working as a teacher at the Ladies' College.
Grateful to the Principal of Ladies' College, Hemalatha says if there are other educational institutes that would like to provide jobs to these special children she is ready to help.At present she conducts three classes, in Gampaha, Kalutara and Galle and hopes to have a residential institute built for children with Down Syndrom. "I would like to give them vocational training. Teach them agriculture, carpentry etc."
But as in most things in life, there is a hitch to prevent her from achieving this dream, Money. "I have already acquired land for the institute, but need Rs. 75 million to complete the buildings. How can a small woman like me find such a lot of money." But, unwilling to give up, she keeps on searching for funds because she wishes to reach out to parents who find themselves filled with sadness when they realize all that they plan to do for their child, with special needs, is hard to achieve.
She wants them to have this institute to turn to where they would be able to help their children find a brave new world.
Let's keep hoping a few kind donors will show up to help her. Like in Shawshank Redemption let this story too have a happy ending.
*****
People first
* Individuals with Down syndrome are people first, with the same rights and needs as everyone else.
* The development of individuals with Down syndrome is influenced by the quality of care, education, and social experience offered to them, just like all other people.
The daily lives of individuals with Down syndrome, whatever their age, are influenced by the resources available to them and the attitudes of the people they live with, the people they meet in the community and the people who support or teach them.
Labels matter
The words that we use to describe people convey powerful messages.
According to Sue Buckley the author of Living with Down Syndrome "The term Down syndrome is in common use because Dr. Langdon Down first described the condition.
Traditionally, the term was 'Down's syndrome' for many years but all English speaking countries except the UK have moved to Down syndrome in recent years, reasoning that Langdon Down neither had nor owned the condition so the possessive form is not appropriate.
If people with Down syndrome are people first and their development is not predictable purely on the basis of the diagnosis then it is very important that our everyday language reflects this knowledge.
It is important to always refer to the person first, that is, to always talk about a child with Down syndrome or an adult with Down syndrome if it is necessary to refer to the diagnosis, not a 'Down's child' or even worse 'a Downs' (as in 'We've got a Downs in our school', for example).
Children and adults with Down syndrome hear how we talk about them and it affects their self-image and self-esteem. If you had Down syndrome how would you like to hear yourself and the condition described? Please take a minute to reflect on this question".