The trouble with poetry
Title : Nim Nathi Thunyama
Author : Buddhadasa` Galappatty
Publisher : Sarasavi Bookshop
Whenever a collection of poetry lands on my desk I feel exactly how Aristotle would feel if he happened to be here with us in the 21st Century, at the launch of an e-book - flabbergasted.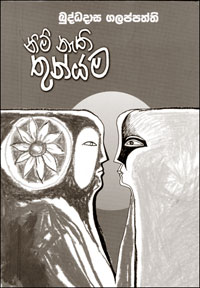 The trouble with poetry for me is that the pages of a collection of poems, with all the words often on the left side of the page, with unexpected line breaks and the rest of the page filled with white space, present territory beyond comprehension.
Unlike the friendly pages of a novel filled with words which convey a sense of companionship, love, security; words guaranteed to present logical straight forward meaning, pages of poetry to me are like jigsaw puzzles - all form and no meaning. So, if I cannot comprehend them how am I to review them?
Calvin in Bill Watterson's comic book "Calvin and Hobbs" has the answer. You cannot write a review on poetry the way you turn on a faucet. You have to get into the right mood. And what mood is that? "Last minute panic". So, here goes.
Some poems when you finally comprehend them burn into you, like a tattoo. Others take a long time to leave a mark. When Buddhadasa` Galappatty sent me his new book of poems and called me the next day to ask me if I had read them I said "Yes".
I really had glanced at most of the poems in "Nim Nathi Thunyama". But when he asked me which one did I like the most my mind went blank. Which one? I could not remember a single poem I had read.
I took a chance and said "The first one" which turned out to be the right thing to say. Overjoyed he said most others had said the same. Now, though, having read them and re-read them most of the poems have become as unforgettable as some of the catchy phrases in TV commercials.
As the title suggests, the best time to read some of these poems is in the middle of the night, turn on a single light, read them while you are alone in an otherwise darkened room. "Half Moon" is such a poem. If you are lucky you too might see the moon in the form of a sickle, and seeing there are no arrows, no hammer you too might do what the poet does - close the window - shutout the moonlight.
But if you happen to read the book while someone else is sleeping next to you, you might smile to yourself reading the playful teasing between two lovers in "Tricks of the Moon" (Hande Mayam).
The moon appears again in "Vesak Sanda" where you finally connect with the poet. "Are you listening under the Vesak full moon, amidst the laughter of your friends for his voice; that familiar voice - the one you like, the one which rouses your desires..." In "Bondage' he describes how the moon and the stars stand witness to the union of true love while electric bulbs witness the sealing of a contract between strangers. There are also nights without the moon - dark nights filled with dark shadows. The words drag you to the darkest depths of depression - especially when the morning comes proving to be darker than the night.
From the moon and the stars to the sun and "The two of us" - or rather to the metaphors of a blue sky (you) and the dark clouds (me).
The last poem to me, is yet, the best. Solitary, passionate, immensely sad, as I close the book I cannot help but wonder if the poet has taken himself (and his reader with him) to a place more inward than it is safe to go.
The poems in Nim Nathi Thunyama, may not make an immediate impact on you. But if you read them over and over, they may make you feel a slow burning...Here are poems which ought to make a mark in the literary cannon of Sinhala literature. Perhaps not immediately, perhaps slowly but definitely.
---
On sleepless nights:
An officer's thoughts turn to poetry
Title : Sagaraya Saha Gahaniya
Author : Rear Admiral Sarath Weerasekara
Publisher : Sahasra Publishers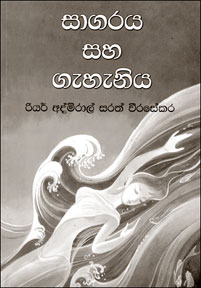 With more than three decades of working as an Executive Officer in the Navy, most of Rear Admiral Sarath Weerasekera's life has been surrounded by the waves of the ocean and war crafts. LTTE terrorists mostly get their weapons and essential goods at nights via the sea.
So the whole crew on the ship keeps their eyes wide open at night. At times only a short break is allowed. During this time to get rid of the stress either they read a paper or book. If not they let their thoughts flow through the pen on to paper, and as a result a collection of poetry "Sagaraya Saha Geheniya" (Ocean and the woman, which was launched recently) was conceived.
In the middle of the sea when the horizon is the only thing to be seen, it is not strange for an artistic person to think of poetry. The poet has tried to highlight the essences of what he gained through his experiences in life.
This can be taken as a challenge for a poet, as he needs to ensure that the experiences and different aspects of his life has passed on to the reader in the right words to create the correct picture. For this, the poet should be aware of the art of language and literature, while maintaining his own style and rhythm.
Rear Admiral Sarath Weerasekara, undoubtedly has covered all these areas in a vivid way. Not stopping there, the poet is capable of passing the emotions of his life on to the reader. One example I recall is when reading the poem 'Miya giya sebalekuge geethaya - a song from a dead soldier' My eyes blurred with tears.
The memories of naval life and the problems we've faced as a country are transformed into poetry, written at first for mere contentment. I read these poems created by Rear Admiral Sarath Weerasekara with much interest.
The best thing I feel is to examine these poems individually. I say this because the poet has presented here many themes that we should take into consideration.
---
Coming together
On the 50th anniversary of Things Fall Apart, Chinua Achebe reflects on his intentions and his influence
Fifty years after he published Things Fall Apart, his first novel, the Nigerian writer Chinua Achebe recalls having modest hopes for the book. At the time, he was a young university graduate who had found a job at the Nigerian Broadcasting Company, in Lagos.
"I was alone in my room, scribbling away, and if nobody had paid any attention at all to me, I wouldn't have been terribly surprised," Achebe recalls with a quiet chuckle, here in his home on the campus of Bard College.
Soft-spoken and humble in person, Achebe has been forceful and uncompromising when reflecting on his native country and continent in his fiction, poetry, and critical essays. In 1993 The Sunday Times, in London, named him one of the "1,000 Makers of the 20th Century" for his contribution to creating "a modern African literature that was truly African." More than 30 universities have awarded him honourary degrees.
Last year, Achebe won the Man Booker International Prize, which goes once every two years to a writer for a body of work; the shortlist included Margaret Atwood, Don DeLillo, the 2007 Nobel Prize laureate Doris Lessing, Ian McEwan, Philip Roth, and Salman Rushdie.
Things Fall Apart emerged at a time when very few Africans had written novels. Literary conceptions of the continent were still steeped in reductive romance, primitivism, and colonial sentiment. Providing an expansive alternative to those conceptions was, to say the least, a mighty accomplishment for an author still in his 20s.
Achebe forged an original voice by merging African storytelling traditions with elements of the Western literature that he most admired growing up including one of its foundations, Greek tragedy, as well as modernist techniques like the breaking of linear sequence. In a tale of a tribal leader floundering to come to terms with a new social order in an Igbo village, he suggested the destructive power of colonization, as well as Nigeria's struggles to achieve postcolonial stability.
Set during the onset of colonial incursions into Nigeria at the end of the 19th century, Things Fall Apart depicts the rise and fall of Okonkwo, a would-be patriarch. Burdened by an amiable but improvident father, Okonkwo develops qualities of manly leadership whose dark sides pride, cruelty, inflexibility lead him into a spiral of conflicts with family members and villagers.
Afraid of appearing weak, he follows an oracle's orders to kill a hostage boy whom he has come to love in his troubled, self-hating way perhaps more than his own son. For Okonkwo, worse ensues when callous colonial rule irreversibly disrupts the social and spiritual order in his village.
Fifty years on, Achebe clearly takes special pride in the novel. When he started it, he says, he had no experience as a writer. But "I knew that there was a story that was needed, that was waiting to come. And so I just well, one was sufficiently načve to think it was going to be possible."
With that admission comes, again, the wry, throaty chuckle. The statement is both a gentle jab at himself and a typical instance of his calm insistence on faithfully representing the facts.
As a devotee of words, and meaning, he speaks slowly enough to be certain of every statement, respectful of the power of speech and writing. His decision to write the novel in English, a choice some critics questioned, was similarly deliberate: English was the language in which Nigeria had been misrepresented, so he would redress inaccuracies in that language, too. To emphasize the inadequacy of those earlier portrayals, he worked Nigerian proverbs and idioms seamlessly into his prose.
Achebe says it was his love of English literature that inspired him to believe that somewhere there would be a Nigerian equivalent. He came to realize that it might even reside in him. He sees a kinship between novel writing and Igbo storytelling. In the Igbo fascination with stories and proverbs, he says, he finds a "struggle with language, to make language say as much as possible to our condition."
"The only thing I knew about doing a story well was being honest," he says. "I wasn't going to show off. I wasn't going to make the people I was writing about or the places I was writing about better than they were. For one reason or another, that was a thing that I knew as if it was from nowhere."
His criticism of Conrad drew vigorous protest from the author's defenders. But Achebe says his intention was simple: to ask "why does one go to Africa for this kind of exoticism that demeans people, makes them less than their worth?"
Things Fall Apart does not idealize Nigerians; far from it. In Okonkwo, for example, Achebe depicts courage and nobility but also ignorance and cruelty. The mighty Okonkwo beats his wives and kills a child. Fellow villagers leave twin infants in the bush to die because twins are considered evil, and mutilate the bodies of dead children so that their *ogbanje,* or spirits, do not return to torment their mothers again.
"There are some very hard things going on there," says Achebe. "I knew that I had to be truthful. I don't know why, because it's just as easy to make the thing up a little. But I refused. I went out of my way to pick up, to find out, to learn as much of the bad things that were going on, and bring them in, deliberately." His characters, he says, "have a dark side, if you like. But I dare you to say they are not human, in spite of that."
This year, as celebrations of his first novel are planned all around the world, he says "I am delighted, of course, but I don't want to be the one doing anything for the celebration. I've begged my friends and also my children who are involved in this to let me just observe it."
Peter Monaghan is a correspondent for The Chronicle.
---
The shepherd
In Sinhala:
Bhutha Yanaya
Translator: Abhaya Hewavasam
Sooriya Publishers, Colombo 10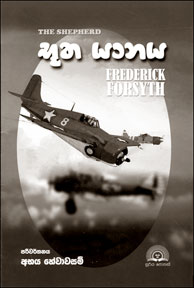 Abhaya Hewavasam's "Bhutha Yanaya" is the authentic Sinhala translation of Frederick Forsyth's thriller "The Shepherd", The book running into 100 - odd pages can be read at a single sitting.
The story is about a single-seater war plane named "Vampire". The young pilot manoeuvres the plane using his skills and intelligence to the full. However, he soon gets into difficulties. The compass and important meters refuse to function for some unknown reason. Inclement weather conditions add to his problems.
When the pilot fails to contact any airport, a mysterious plane comes to his rescue. He follows the signals given by the pilot of the rescue plane and manages to land in an unknown airport almost deserted by the staff.
After saving his life the young pilot tries to contact and thank the man who helped him. However, he comes to know that it was a ghost plane manoenured by a pilot who had died some years ago.
Abhaya Hewavasam has been successful in retaining the thrilling quality of the original book. It is like reading "The shepherd by Frederick Forsyth".
---
The watcher
Jagath Ranatunga, who has already written several collections of poetry has now come out with his first collection of short stories titled Mure.
Born in Matara, Kotwegoda, Ranatunge says his first short story was published in a school newsletter. He recalls when he left school in 1977, his life was centred round writing and painting "It still is" says Ranatunge. "Today the only difference is writing and painting have become my livelihood".
He had come to Colombo in 1983, "before Black July". And it was not the tear gas that had brought tears to his eyes. Since then, the tears have flowed often embedding themselves in the form of poetry and now in the form of short stories as well.
"Aniyam Naga Premaya" and "Railway Gettuwa Langa Maranayak" are two stories in the collection that would leave an indelible mark on the reader. His other publications include Heendari Asuba Nimiththa and Dambadiva Geeya.