Project to develop and preserve rural tanks
The Environment Affairs Ministry and the Agrarian Services Department recently launched a project to develop and preserve catchment areas of rural tanks.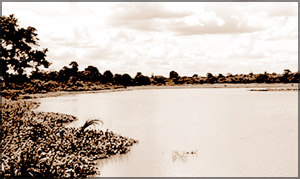 The programme will pay special attention to preventing soil erosion in catchment areas through re-forestation and preventing farmers from encroaching into tank beds.
Tank beds are used by farmers to construct houses, cultivation and animal husbandry.
This has led to the destruction of many small tanks in rural areas.
Programmes to renovate and rehabilitate rural tanks, tank bunds and canals have been carried out by many government and non-governmental agencies. This project would encourage farmers to protect tanks renovated under such programmes.
Tanks such as Ralapanawa, Ihala Galkandegama, Kumbukewewa, Maradankadawala, Vagayakulama, Nabadawewa and Viharapalugama are already being developed.
Reforesting catchment areas is also being carried out under the patronage (support or sponsorship)of the Forest Preservation Department, with plants such as kumbuk, mee and margoza being used in reforestation.
A sum of Rs. 40,000 is being spent on restoring the catchment area of a tank. The project will see the participation of farmers on a volunteer basis.
---
ICT for A/Levels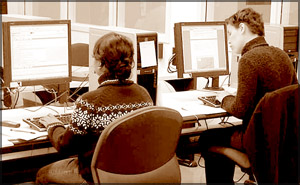 Most children these days are in the forefront when it comes to computer education; they have a lot of knowledge and awareness about computers and information technology.
In this modern information age, it is very important that one gains a working knowledge about computers. The world has come to a stage where being literate means being computer literate.
It is due to this reason that Information and Communication Technology has been introduced as a subject in schools. Starting from last year, it is also offered as an alternative subject at the GCE Ordinary Level Examination.
As a further step in this direction, the Education Ministry has decided to introduce Information and Communication Technology as a subject for the Advanced Level, from next year. The first phase of this programme would see an Education College being established to educate teachers on this subject.
This may certainly excite those of you who like computers and all things to do with computers. If everything goes according to plan, you would also be able to go in for higher studies in the field of computers.
---
Grade One admissions:
New policy for 2009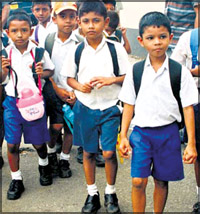 A committee comprising intellectuals has been appointed to formulate a new policy for the admission of Grade One students to school for 2009, according to the Minister of Education, Susil Premajayantha. The committee report is expected to be submitted to cabinet soon and also be presented to Parliament.
Meanwhile, following guidelines issued by the Supreme Court on February 1 this year, the Ministry has already taken steps to commence admissions to Grade One classes in the schools which have not done so to date, before February 28.
The Minister has pointed out that of the 9,251 schools with Grade One classes, 9,033 schools comprising national and provincial level schools, have already started classes. The balance 218 schools, including popular national and provincial level schools will also commence classes before the end of this month, according to the Minister.
Under the guidelines given by the Supreme Court, the number of students in each class will be increased up to 48 students per class enabling more students to be admitted. This would provide relief to a number of students who have not been selected due to proximity issues.
There are provisions to also take in more children of the Armed Forces and also give priority to old girls/boys. Transfers of Public Servants too will be taken into consideration to provide relief to their children.
---
Chinese assistance for museum project
Sri Lanka and China have had a cordial relationship with each other for a long time, and China has assisted Sri Lanka in numerous ways over the years. The BMICH, which is one of the most important places in the country when it comes to holding national events, is one such donation made by the Chinese.
The cultural ties between the two countries received a further boost recently, with the Chinese government coming forward to assist the island build a National Heritage Museum.
This is just one of the many initiatives which would be carried out with Chinese assistance. These projects, which would be carried out under the Sri Lanka-China cultural exchange programme, will develop and preserve the cultural ties between the two countries.
Another major project between Sri Lanka and China is the fully fledged performing arts theatre which would conform to international standards. This centre for artists would come up at the former Nomads Grounds and would include halls, pavilions, dressing rooms and a 1,288-seater theatre.
The centre which would be the stage for many art events such as recitals, dramas and symphonies would be managed by the Ministry of Cultural Affairs.
---
Japanese aid to John de Silva Theatre
A grant of Rs. 3.3 million will be provided by the Japanese government to the John de Silva Memorial Theatre under its Grant Aid for Cultural Grassroots Projects scheme.
The funds are to be utilised for the follow-up project of the supply of lighting equipment carried out at the theatre.
The John de Silva Theatre is managed by the Cultural Affairs Department and was established in 1974 to promote performing arts.
It provides facilities to artists and producers at concessionary rates, to encourage the development of traditional art and culture. Previously, in 1999, the theatre received audio and lighting equipment worth over 42.7 million yen (Rs. 29.2 million) from Japan under the Cultural Grant Assistance Scheme.
Japan has been providing Cultural Grant Aid to Sri Lanka since 1979; a total of 792.1 million yen has been granted up to 2002 towards various projects, such as the provision of a language laboratory system at the Kelaniya University, Astronomical Observatory and audio visual equipment to the Sri Lanka Planetarium, educational programme software to Sri Lanka Rupavahini Corporation, film preservation equipment to the Government Film Unit, microfilm equipment to the National Museum Library, musical instruments to the Aesthetic Training College, audio and lighting equipment to the John de Silva Memorial Theatre and sound and lighting equipment to the Tower Hall Theatre.
The construction of a museum at Sigiriya, being carried out at a cost of Rs. 220 million, is also funded by Japan under this scheme. It is expected to be completed this year.
An additional grant of 170 million yen (Rs. 172.74 million) has also been promised towards a project to improve display equipment at the Sigiriya Museum.
---
Developing schools in conflict-affected areas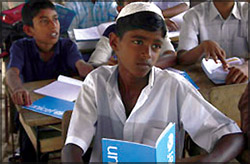 Arrangements have been made by the Education Ministry to develop 17 under-developed schools which are located in areas affected by the conflict.
This project, to be carried out under the third phase of the Jathika Saviya programme, will seek the assistance of 14 National Schools in its implementation. The first and second phases of this programme have been successfully completed.
Invaluable assistance has been provided to the project by most principals, teachers and students.