Edmund Hillary:
A life of high adventure

I
n

t
h
e

l
i
m
e
l
i
g
h
t
All of us love a life full of fun and adventure, but only a few actually get such an opportunity. The New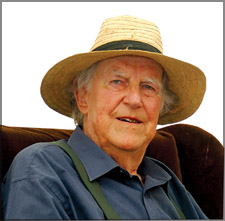 Zealand mountaineer and explorer, Sir Edmund Hillary, who died recently, was one such person who lived an adventurous life, which most of us can only dream of.
His many achievements include being part of the first team to reach the top of the world, the peak of Mount Everest; this he achieved alongside Tengzing Norgay, the Nepali Sherpa. So, read on...his life story may be an inspiration to all of you.
Edmund Percival Hillary was born to Percival Augustus Hillary and Gertrude Hillary in Auckland, New Zealand on July 20, 1919. He was educated at Tuakau Primary School, Auckland Grammar School and later at Auckland University College.
Although he had finished primary school two years early, he struggled at high school. Since he was initially smaller than his classmates and very shy, he sought refuge in books and daydreams of a life filled with adventure.
Learning boxing gave him confidence later on. He became enthusiastic about mountain climbing around the age of 16, after a school trip to Mount Ruapehu. By then, Hillary was 6ft 5in tall and physically strong. In 1939, he completed his first major climb to the summit of Mount Ollivier, near Mt. Cook in the Southern Alps. He became a beekeeper, a summer occupation that allowed him to pursue climbing in winter.
When World War II broke out, and with conscription (compulsory service) being introduced, Hillary joined the Air Force in 1943 as a navigator. In 1945, he was sent to Fiji and the Solomon Islands where he was badly burned in a boating accident, after which he was sent back to New Zealand.
Hillary was part of many expeditions to Everest before joining the successful attempt of 1953. The route to Everest was closed by Chinese-controlled Tibet, and Nepal only allowed one expedition per year.
A Swiss expedition (in which the Sherpa guide Tenzing Norgay also took part) had tried to reach the top in 1952, but had failed due to bad weather. During a 1952 trip to the Alps, Hillary discovered that he and his friend George Lowe had been invited for the 1953 British expedition which they accepted. Two teams were named for the trek and Hillary and Tenzing found themselves together.
The expedition worked its way slowly up the mountain, but many members turned back due to difficulties enountered on the way. The leader of the expedition then directed Hillary and Tenzing to go for the summit. They were held back for many days due to bad weather, but finally managed to reach Everest's 29,028ft summit on May 29.
The famous picture of Tenzing at the summit is the only picture of this historic moment; because Tenzing did not know how to use a camera, there are no pictures of Hillary on Everest. The group was taken aback by the worlwide acclaim they received. Hillary married Louise Mary Rose in September 1953, soon after the Everest ascent.
They had three children - Peter, Sarah and Belinda. Louise and Belinda died in a plane crash in 1975. Hillary married June Mulgrew, the widow of his friend Peter Mulgrew, in December 1989.
His son Peter also became a climber, conquering Everest in 1990. In 2003, Peter and Jamling Tenzing Norgay (son of Tenzing) climbed Everest as part of a 50th anniversary celebration.
Hillary climbed 10 other peaks in the Himalayas on further visits. He also reached the South Pole as part of the Commonwealth Trans-Antarctic Expedition in 1958. In 1977, he led a jetboat expedition, titled 'Ocean to Sky', from the mouth of the Ganges River to its source.
Hillary took part in the 1975 general election, as a member of the 'Citizens for Rowling' campaign. In 1985, he was appointed New Zealand High Commissioner to India (concurrently High Commissioner to Bangladesh and Ambassador to Nepal) and spent four and a half years based in New Delhi. In 1985 he accompanied Neil Armstrong in a small ski plane over the Arctic Ocean and landed at the North Pole, becoming the first man to stand at both poles and on the summit of Everest.
Hillary devoted much of his life to helping the Sherpa people of Nepal by establishing the Himalayan Trust. Many schools and hospitals were built in this remote region as a result of his efforts. He was the Honorary President of the American Himalayan Foundation, which helps improve the ecology and living conditions in the Himalayas.
Hillary was made a Knight Commander of the Order of the British Empire in June 1953, a member of the Order of New Zealand in 1987, and a Knight of the Order of the Garter in 1995. He was also awarded the Polar Medal for his part in the Commonwealth Trans-Antarctic Expedition.
Various streets, schools and organisations around New Zealand and other countries are named after him. In 1992, Hillary appeared on the updated New Zealand five dollar note; he was the only New Zealander to appear on a banknote during his/her lifetime. Many books have been written about his life.
The Nepalese Government conferred honorary citizenship upon Hillary to mark the occasion of the 50th anniversary of the first successful ascent of Everest, at a special Golden Jubilee celebration in Kathmandu. He was the first foreign national to receive such an honour from the Nepalese government.
Earlier this year, the Indian Government conferred him with Padma Vibhushan, the second highest civilian honour of the country.
The great adventurer died of heart failure in Auckland on January 11, at the age of 88. His death was announced by New Zealand Prime Minister Helen Clark as a "profound loss to New Zealand". Flags were flown at half-mast on all Government and public buildings in the country and at Scott Base, Antarctica as a mark of respect. A state funeral was held on January 22.
Facts and pix: Wikipedia