Crowds throng to witness 'Deyata Kirula'
The Deyata Kirula'exhibition opened with a buzz on the 7th of February at the BMICH. Despite being postponed three days after Independence, the masses flocked in throngs to witness this science, educational, development and governmental exhibition.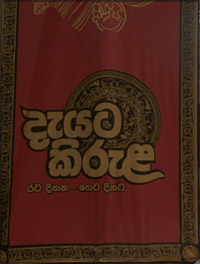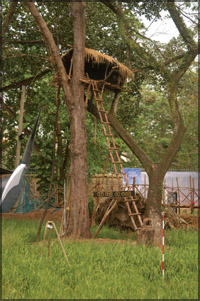 Officially opened by President Mahinda Rajapaksa and organized by the Ministry of Finance, this exhibition would enlighten the public about the government's future in developing plans and goals.
The armed forces Navy, Army, the Air Force and the Paramilitary Forces had their own interesting exhibits on display in spectacular style.
The navy revealed their wide and make-shift boat that was the greeting at their border and showed magnificent submarine vessels, small navy boats, navy engineers and the highlight was a diver kept in an air-tight steel unit.
The army had their stunning display of their model and real infantry weapons, assault rifles, sub-machine guns, sniper rifles, machine guns and army tanks of humungous sizes.
The air force got down a huge Attack Helicopter and had models of their Attach and Offensive Support Aircraft, Reconnaissance and Maritime Patrol Aircraft and Flying Squadrons.
Nearly all of the major ministries had their own stalls and areas where they highlighted a lot about the development work that they do.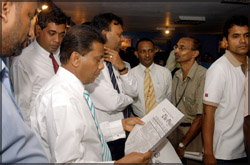 The Tourism Ministry, Environmental Ministry, Science & Technology, Urban Development Ministry, Justice Ministry, Ministry of Finance and Planning and the Education and Higher Education Ministry including several others all had eye-catching shows spread out on every inch of the BMICH.
The Northern Provincial Council had their own stall which underscored the growth and improvement after the trouble and help from government and various NGOs. The Southern Provincial has highlighted much of the Hambantota harbour expansion and the other Provincial Councils has their own revelations of what work they have done and how the population has been growing year by year.
The Wayamba stall invoked much interest with their 'Vee Bissa' entrance that offered insights about the farming community.
The media zone held various media organizations and even our own Lakehouse stall stood gloriously in the midst of it all. The printing machine printed the very first editions of the Ceylon Daily News, Sithumina and Dinamina newspapers. Photographs of memorable occasions, dignitaries and latest events were shown on display as well.
The foreign affairs division held the Malaysian, Myanmar, Philippines and Romanian stall. Many more stalls offering interesting products and services like plastic producing companies, food manufacturing companies, clothes shops, companies dealing in rubber and tea and other export/import companies made themselves known at the 'Deyata Kirula'.