Choose your friend
Good friends will never ask "why" or say "I told you so", when ever their friends get it into trouble. What matters most is to get that person out of danger or easing their pain. Types of friends vary and do not take the same image, as we expect.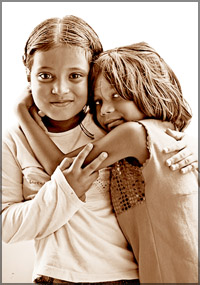 Buddhist teaching has identified four types of bad friends and four types of good friends. Annadaththuhara is the type of friend who always associate with friends for personal gain.
This type of friends always expect and almost never give back or give less and take more. Always never help a friend on purpose. Vachiparama - in the true sense of the word, will help the friend by word only.
When the friend asks for any sort of assistance, this type of friend will always slyly refuse to help. Anuapiyabhani, the third type of friend, will praise the friend profusely in her or his presence but in the absence of the friend, criticises him or her.
This type of friend will approve both good and the bad things of the friend, and will not attempt to safeguard the friend from bad things. Apayasahaya, approves and even support only bad things the friend does, the type of things that will bring about a friend's downfall, such as drinking, financial destruction, etc... These are the four evil friends according to Buddhism.
The four virtuous friends according to Buddhist teaching is Upakaraka, Samana sukha dukkha, Aththakkhai and Anukampaka. Upakaraka always helps friends. If the friend is doing wrong or committing a crime, this type of a friend gets him or her out of it. Moreover this type of a friend makes sure to safeguard the friend's properties.
When the friend is in want of any help, this type of a friends will step forward to help. Samana sukha dukkha, in the true sense of the word, will stay beside the friend in good and bad, unchanged.
He will never let the friend down during hard times, always protects his or her secrets; also tells his or her secrets to the friend; will protect friends at any risk to ones own self. Aththakkhai always wishes for the friend's welfare. He encourages good deeds and prevents the friend from doing immoral things.
Anukampaka is an intimate friend who rejoices in the friend's happiness and grieves during bad times. When somebody tells of his friends something good he encourages it and prevents when someone is relating anything bad of him, explaining to that person the true nature of his friend.
Knowing your friends are of utmost importance while it is also important to know what kind of a friend you are and try to be a better friend if you are not, already.