If you think you can, you can
Why gift Sir Richard Branson's books as new year gifts when you can gift an autobiography by a true Sri Lankan who has been a silent achiever right throughout?
After reading the autobiography of Dr. Uvais Ahamad, I have found not only a perfect present for my dear ones but also derived guidance and morale boosting for fulfilling my life's goals.
Reading the autobiography of one of the learned legends in Sri Lanka is truly an enlightening process since it is surrounded by a true Sri Lankan context. Most motivational books we read do not relate to our environment but after reading 'Opportunities and Challenges', I was amazed that such a humble and strong individual could ever manage to have faced different and difficult obstacles to really come up in life.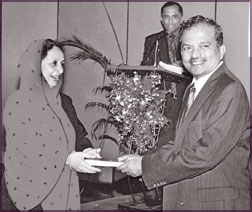 Many of us are blessed with having our parents to support and nurture us along the way but Dr. Ahamad had to work after his father had difficulty making ends meet. Even when Dr.Ahamad started working, he didn't get paid as an employee until the intervention of the distinguished Sir Razik Fareed.
Even though at the height of JVP uprising when teachers stopped working, he advised them to build a Model farm for which he also assisted when he was the principal of the Zahira College, Gampola.
When the students came back they were exposed full-length to the wonderful world of agriculture and won several prizes at agricultural exhibitions. He ensured students were educated properly, were taught manners, were involved in home science and handicrafts. This was an astounding success for the development of the village.
Many more stories come from his international travel bag. It is enlightening to learn how this humble individual has basically taught the world great things about love, honesty and giving from the heart.
For someone who is a rare educationist and a renowned dignitary, he has met various notable people, from Thailand to even the King of Tonga. Working with the United Nations and assisting to take education and new developments in education forward he has also worked with the UN.
Sweat and tears make Dr. Ahamad the impressive and knowledgeable man that he is today. The Dr.Uvais Ahamad foundation helps deprived children around the island who need to study and also helps foster more people to help the less fortunate especially in the field of education.
All proceeds of the book will go to the foundation to help lift the education standards of our future generations. Enlighten your life and draw hope and courage from the inspirational life story of Dr.Uvais Ahamad. In times of difficulty, make yourself think that you can achieve something because you can!