'i' for an 'I'
He handed me a copy of Inequality and I realized that the first letter of all the lines were in lower case, including the noun 'I', all over the book. And his explanation was - "If we use simple letters for everything else, including the noun 'we', why not for 'I'?"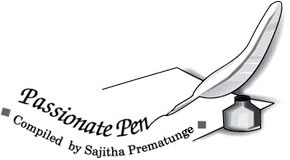 'Ok ok I'll tie my hair.' I thought grumpily, plucked my eyes from the book of poetry titled "Inequality" I was engrossed in and prepared to get off as I waited for the vehicle to stop in front of Lake House.
'Why! oh, why! can't I write?', something that had been nagging me all my life came back, creeping to the surface from somewhere at the back of my mind. It often happens that i... i... (ok something is wrong with the caps lock button) ...I suffer with this syndrome whenever I interview someone I believe to be, a great literary figure I can only aspire to be.
Speaking of caps lock I noticed that, contradictory to norm, all the lines in this poetry book began in the lower case. Even the 'I' was replaced with an 'i'. As it suddenly crossed my mind even the name pf the poet was spelled in the lower case - 'daya dissanayake'.
Daya Dissanayake or rather 'daya dissanayake', like Shakespeare started publishing late in his life, with Kat Bitha (1998) as his first novel, which won him the State Literary Award. "That probably encouraged me to keep on writing'. He explains "It's about Sigiriya, as accounted by a tenth century young Buddhist monk and a young boy.
The story has no conclusion, leaving the reader to be the judge". He wrote his second novel Saadu Testament in the same year, which is considered to be the first e-novel in Asia. Kat Bitha took me almost two years to complete, due to all the reading and research involved. "Saadu Testament took me only around three months, so I wanted the people to read it free of charge.' He continues.
"It's also available as an audio book in saadu.com. It's probably the first audio book in Sri Lanka. The real idea has been to give an opportunity to the differently abled." He has two novels available only as e-books - Bastard Goddess and Thirst. Bastard Goddess is what he prefers to term as a 'futuristic novel'.
"They are based on something that could happen in the future as opposed to 'historical fiction', which is based on something that happened in the past." Bastard Goddess explores the possibility that the next Buddha could be a woman.
The novel I am currently working on, is a bit futuristic as well, based at least 10,000 years ahead." Thirst is a unique historical, environmental novel, where the author's imagination evokes conservationists protesting against the new developments, with no definite indication of time or place.
"Some people think that Moonstone is futuristic, but it's about the present day, a little about Buddhism, astrology and technology." Says the writer.
The book struck me as somewhat peculiar, as it's a story about a man who wants to kill his father in order to make him be born as his son in the next birth so he could atone for all the things he could not do for his father as a son.
It's clear that most of his novels involve fantasy, which he sees as gained from life experiences. Eavesdropper, yet another unorthodox attempt, won the State Literary Prize in 2007, for the best novel as well as for the best manuscript, for the first time in history.
His Healer and the drug pusher is a well informed comparison between medicine now and a thousand years ago.
Daya Dissanayake is no stranger to bilingualism. Most of his books are available in English as well as in Sinhala.
Healer and the Drug Pusher is available in Sinhala as Wessan nowu wedun, Moonstone and its Sinhala counterpart, Chandraratnage bhawantharaya was launched simultaneously, not translated but two novels written in different media.
The Sinhala version of his collection of poetry Inequality, Asamanathawa is scheduled to come in to print this year.
I realized, true to the warning I received before the meeting, that he was a man of contrasting natures. The author of the first e-novel and audio book, was dressed in a 'National'. "I've been using computers since 1983." He explains. "But we should retain our identity whenever possible. We have to use technology and the English language the way we want to. We should not let that become the master.
Even if what we write reaches an international readership it should reflect the true picture of our country, our beliefs and our culture. We should not write what they want to hear. We should not try to imitate, but try to be more innovative."
*****
See your words in print?
Email your poems and short stories to [email protected] or post them to "Passionate Pen", Sunday Observer, Associated Newspapers of Ceylon Limited, Number 35, D.R. Wijewardene Mawatha, Colombo 10.
Please be patient and do not be discouraged if the publication of your poems/short stories is delayed. Most of the poems which we received were subject to rejection because they were too long. Please make an effort to limit your poems to less than thirty lines and the short stories to less than 1,500 words, in order to avoid rejection.
Look forward to new changes in Passionate Pen, where you will be able to learn a lot from professional writers.