Election fervour grips Bhutto supporters
Ali Bukhsh, a resident of Pakistan's southern Sindh province, says he has two passions in life.
One is his belief in mystical Islam. He has devoted his life to serving pilgrims at the shrine of Sindh's most popular saint, Lal Shahbaz Qalandar.
The other is his love for the Pakistan Peoples Party (PPP), the country's largest political grouping.
This feeling is shared by many people in Sindh, a province known both for its powerful feudal lords and for the shrines of some of the oldest mystic saints of the Indian subcontinent.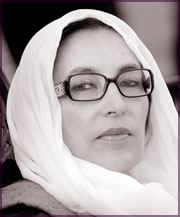 In December, the assassination of PPP chief Benazir Bhutto sparked riots across the country, bringing life to a complete halt for more than three days.
Sindh, her native province, was the worst hit.
Weeks later, popular grief and anger seem to have been transformed among Ms Bhutto's supporters into a desire to defeat the ruling PML-Q party, which they blame for her assassination, at polls due on 18 February.
During a recent 900km drive around some districts of upper Sindh, I got a feeling that election campaigners from the parties other than the PPP had simply lost touch with the people.
Low turnout
In four districts that I crisscrossed in two days, I did not see a single election office set up by the PML-Q candidates, and only a few billboards for the party in areas where powerful landowners opposed to the PPP can establish their writ.
But the PPP flags were everywhere, and every other man on the street appeared to be a PPP supporter.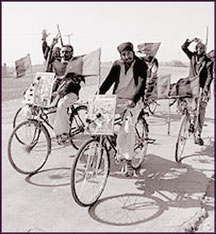 Sahib Khan and Mohammad Salim, both in early 20s, are two such people. Farmers from Moro town, they both cycled for two days across a 170km stretch to reach Ms Bhutto's native Garhi Khuda Bukhsh village for her chehlum - the 40th day when the period of mourning for a deceased person comes to an end.
They were bracing themselves for the return journey, just as strong icy winds begin to lash the land.
"We will be alright," says Sahib Khan. "Benazir gave her life for us. We will give our life for her."
Will these sentiments translate into votes in a country where voter turnout has ranged between an abysmal 30% and just a little over 40% in the past?
When the election schedule was announced in November, critics said the arrangements could lead to a low voter turnout.
Backlash
The first dampener for voter interest came when President Musharraf appointed an interim government of mostly PML-Q sympathisers to oversee the elections.
Secondly, he declined to concede the opposition's demand to suspend district governments, most of which are controlled by the PML-Q appointees.
Opposition demands for an independent election commission were also brushed aside. The result, critics said, was an institutional structure heavily tilted in the PML-Q's favour.
Local election observer groups have pointed out several instances of patronage being extended to the PML-Q candidates by both the interim government and the district governments.
The election commission has no powers to enforce rules and has only been acting as a post office between the complainants and government departments. Before Ms Bhutto's assassination, there were also reports of the intelligence agencies pressuring PML-Q opponents in Punjab and Sindh to drop out of the contest or change parties.
But the countrywide backlash that followed her death and the international pressure it brought to bear on the government seem to have changed the dynamics of the situation. Scare
For one, army chief Gen Ashfaq Pervez Kayani has publicly ordered military officials not to indulge in politics.
The polling officials, most of whom are thought to be PML-Q appointees, are also likely to be under pressure to conduct the election in a transparent manner.
As hopes grow for a competitive election, voter interest has been revived, creating a chance that a single party may win a clear majority.
But observers point out that several recent incidents of firing on election gatherings in Punjab may be designed to scare voters. In Karachi, the capital of Sindh, the recent killing of two ethnic Pashtun student leaders within a week is being seen as an attempt to pit Pashtuns against the Urdu-speaking people.
Whatever the impact on other voters, saint Lal Shahbaz Qalandar's mystic servant, Ali Bukhsh, says he will not be affected.
"I did not vote in the 2002 elections because it was no use. The government was planning to rig them," he says.
But this time it is different.Come 18 February, he intends to take a 60km bus ride to his home town, Mehar, where he is registered to vote.
BBC
---
Ch vez threatens to end oil exports to U.S. in Exxon feud
Caracas, Venezuela: President Hugo Ch vez threatened Sunday to halt oil exports to the United States if the oil giant Exxon Mobil succeeds in freezing billions of dollars of foreign petroleum assets controlled by Venezuela.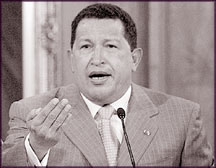 The warning ratchets up a fierce legal dispute between Venezuela and Exxon after Mr. Ch vez's move to exert greater state control over the nation's oil industry last year.
Rather than submitting to Venezuela's terms, Exxon withdrew from a major production venture, intensifying the feud.
"The bandits of Exxon Mobil will never rob us again," Mr. Ch vez said in comments broadcast Sunday on his weekly television program. He accused Exxon, one of the largest publicly traded oil companies, and the United States of mounting a conspiracy to destabilize Venezuela.
"I speak to the American empire, because that's the master," Mr. Ch vez said. "Continue, and you will see that we won't send one drop of oil to the empire of the United States." Referring to Exxon, he said, "They are imperialist bandits, white-collar criminals, corruptors of governments, overthrowers of governments."
Venezuela's government has been seething since Exxon recently won orders in British, Dutch and American courts freezing as much as $12 billion in Venezuelan oil assets abroad - refineries and other oil-related infrastructure that Venezuela owns. Venezuela vowed to overturn the decisions before arbitration over Exxon's attempts to win compensation for its nationalized oil project.
"We have no comment," said Margaret Ross, a spokeswoman for Exxon, based in Irving, Tex., after Mr. Ch vez spoke.
Mr. Ch vez has repeatedly threatened to cut off oil supplies to the United States, but has never done so.In fact, despite a deterioration in political relations, the United States remains Venezuela's top trading partner.
Venezuela is the fourth-largest supplier of crude oil to the United States, sending 1.2 million barrels a day to American refineries, according to the Energy Information Administration in Washington.
The dispute with Exxon is focusing attention on Petróleos de Venezuela, the national oil company, which Mr. Ch vez has purged of his political opponents and reconfigured to finance social welfare projects.
The company faces steeper borrowing costs after the price of its bonds plunged by 3 percent on Friday, to 66.75 cents on the dollar.
Declining oil production at Petróleos de Venezuela has allowed other countries in the OPEC oil cartel, notably Saudi Arabia, to gain a greater share of the market in meeting the expanding global demand for oil.
The problems at Petróleos de Venezuela, a major revenue source for Mr. Ch vez, are occurring amid growing discontent over food shortages and galloping inflation.
The tension with Exxon was just one of Mr. Ch vez's subjects on Sunday.
He also accused the United States and neighboring Colombia of bringing paramilitary squads to Venezuela to traffic in weapons and cocaine.
And he said his political opponents were plotting to "reconvert Venezuela into a North American colony."
---
Medical staff told not to reveal foetus gender
Manama, Bahrain: Health authorities have ordered medical staff not to reveal the gender of foetuses to pregnant mothers, sources told Gulf News on Sunday.
They made the decision after doctors discovered that information they supplied about the gender led several pregnant women of Arab origin to abort their female foetuses.
"These pregnant women became anxious after doctors treating them told them that they had female foetuses. They were very concerned about the reactions of their husbands who wanted to have sons," the sources said.
"Revealing the gender of the foetus is strictly prohibited," a sign posted at a health centre in East Riffa, south of Manama the capital, read, without giving an explanation.
Dr Abdul Hussain Al Ajmi, head of the medical services for healthcare, said his directorate did not issue any note to doctors about not to reveal the gender of the foetus. "The decision could have come from another directorate, but definitely, it was not from ours," he said.
Dr Al Ajmi said he did not receive any complaint from fellow doctors about the selective abortions.
Abortions are not allowed in Bahrain and the few exceptions are performed under strict religious regulations when the foetus has been found to be deformed, or with a congenital defect detected through ultrasound, amniocentesis, or other tests.
Preference for sons
Abortions can also be performed if the pregnancy poses a threat to the life of the mother, and early deliveries are done if the woman has life-threatening conditions. Several Arab countries prefer the birth of sons to daughters for economic and cultural reasons.
Sons are viewed as more able to provide for their families, particularly in rural areas where men do most of the manual work to support the relatives and elderly parents. Boys also enjoy a special status to carry the family line and to protect its honour. Abortions are not allowed in Bahrain and the few exceptions are performed under strict religious regulations.
---
Turkey divided over headscarf ban
Turkey's parliament has voted in favour of overturning a ban on the Islamic headscarf in universities.
The government argued that changing the constitution was crucial to ensure all women had equal access to a higher education.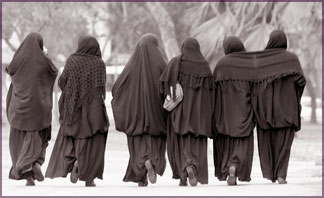 But far from offering a definitive solution, this ruling threatens to cause chaos. Women have been banned from covering their heads in all state offices and institutions in Turkey for decades.
It is part of the strict division between religion and politics in a country where at least 99% of the population is Muslim.
In the 1980s the headscarf was also prohibited at all universities, declared a symbol of political Islam.
Turkey's current government, led by religious conservatives, has long pledged to overturn that.
But it is a highly controversial and divisive issue.
'Stay secular'
As parliament met to vote last Saturday tens of thousands of protesters jammed the streets of the capital. Muslims - demonstrating against the Islamic headscarf.
Many were women who fear that relaxing the rules on the headscarf is a first step towards increasing the influence of Islam on society.
They see it as a serious threat to their own non-religious way of life - changing the face of modern Turkey.
"Turkey is secular and will stay secular!" they shouted, turning the whole area bright red with thousands of national flags.
"We consider [wearing the headscarf on campus] not as a right, but as imposing religious beliefs into our laws, our constitution," insists Ural Akbulut, rector of Ankara's prestigious METU university.
A portrait of Mustafa Kemal Ataturk - who founded Turkey as a secular Republic - looks down from the wall of his wood-panelled office.
"We say that will damage secularity. Once you do that, you damage democracy," the professor explains.
"Secularism is like a diamond. Once it has a defect, its worth is halved." His view is shared by Turkey's powerful secular establishment, including the military. It was to safeguard secularism that the generals forced from power a government they deemed too Islamist a decade ago.
The headscarf ban in universities began to be strictly enforced after that. But for some students that translates into a daily humiliation.
Rabia reads history at METU and has to remove her scarf every day before she arrives on campus.
She wears a wig instead, but says she has been hounded out of a lecture hall in the past even for that.
"I think people should learn that we are human beings too. We have the same feelings as they do," Rabia complains.
"I think they should get rid of their prejudice."
Another friend went abroad to study rather than remove her scarf, which she calls an expression of her personal faith.
"It is a baseless phobia, there is nothing to be scared of," she argues, dismissing talk that the scarf is a subversive symbol.
"It is a question of freedom." That is how the governing AK party explains its efforts to reverse the ban, in a country where two thirds of women cover their heads.
"If tens of thousands demonstrated against this reform, then 19 million 999 thousand support it," argues AK Party MP Yasar Yakis.
"The injustice is there. The problem had to be solved," he says.
Legal challenge
The government argues its constitutional changes now secure the legal right for women to study with covered heads, should they want to. "We believe that what is expected from us politicians has been done," says Mr Yakis and suggests the next step is down to the universities themselves.
"Those who implement the law should see that this is the will of the people, and adjust their approach accordingly," he argues.
But the reformed articles of the constitution stop well short of mentioning the Islamic headscarf outright.
The government's proposal to do that in addition - in the Higher Education law - is even more controversial, and currently on hold.
Turkey's main opposition party has pledged to challenge all the legal changes in the constitutional court.
And in the meantime prominent university rectors have declared they will continue to refuse covered girls access to campus.
"Our right to a higher education in the headscarf is now secured by law. The ban has no legal basis," argues Fatma Benli, a lawyer and pro-headscarf activist.
But she believes that is irrelevant when the issue is a political one, like this, not a legal one.
"University rectors see themselves as above the law. They refuse to take the girls in, and that is the end of the discussion."
After weeks of fierce debate - on the streets, and in the media - passions on both sides are running high.
There are already signs of increased polarisation and tension.
If students decide to put the new laws into practice some predict that could spill over into open confrontation.
"Girls will try to force their way in, faculty members will keep them out," argues Mr Akbulut.
"This will cause turbulence and conflict."
In this climate it seems unlikely many girls will attempt to test the system just yet. But round one in this landmark fight is over. All eyes are on the constitutional court now, for its verdict.
BBC
---
Manila women fight contraception ban
Twenty of Manila's poorest residents have filed a legal challenge against what they say is a ban on contraception.
The group - 16 women and four of their husbands - are fighting a policy which they say denies them access to condoms, to the pill and other effective forms of family planning.
This has had a devastating effect on their lives, they argue, causing unwanted pregnancies, pushing them further into poverty and harming their health and wellbeing.
The case has sparked debate in the Philippines where, says Professor Michael Tan, chair of the anthropology department at the University of the Philippines, there is no national policy on family planning.
More than 80% of Filipinos are Roman Catholics and the Church is hugely influential. Abortion is banned and President Gloria Arroyo openly backs the Church's anti-contraception stance.
Previous attempts to pass laws requiring government funding for services like family planning and Aids prevention have been blocked by conservatives, Mr Tan says. This has left crucial decisions in the hands of local officials and resulted in a very mixed picture nationwide - so this case is very significant.
"People recognise that the courts must decide once and for all whether local government officials can unilaterally ban family planning services," he said.
'Culture of life
The policy at the centre of the controversy was introduced in February 2000 by the then Manila City Mayor Jose Atienza, a staunch Catholic.
He backed "natural" family planning - a less reliable method which involves couples not having sex when the woman is at her most fertile - and called the use of alternative contraceptives "a very, very destructive practice which ruins Filipino values".
Mr Atienza passed Executive Order 003, which "upholds natural family planning not just as a method but as a way of self-awareness in promoting the culture of life while discouraging the use of artificial methods of contraception".
Although carefully worded to avoid an outright prohibition on "artificial" contraception, it was interpreted as such by city health officials, campaigners say.
Condoms and pills - which had been free - disappeared from local health centres. Hospitals turned down requests for sterilization operations. Many health workers stopped providing any information whatsoever on contraception.
Some family planning services did remain available at government-run hospitals or in other districts of the sprawling capital which did not fall under Mr Atienza.
But these services came at a price, people had to travel to get them and many simply did not know where to go. NGOs who tried to fill the gap reported harassment by city officials.
Lawyers for the group - from Philippine-based rights organisations LIKHAAN and Reprocen, and the US-based Center for Reproductive Rights (CRR) - argue that EO 003 has caused "serious and lingering damage" to residents.
The policy has hit poorest people the hardest, they say, forcing people to choose between a packet of pills or food for their families.
Several of the petitioners have had many more children than they wanted - some at the expense of their health - because they could not afford to pay for contraception. The policy also exposed women to violence from husbands who did not want to abstain from sex, the rights groups found in an earlier report, and meant more women were resorting to illegal and unsafe abortions.
Mr Atienza is no longer mayor - he is now secretary for the Department of Environment - and his replacement Alfredo Lim is currently looking at the issue. But EO 003 remains in place and there are no plans to start providing free contraceptives again - not even condoms for sex workers.
"The city will not use funds for the procurement of contraceptives - not when we have a budget deficit of more than 1bn pesos," said Dr Gina Pardilla of Manila City health department. "We need the money for other social and health needs."
The plaintiffs argue that EO 003 violates the constitution - which gives couples the right to plan a family in accordance with their beliefs - as well as several international conventions to which the Philippines is a signatory.
Similar orders have been enacted in two other areas, which is why Elizabeth Pangalangan, Reprocen director and a lawyer for the petitioners, says it is important that the case sets a legal precedent.
"We want to say that this cannot be done in Manila or anywhere else," she said. The group will take their case to international courts if necessary. Success in the courts would be welcomed by a silent majority, Professor Tan said, citing surveys which show most Filipinos want access to family planning.
"Demand is very clear, but the problem is that the Catholic Church works on the supply side, getting to politicians like Mayor Atienza and threatening them with the so-called Catholic vote."
A court decision might also embolden government officials to implement nationwide policies, he said.
"The Department of Health is currently held hostage to the views of Arroyo - officials fear that they will lose their jobs if they promote family planning."
"A court decision would free people by taking away the Sword of Damocles hanging over them."
BBC