Heart FM: an intermingle of youth, love, creativity and meaning

by Ruwini Jayawardana
Senesh Dissanayake Bandara's 'Heart FM' adorns the Sinhala silver screen in EAP theatres island wide with its ability to touch all those young at heart. Though the story is no masterpiece, Senesh had mastered aesthetic skills in presenting the episodes in an appealing manner.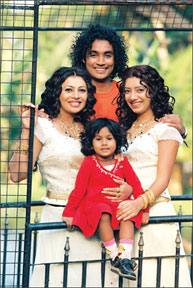 The movie is running into a packed house audience and is possibly another trend setter by the young director of the "Aadaraneeya Wassanaya" fame.
The story unravels that it is a person's qualities, not their looks that count. It is centered on three main characters, Shakya (Sachini Ayendra), a daughter of a politician, her sister Mandakini a.k.a Mandy (Kanchana Mendis) and Rajiv, a young DJ working at a radio station (Gayan Wickramatileke). Shakya encounters Rajiv via 'Home Delivery' a song request programme.
Rajiv is touched by Shakya's tale of woe, a tale she relates by taking on a new identity - that of her sister's. Rajiv peruses the real Mandakini believing she is the one who continues to phone him. Finally the big day arrives with Rajiv encountering Mandakini. Day breaks with a close relationship forming between the duo.
Then the story takes two unexpected turns. Mandakini has a sickly daughter, Rachel (Dinuli Mallawarachchi), from a previous romantic encounter abroad. The father of the child (Aruna Lian) arrives in Sri Lanka for the custody of his daughter.
Mandakini has no other option but to turn towards Rajiv for help. Significantly at the same stage Shakya is faced with a dilemma. She who had arranged for Rajiv and her sister to meet realizes that she herself has a romantic attraction towards Rajiv, an attraction so strong that she is willing to break through social morals and family ties to get what she believes is hers.
Though the outward framework of 'Heart FM' is given a light touch the movie reveals the true state of the present society. Selfishness overtakes all barriers and ambitious individuals will take on any obstacle or risk to meet their needs.
This is revealed clearly towards the end as the disturbed mind of Shakya is brought out in the form of a series of episodes during her confession in a hypnotized stage to the psychiatrist. With a light hint of humour the director allows satire to take over as we watch how the green-eyed monster takes control over a once bubbly, happy-go-lucky character - a personification of the unbalanced mind itself.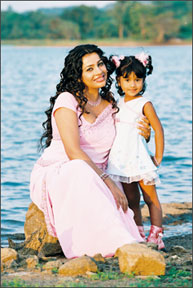 Another aspect to take note is that the director had let the images do most of the talking. The count down of days pending for Shakya's exam and Rachel's operation is shown by the numerals pasted on the walls and on bedside tables in the character's rooms constantly hinting that the prank played on Rajiv is about to an end and the desperate situation of Mandakini which made her set aside her pride and ask for help from Rajiv and eventually her parents.
These scenes constantly enforced upon the viewer's mind, heightening the tension, may be a form of excusing Mandakini's actions in practically using Rajiv, a man she had just met for a charity promotional programme and trusts as far as to entrust her daughter's safety to him.
A question arises in the viewer's mind when Rajiv who was deeply affected by Shakya's prank fails to recognize her voice after having encountered her sister, Mandakini. Yet again he identifies her voice when the latter calls him from the hospital before things are brought to light.
Though shooting had taken place in Colombo director Senesh had managed to bring the beauty and gaiety that are connected with youth lifestyle. With bright colours, eye catching settings and refined DI and DO technology (Digital Optical and Digital Intermediate) the director was able to transform the dreary Colombo environment to a spirited world of fantasy so typical for youths.
Sachini Ayendra as Shakya enacts her role to expertise transforming herself from a lively personality to a mentally imbalanced murderess. Kanchana and Gayan too contribute to display their talent though the latter leaves the former looking like nothing more than a wallflower, taking note of him when the need arises and barely acknowledging his existence at other times.
Apart from the three main roles other roles are played by Irangani Serasinhghe, Chandani Seneviratne, Tony Ranasinghe, Mahendra Perera, Aruna Lian, Shrimal Wedisinghe, Pradeep Senanayake, Deepani Silva, Rex Koddipilli, Shani Fonseka, Sahan Ranwala, Varuni Madupani, Vindya Madusankani and Dinuli Mallawarachchi.