Music and drama brought them together
Charitha talks about life with singer Edward Jayakody:
****
'Ahas gange tharu keta gane
Polothale weli keta gane
Nilsayure rala pela gane
Aadarai man aadarai.....'
The number of stars in the sky,
The number of sand molecules in the earth
And the number of waves that emerge in the ocean
Are uncountable...
Likewise, my darling,
I have no words to express my love to you,
As it is so great, grand and wonderful ......
****
Many readers know it's all about Edward and Charitha, not merely seeing their pictures on the page, but when your eyes catch the beautiful verse, which expresses her benevolent, worldly love and compassion towards her husband.
So much to talk about Edward and Charitha... "Well?" begins Charitha leaning against a cosy chair in her spacious living room which is occupied by her students who come to learn music during the weekends. "Little busy these days as I'm registering new students to my 'Seri Sara' music monastery which is for those who want to learn music and do exams.
The 'Rasa Vindana' class which I conduct for music enthusiasts in any walk of life has no age limit. Anybody who likes to have voice training is welcomed," says Charitha who got through her 'Visharada' exam last year.
Charitha begins to talk. People are blessed with many things. And most of them are gifted with one single thing. But Charitha's story is different as she is blessed with many; beauty and brains, wit and a melodious voice.
"I'm Charitha Priyadarshini Peiris," she laughs. "And I was born on October 19 in 1967;" she has no intention of hiding her age. "I'm getting grey. But I'm not worried. It's a sign of maturity," she says. But I (the writer) personally feels she still leads. "No...no... both Edward and I lead a very normal, simple and down-to-earth life," she smiles.
Charitha still lives at her birth place at Mirihana, Nugegoda adjoining the Mirihana Police Grounds, which is the ancestral home of her mother Pushpa Wijeratne. "My mother died in 2001 after a brief illness. It's a great void," she sighs. Charitha's father, Ariyadasa Peiris was also one time a famous radio artiste who had introduced many young, up and coming singers to the nation. And Edward Jayakody was also one such young singer who stepped into the field through these programmes.
Charitha is the youngest of the family. Her sister, Malika was never interested in stepping into the field of arts. Nor did their father Ariyadasa like the idea when Charitha showed interest in becoming an announcer.
But even when she was at school at Anula Vidyalaya, Nugegoda, not a single school ceremony passed without it been compered by Charitha. "Hmm... school days were fabulous. Our class was one of the best classes in the grade comprising nine senior prefects and students with aesthetic talent.
Even Deepika Priyadarshani Peiris who has been among the top singers in Sri Lanka was also in our class. Ours was a very united class. Even if we saw somebody in a bad mood, we would crack a joke to make her smile. I studied Kandyan dancing under Mrs. Daya Nellampitiya and Christine Dissanayake at school. But I took part in musical programmes through out. I was in the Eastern band and played almost all the instruments. I did guiding and netball..hmm.. that's all," she says.
"The biggest mistake I did in my life was deciding to do Bio science for my A/Ls. My father wanted me to become a doctor and never liked me stepping into the field of art. But since 1984, I have been getting involved with programmes the Sri Lanka Broadcasting Corporation.
It was my father's younger brother, Jayantha Peiris who gave me a helping hand to enter SLBC. And my mother was also with me through out encouraging me. So after A/Ls I joined SLBC full time. 'Sonduru Sevena' in 1985, was my first programme.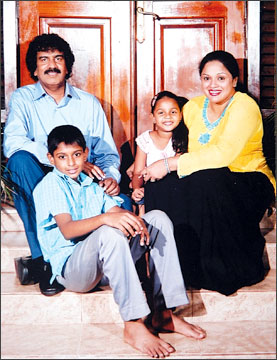 I lent a voice cut for. It was a live programme. I became a Relief Announcer in 1994, a News Reader in 1995 and then a Drama Artiste after a few years. I studied music under Edward and then under late Victor B. Perera and passed the SLBC test as a 'Grade A' singer as well," she reminisces.
Charitha has been conducting the lottery programme 'Shanida Vaasanava' for the Development Lotteries Board and has been at ITN for the past 21 years. "When I started it I was just 19 years old. Apart from that I presented 'Kala Rasanga', a weekly news in the arts field with Francis Wanniarachchi on ITN. At present I present 'Mathakaye Randunu Gee' on Saturday from 3.00 to 4.00 pm, and 'Eda Api Dutu Chithrapatayakin' on Sunday at 4.30 pm.," she says.
"Dalmalamu Api Eka Iti Pahanak" composed by Pushpa Ramlani and the melody by Charitha was sung by more than 100 popular female singers in Sri Lanka - both young and old on the International Women's Day in 1998. And since then this song is the theme song of the International Women's Day up to day.
Question: How did you meet Edward?
Charitha: He is from Hettimulla, Kegalle. His first music teacher Mr.H. Samarapala at Bandaranaike Central College, Hettimulla was known to my father. So they used to visit our place, and my father used to help Edward to sing in his radio programmes and we became family friends in no time. So, I don't know how it happened, we fell in love even without our knowledge.
Edward Thimothi Jayakody was born to Victoria and Don Rafial Jayakody at Hettimulla. There were seven in his family. Edward studied at Bandaranaike Central College, Nugawela Central College and St. Mary's College, Kegalle.
He did Commerce for his A/Ls although he was studying music privately. Edward entered the Aesthetic University attached to the University of Kelaniya and passed out with Honours. He obtained a 'Visharada' in music. With all this Edward has mastered many modes of music including Indian classics, western and local Sinhala village folk, which is an extremely rare opportunity a musician would get.
Edward's elder sister, Charlotte and her husband helped him in a great way to up in music. He was just 14 years when he first stepped in to Radio Ceylon (SLBC). Since then Edward took part in numerous musical programmes at the SLBC and subsequently became a 'Grade A' singer.
He worked as the music teacher at Nalanda Vidyalaya,Colombo, Gurukula Vidyalaya, Kelaniya and as a Circuit Education Officer attached to the Education Ministry. Today, he is the Education Director-Music at the Ministry of Education. Apart from that he is the member of the National Music Council and the Intellectual Property Council. He was the President of the All Ceylon Singers' Association for a long time.
Though many do not know both Edward and Charitha are into acting. Charitha had taken part in small roles in a few tele-drama while Edward had taken part in about ten stage dramas like 'Angara ganga gala basi', 'Sekkuwa' and 'Nari Bena'... He won the Best Supporting Actor Award at the Youth Drama Festival for his role in the stage drama 'Muhandiram Haamuduruwo' directed by Premalal Gange in 1977. He had also won the best music director awards at many State Drama Festivals.
Question: Edward as a husband?
Charitha: Sober and quiet personality. He rarely gets angry, but once he gets it , he takes time to cool down. He has come from the village, and is very contended about his present position.
One way that's a weak point as well, because he rarely initiates a thing of his own. Even when he loses an award after being nominated, he would just ignore it. He is self content. Edward always says he has been helped by everybody whom he has encountered in his life. He is very grateful to everyone of them.
Question: What do you look forward to in the future?
Charitha: We don't have very high aspirations. Our son Chandeepa is in Grade -9 and daughter Sharanya is in Grade 3 at the Lyceum International School, Nugegoda. Our son was the Best Supporting Actor at Jerome de Silva's 'Oliver Twist' stage drama staged at Lionel Wendt in 2006.
Our daughter took part in Somaratne Dissanayaka's newest film 'Siri Raja Siri' which will be released shortly. Both of them took part in Udayakantha Warnakulasuriya's film 'Hiri Poda Vessa'. Both are talented, and we would help and bless them to choose whatever path they want to excel in life.
Apart from that we are quite content with what we have. I'm a Buddhist and he is a Catholic, hailing from a very orthodox and flexible family background. All his siblings got married to Buddhists.
At first, though my mother liked him, my father took time to give his consent to our marriage due to religious differences, but later everything went on well. My children mainly follow Buddhism, but we all go to the temple and church, and celebrate both Wesak and Christmas.
If I'm told to ask for something from God, I would say 'I would not' as I am, blessed with many things. What else should I ask for. We are not very rich people, but a family who loves yet happy. That's all that matters.