Developing Colombo airport vital for SriLankan
Infrastructure development of the Colombo airport is vital for further development of SriLankan Airlines.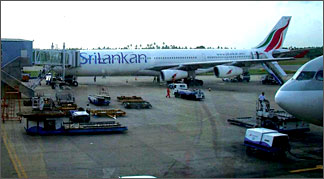 Secretary to the Treasury Dr. P. B. Jayasundera said seventy per cent of SriLankan Airline's revenue was spent on oil and there was little money left to manage the airline. He was speaking at a seminar organised by the Federation of Chambers of Commerce and Industry of Sri Lanka last week.
He said government policy on aviation was not unplanned liberalisation but based on market economy. SriLankan Airlines should not ask monopoly rights for ground handing and catering services. He said no other airline or ground handling network should be allowed to run the catering business service.
The country spent only Rs. 900 million on importation of oil but last year we spent US Dollars 2.5 million for it and have estimated that we have to spend US Dollars 3.5 million for this year's oil imports.
Although Sri Lanka's economy was liberalised in 1977 and despite our economy being buoyant the country does not have a single express highway, linking the Colombo Airport to the city of Colombo
He said in such an economic scenario it does not make sense in liberalising the aviation industry. However, the government has recognised to create infrastructure developments such as creating ports, airports, air terminal facilities, cargo facilities and expressways.
This indicates the government's desire to create market friendly economic policies.
The government has embarked on major infrastructure projects which the private sector will exploit later. A major express highway linking the Colombo airport to the Southern cities bypassing Colombo city and a national road network connecting all provinces except the north is on the cards, he said.