Recognising talents a challenge before the nation - Kolitha Bhanu Dissanayake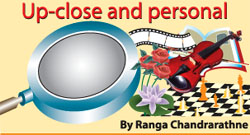 [email protected]
Speaking on the systemic injustice caused to highly talented students who would otherwise enter the University of Visual and Performing Arts, Kolitha Bhanu Dissanayake, the Dean of the University of Visual and Performing Arts said injustice is caused to some talented students who have secured A pass for Music at the Advanced Level Examination and B or C passes for other subjects as they secured less marks on the Z Score than those students who gained B or C grade for Music and A or B passes for other subjects.
Victims
The first victims of the selection test will be those talented students who secured less Z score although they obtained A pass for Music. As the students are selected on the basis of Z Score, these students will not be qualified to enter the university.
This has deprived university of students with inborn talents who could make a lasting contribution to the arena of Music.
He is of the view that at least, five of such talented students should be given a chance of entering the University irrespective of their Z score marks as those students earned A pass for Music.
The Royal Academy of Arts in London has made provisions for absorbing talents into the Institute. Students who have a proven track record and earned laurels at national level music competitions should also given a chance so that University would produce talented musicians.
Currently, the Faculty of Music suffers from lack of physical, human and other resources although the six Departments including Department of North Indian Music, Department of Western Music, Department of Ethno-musicology, Department of Comparative Music and Department of Applied Music function in the University three years after it being upgraded to the University status.
University authorities can not be blamed for the situation. Though His Excellency President Mahinda Rajapaksa granted an audience to discuss the issues, the outcomes of the discussion have not been translated into reality speedily yet hampering the growth of the University.
Kolitha Bhanu is of the view that issues should be addressed immediately as they adversely affect the growth and administration of the university. For instance, Heads of Departments have no offices and not even a telephone.
The University suffers from acute shortage of instruments of music and basic facilities for conducting practical sessions. If the university is to live up to its lofty ideals and vision of the university, these issues should be addressed immediately.
Duty of the establishment
Kolitha Bhanu emphasised the fact that same importance accorded to Faculties of Medicine, Science, Agriculture, Law etc. should also be accorded to Faculty of Music and the University of Visual and Performing Arts as it contributes to create social harmony and refined public taste. It is the doctors and the artistes who make a healthy society and individuals fit for a civilization.
Referring to practical tests that have been conducted as a part of Ordinary Level and Advanced Level Examinations, Kolitha stressed the fact that subjects of Visual Arts and Music can not be taught without practical sessions and not adding the marks at practical sessions to the aggregate will, in the long run, hamper the progress of the field.
'Sophisticated ignorance'
Responding to the grossly misleading and ill-informed statements that Dr. Tissa Abeysekara made at recently held first convocation of the University of Visual and Performing Arts, Kolitha Bhanu Dissanayake stated Dr. Tissa Abeysekara has no qualifications or right to adversely criticise the founders of the University including Dr. Lionel Edirisinghe that their works have lead to the crisis in field of music in Sri Lanka at a time University functions under numerous constrains.
Kolitha is of the view that University administration should exercise prudent in inviting persons to address main functions of the University. He further stated that the University of Visual and Performing Arts has a long history.
The Government's College of Music and then the Institute of Aesthetic Studies and became the University of Visual and Performing Arts. Though there may be shortcomings in the long journey through the history the University is proud of its lasting contribution made to the field of music and Visual and Performing Arts.
It is irony of history that founders of the University like Dr. Lionel Edirisinghe, colossal in the field, has been severely criticised by Dr. Tissa Abeysekara. Kolitha emphatically stated that Dr. Tissa Abeysekara has no moral right to point a finger at Dr. Lionel Edirisinghe who dedicated for the creation of generation of musicians.
To identify this generation as "brand of Pothe Guras" is a grave mistake. Dr. Tissa Abeysekara has, apparently, come to this conclusion based on a narrow mind set.
Unfounded logic
Kolitha Bhanu emphasised the fact that Western Music is the tradition of music where the player has to follow written notations if he or she has to present a classical performance. However, in the North Indian tradition, player has a greater freedom in expressing it after learnt the classical ragas. This does not mean that even Western Music is confined to its notations.
Speaking on the diverse traditions of music, Kolitha Bhanu stated that traditions of North Indian music, Karnataka music and Western Music are three distinct traditions with their own distinct characteristics.
The theory of music is embedded in these identical characteristics and in order to study the theory, one should study the tradition. If one wants to learn Western music, one should learn Western tradition, social background. It is advisable that it is best for the persons who have no practical knowledge of the subject such as Music should be refrain from commenting on it.
Kolitha Bhanu questions the statement by Dr. Tissa Abeysekara that "It is yet to appreciate what Khemadasa has done" and "Khemadasa is the musician who greatly influenced the course of contemporary Music'. What Dr. Tissa Abeysekara has got to say about musicians like R.A Chandrasena and his melodious notes, Shelton Premaratne and Dr. Lionel Algama.
If so haven't the next generation of musicians like Victor Ratnayake, Rohana Weerasinghe and Prof. Sanath Nandasiri made no contribution to music?. Has Dr. Ameradeva contributed nothing to Sri Lankan music?
The attempt to hoodwink the reality in order to justify his personal opinion is childish.
Misleading the public
Kolitha Bhanu further states that he could not understand on what basis that Dr. Tissa Abeysekara uses the word "Pothe Guru" as written notes are primarily used in Western tradition of Music. Dr. Tissa Abeysekara states that Pradeep Ratnayake, Harsha Makalanda and Ravibandu Vidyapathy are those musicians who grew up outside the University and experimenting with music.
Admitting that there are highly talented artistes and personal friends of him, Kolitha Bahnu pointed out that they have also learnt the tradition well and practice it well. Dr. Tissa Abeysekara states that "Music education in this county has to be reviewed all over again. Teaching music can not be done by confining students to a particular tradition" and "though there are differences in diverse traditions, all fundamentals beyond them are the common to all traditions".
If Dr. Tissa Abeysekara maintains that all fundamentals are common to all traditions, Kolitha Bhanu invites Dr. Tissa Abeysekara to come for an open discussion. In an experimental work, one can amalgamate compatible fundamentals in those traditions.
There are compatible fundamentals that are common to three main traditions of music as well as those which are not compatible. Pradeep Ratnayake, Ravibandu Vidyapathy and Harsha Makalanda can fuse fundamentals of different traditions as they have learnt the tradition and fundamentals well.
If they have learnt only the fundamentals they could not experiment with music and also engage in fusion music. Kolitha Bhanu states that statement that all fundamentals are common to all traditions of music is erroneous.
This shows that Dr. Tissa Abeysekara has no practical knowledge of music. Kolitha Bhanu states that it was not clear whether that Dr. Tissa Abeysekara who made a statement comparing Bhathiya and Santush who move their lips to recorded music to Colonial Cousins and as 'immensely gifted musicians' stoop to that low level after he was conferred with the honourary doctorate.
Kolitha Bhanu requests that Dr. Tissa Abeysekara should not stoop to that level but should be a person who should appreciate art music and that he should not misuse the phrases such as "immensely gifted musician "(Kruthahastha, as appeared in his Sinhala speech) and if he (Dr. Tissa Abeysekara) uses word Kruthahastha for Bhathiya and Santush, he should find an appropriate term in Sinhala that should be used for Dr. W.D. Ameradeva. Senior Lecturers Dr. Nirmala Kumari Rodrigo, Dr. Thushara Ratnayake, Kumara Liyanawatte and Rashmi Sangeetha join hands with Kolitha Bhanu Dissanayake in denouncing the speech by Dr. Tissa Abeysekara.
Cultured voice
Kolitha Bhanu has launched his only CD titled "Inspiration" in 1994 after a lapse of twenty years.
He has used three traditions of music for the CD, fusing the compatible fundamentals and score of music which are not compatible have been taken in their original forms. Diverse traditions of music such as Western, North Indian and Karnataka as well as other traditions of music have been used. Kolitha Bhanu was inspired by the Album by Pandit Ravi Shankar when he was an Advanced Level Student and the CD "Inspiration" is the fruition of that dream.
He was an old boy of Mahanama College and was taught music by Miss Swarnalatha Peris.
After completion of his degree here in Sri Lanka, he left for Banaras Hindu University in India where he earned his Masters of Music.
Kolitha Bhanu Dissanayake is the dean of the Faculty of Music in the University of Visual and Performing Arts.What strikes one's mind when listening to his music is that how melodious and cultured Kolitha's voice is and the way in which the voice integrates into the inner soul of the music score.
This unique work bears testimony to his abundance of talents that make him a recognised vocalist. He could simply breathe his last as a reputed vocalist rather than becoming a popular singer.
His second creation to the nation "Sala Nisala" with other artistes was also launched yesterday at BMICH.