Health for sale?
We were on a quest, a quest to find kola kenda! If it weren't for my trusty sidekick and photographer and the driver, I would have never been able to track any of the kolakenda boutiques down.
We peeped out of the windows of the van and kept on inquiring 'Kola kenda thiyenawada?' at every boutique we came across. These are things we encounter every day but take for granted. But this particular day all the kolakenda boutiques seemed to be mysteriously eluding us.
It was way past breakfast and my photographer and I were starved. Finally our driver spotted a kolakenda pot being brewed by the side of the road. Pathiranage Awanthi - the owner of the pot and the kolakenda in it - said that she uses Curry leaves, Hathawariya (Wild asparagus), Gotu kola (Pennywort) and Penara leaves in her recipes. For some with a sweet tooth, Awanthis kolakenda is served with jaggery, while for those who prefer it spicy, the kolakenda is served with a paste made of ground ginger, garlic and Curry leaves.
"I never make the same thing every day. Then people get tired of it. And some leaves can be bad for phlegm." She explained that the pot runs out by eight thirty some days, but on others some is left over. "I make three hundred rupees a day, only if there is no left over. And I don't make kolakenda on rainy days, because very few come to buy." Awanthi explained that there are people who come to buy her kolakenda every day.
Retired Commissioner of the Department of Ayurweda Dr. T. Karunaratne said that kolakenda is a very nutritious drink which provides the necessary vitamins and minerals. "Some can't absorb the nutrients in mallum and sambol. But the nutrients in kolakenda is easily absorbed. Kolakenda in the old days used to be referred to as medicinal porridge (beheth kenda) and was prepared in every house."
He explained that the main ingredients for kolakenda are Iramusu (Indian sarsaparilla), Gotu kola, Hathawariya and Monarakudumbiya (ironweed). Iramusu is a good remedy for burning, swelling and sores.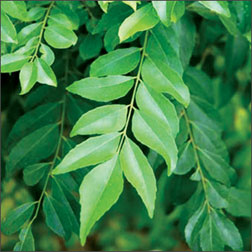 Curry leaves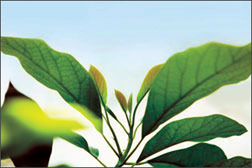 Avocado leaves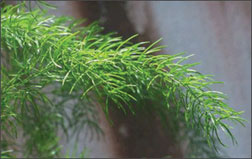 Hathawariya (Wild asparagus)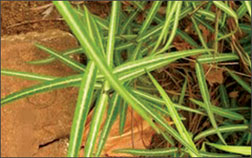 Hemidesmus indicus
It purifies blood and helps to increase appetite. Gotukola has a cooling effect on the body. It helps to improve memory and is proved to be good for feeding mothers. Hathawariya is believed to be good for the brain and has ameliorating effects on patients with epilepsy.
Badra Perera, the proud manageress of the small boutique at the end of Jayantha Weerasekera Mawatha, warned us that the quality of the kolakenda was not up to her expectations today. "My child is sick, so my husband made it today." She said laughing. We were famished so me and the photographer had a kolakenda while the driver settled for a freshly squeezed orange juice.
Badra and her husband claim that they always take their green leaves from their own back yard or the market in Pettah. "Never from the side of the roads. That's where all the sewage ways lead. And we never blend the leaves, we pound them." said Badras husband proudly.
Ingredients for the Kolakenda include Curry leaves, Welpenela, Hathawariya, Iramusu, Ranawara (Tanner's cassia), Polpala and Monarakudumbiya (Iron weed). We have iron weeds in our own back yard and my mother never gives it a second thought before she pulls it off from the root.
Badra's husband reluctantly posed for a photograph while he poured the kolakenda into a glass. Todays special was a concoction of avocado leaves, Curry leaves and Ranawara spiced with ginger and onions, with a pinch of salt. I have to admit in spite of my hunger I was still worried about my phlegm while I gulped down in my kolakenda. But Badra assured the that there was no cause for worry.
"We have been drinking kolakenda every day for two years. I give it to my kid as well, even when he has a cold and fever. But so far I haven't seen any bad results. He has fever today, but we will still give him kolakenda." In fact according to Badra they are all vegetarian and their kid is much healthier, compared to others his age.
"I don't think anything bad can come to us from leaves of trees. We don't use pesticide or artificial fertilizer in the green leaves we use." said Badra. "Kolakenda gives us the necessary nutrition we need as vegetarians." chipped in Badras husband.
Badra and her husbands small boutique was stuffed with small nick-nacks, king coconuts, multicolored saruwath bottles and oranges. But it was evident that the kolakenda was the main attraction. I asked Badra what they do when the kolakenda ran out. "In the evening we boil Mudumahana leaves - they are very hard to find - or Kohila leaves."
Badra claimed that no matter how expensive coconuts are they still manage to make the porridge with coconut milk. "It wouldn't taste as good without the coconut milk." she said. And they still manage to sell it for 20 rupees.
"Most just complain about not having enough. But for us the income we get from this boutique is enough." said Badra with a tinge of pride in her voice. For people who made a living out of selling kolakenda, they sounded very positive, which made me feel ashamed of my occasional whining.