Close cooperation vital to nip terrorism
With SAARC law enforcement agencies:

SAARC countries will work hand-in-hand to eliminate terrorism, which is a critical challenge to all the countries in the region, Secretary, Ministry of Foreign Affairs Dr. Palitha Kohona said.
He said that an agreement on countering terrorism and a treaty on mutual assistance on criminal matters were being negotiated at the SAARC.
In an interview with the Sunday Observer he said that Sri Lanka has proposed closer cooperation among SAARC countries on intelligence- sharing with regard to terrorist matters and also on the need for greater cooperation between the law enforcement agencies.
"Almost all the countries in the region are victims of terrorism. Therefore, we have to help each other to overcome the evil of terrorism".
Excerpts:
Q: The government seems to be ready to hold the 15th SAARC Summit today?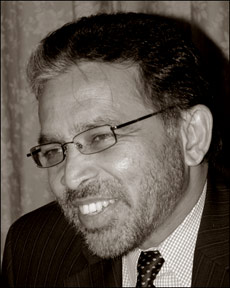 A: Yes. All arrangements to hold SAARC have been completed. The meeting rooms have now been refurbished and accommodation arrangements have put in place. All security arrangements are very much in hand. The Program Committees starts today. The Standing Committee Meetings will start on 29 and Ministerial segments meet on 31. The high level summit begins on August 2.
Q: What are the main areas that Sri Lanka is going to highlight at the SAARC?
A: There are number of areas which are important to Sri Lanka. Terrorism is one of the major areas to Sri Lanka at the regional level. Sri Lanka will continue to seek regional cooperation to ensure that terrorism is eliminated from the world. Certainly we must take every possible action to ensure that terrorism is eliminated from the SAARC region.
Sri Lanka is very much interested in global-warming and sea-level rise. Because, the global-warming will have a deleterious impact on our agriculture, fisheries, the forest resources and in other areas as well.
Therefore, we will be paying a great deal of attention to highlight these areas. The low-lying areas of some of these countries will suffer extensive damage as a result of sea-level rise. The SAARC region must work together to address this trend.
We also have a major worrying concern about energy, which has developed into a global crisis. As developing countries, we have to continue to explore energy sources to develop our economy.
Another area that will be emphasised, is the development of alternative and renewable energy sources, which the Sri Lanka and other countries in the region are in dire need of. Potential for solar-energy to be exploited is another priority. Then the there are options of wind power and bio-fuel.
Another issue that is very important to us is the food security. We will explore the means of tackling the threats posed by the food crisis as effectively as possible. The SAARC itself agreed to establish a food bank while the Sri Lanka government has proposed to setup a buffer zone to address this issue.
This will be highlighted during the SAARC. We will also raise the perennial question about poverty alleviation because the vast majority of poor people live in the SAARC region.
Q: Terrorism is one major problem that has threatened the whole region. How do we mobilise the SAARC countries to eliminate this peril?
A: First and foremost, there is a convention on terrorism to which all SAARC countries are parties themselves. Sri Lanka has proposed closer cooperation among SAARC countries on intelligence-sharing with regard to terrorist matters and also on the need for greater cooperation between the law enforcement agencies.
There is also an agreement on provision of mutual legal assistance among the SAARC countries being negotiated at present. There are various measures being proposed at the moment to deal with this crisis which has caused enormous damage and harm to people and properties of the countries in the region.
Q: India and Pakistan have waged wars over the Kashmir issue, Bangladesh too is having some problems and Sri Lanka and Nepal too are fighting terrorism. Are you satisfied with the assistance given by these countries to Sri Lanka to crush terrorism?
A: We are looking at assisting each other because Sri Lanka is not the only victim of terrorism as you said. Almost all the countries in the region are victims of terrorism. Therefore, we have to help each other to overcome the evil of terrorism.
Q: SAARC is 23-years-old and do you think that SAARC has brought significant changes in solving the problems of its member States?
A: The SAARC is a very young organisation compared to other similar organizations in the world. The European Union has been in for almost 15 years and ASEAN has been around for 40 years. But the SAARC is in existence for a shorter period and it achieved a considerable success.
The countries in the region now consult and cooperate with each other on matters like poverty alleviation, and terrorism. Now we are moving to work together on issues like climate change, global-warming, food security and energy.
Q: Sri Lankan refugees in India are another issue that needs to be solved. Will this be a topic at the SAARC?
A: Sri Lankan refugees in India are a bi-lateral issue and not an issue for the SAARC. Both governments are now in close consultations with regard to this issue.
Q: The Kachchathiv has now become a serious issue in Tamil Nadu. What do you have to say about it?
A: As far as we are aware there is no problem about Kachchathivu and we have not been advised by the Indian authorities that there is a problem. The borders between India and Sri Lanka were resolved in 1970s. So I do not think that there is now a problem to addressed.
Q: It is said that the government is spending nearly Rs. 2.8 billion to host the Summit and some have accused for spending such a huge amount of money at a time when the government is facing a serious financial crisis. What is your comment?
A: It is not correct to say that the government is spending an additional Rs. 2.8 billion purely on SAARC. A considerable proportion of this amount about 70 to 80 percent is being spent on security matters. This amount would have had to spend on security forces at some point of time or other.
It is wrong to say that Rs. 2.8 billion has been pulled out from somewhere to be spent on SAARC. It is very clear that the bulk of these funds that could have been financed elsewhere. When you look around you can see the roads are being repaired the city is being cleaned up and is becoming prettier.
These things have to be done in a modern city. I do not think that this is a case where the money which could have been spent on some other project is being spent on SAARC. The funds that have spent on SAARC are really benefitting the country.
Q: You talked about beautifying the city of Colombo. Will the government maintain the same beauty of the city even after the SAARC?
A: We hope so. We live here and we would like to see this city is a beautiful place to live in.
Q: But some claim that the SAARC would be a tamasha and Sri Lanka will not be benefitted at this moment?
A: As I explained to you before Sri Lanka will be benefitted enormously and this is not a 'tamasha'. We will hold discussions on terrorism, climate change and various other topics like the SAARC Development Fund which will bring tangible benefits to Sri Lanka. Therefore, I think it is a gross exaggeration to say that the SAARC is a tamasha.
Q: Who are the Heads of States who have confirmed their participation?
A: The SAARC summit must have the participation of all the Heads of States. Without the participation of every one of them the Summit cannot go ahead. So at this stage all are expected to participate.
Q: But in some media, it was reported that some of the Heads of States have not confirmed their participation.
A: I do not think that you should believe in every thing that you read in our papers.
Q: Sri Lanka was not the selected venue for holding the 15th SAARC Summit and why did we grab the opportunity given to the Maldives?
A: Maldives was the country that was scheduled to hold the SAARC but due to domestic constraints they are not in a position to hold the Summit this year. The member States of the SAARC gave Sri Lanka the opportunity. It is also significant that it is our 60th Anniversary of Independence.
This was certainly the factor that has influenced the thinking of the other members of the SAARC to give us the opportunity. Sri Lanka did not take some body else's place but was given to us because the Maldives was not in a position to hold the SAARC this year.
Q: However much we tried to counteract the LTTE propaganda, the pro-LTTE Tamil diaspora is still active. Where do you think we have failed?
A: I do not think we have failed. It is certainly true that the propaganda machine of the LTTE which is absolutely sophisticated has done very well in the recent times. We have to deal with a range of matters which are important to the country. And they can muster all their resources and energy in achieving that goal.
In comparison, I think we have not done too badly. It is also to be remembered that the LTTE raises US $ 10 to 30 million a month. And all these money is directed to achieve its limited goals.
But the government apart from the anti-LTTE propaganda, has to look after the development of the country and other issues as well. Therefore, in comparison it may appear that the LTTE has done extremely well.
Q: What are your comments about the measures taken by our diplomats in their anti LTTE propaganda?
A: The diplomatic service is trying hard to counter the LTTE propaganda and their fund raising efforts. It is not always easy and we have to work hard. It is no accident that the LTTE has been banned in India, USA, Canada and in 27 other countries in the EU.
It is also no accident that the TRO has also been banned in these countries. Many of these countries, especially the Western democracies began to prosecute the LTTE fund-raisers and sympathizers.
Over 16 LTTEers have been prosecuted and sent to jail by the US government. The Canada has prosecuted several LTTEers and so is Britain. In France over 20 LTTEers are languishing in jails and the Australian government has started prosecuting LTTE sympathizers and fund-raisers.
These things would not happen accidentally. The Foreign Service has played a crucial role in ensuring that these results are achieved. We also have to remember that despite negative campaigns carried out by the LTTE, Sri Lanka has received a record level of foreign investments in 2007, which is close to US $ 712 million.
This is the highest foreign direct investment that reached Sri Lanka. Sri Lanka is also receiving probably the highest foreign aid ever and again these things happened because of the work of the Foreign Service. We also have to remember that this is because Sri Lanka continues to maintain a good relationship with all our friends in the West and East.
There are times when even friends criticize each other. We do that in our personal relationships and these things happen even at international level. Even the best of friends might have to criticize each other for various reasons.
This has happened in the case of Sri Lanka too. It is very important to remember that we should not misunderstand criticisms as a reflection of the failure on the part of the Foreign Ministry. The Foreign Ministry has worked very hard and achieved good results and will continue to do so future as well.
Q: Do you see any lapses on the part of the Foreign Ministry and what steps will be taken to rectify them?
A: I would not describe them as lapses. There are areas in which we need to work hard. We certainly need to work hard to counter the LTTE propaganda. We also probably need to work harder to ensure that our inflow of tourists is maintained at the same level or increased. And we can encourage more foreign investment coming to Sri Lanka. On the whole, we need to ensure our reputation as a reliable country and also as a signatory to international treaties which are maintained in the highest levels.
Q: The LTTE has declared a uniliteral Ceasefire during the SAARC. Do you see it as genuine effort by the LTTE?
A: I think we have to be very cautious about such declarations by the LTTE. In the past the LTTE has declared unilateral ceasefires but they have used every such opportunity to re-arm, re-group and cause greater damage.
So the government is extremely cautious and it has said publicly that if the LTTE wishes to have its declaration taken seriously it must also make a firm commitment to working towards a final settlement.
The Ceasefire is no solution. We need to make a commitment in bringing this conflict to an end in an honourable and just manner.
Furthermore, the LTTE must ensure its commitment to a demobilization process. Our experience in the past suggest that the LTTE has used previous CFAs as I said earlier simply to re-arm, re-group and launch fresh offensives. We need to get out of this cycle and ensure that future generations of this country can look forward to in a different scenario.
Q: The LTTE has again expressed their willingness to resume talks. As the former head of the Peace Secretariat, do you think we should go for negotiations at this moment?
A: It is a question of how President Mahinda Rajapaksa will decide on this issue. So, the President has said that he will take that extra step in order to achieve a comprehensive and honourable peace but at the same time the LTTE must commit itself to achieve a comprehensive peace through a process of demobilization.
Q: Are we to sign the Comprehensive Economic Partnership Program (CEPA), which created opposition from both the political parties and the business community saying that India will derive more benefits through CEPA than Sri Lanka, during the SAARC?
A: The CEPA is being considered by the Cabinet and so I will leave it at that level.
---
Who is Palitha Tikiri Bandara Kohona
A brilliant student of S. Thomas' College, Mount Lavinia, Palitha always waited to run to Matale, his home town, to play with his sisters, brothers and cousins. The 'Kohona Walauwa' comes to life during school vacations with mischievous kids running riot! "I used to go to Matale for my holidays and those were the days we spent happily playing and fighting with our cousins, my two brothers and two sisters", Dr. Palitha Kohona, Secretary of the Ministry of Foreign Affairs reminiscences his childhood days.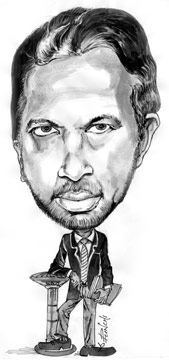 Being one of the outstanding students of the College, Palitha wanted to become a lawyer. After his LL.B from the University of Colombo, he did International Trade Law at the Australian National University and later obtained his doctorate from the University of Cambridge.
"It was really a challenge for me to pursue my studies in Trade Law and Economics Law as they were relatively new fields at that time. But I took the challenge", Dr. Kohona who wrote his thesis on 'The Regulation of International Trade through Law,' says.
One of his remarkable achievements in his career was that he cleared an 11 year backlog at the United Nations Treaty Section, New York. Dr. Kohona was the only Sri Lankan appointed as the Chief of the Treaty Section.
He earned the UN 21 PIN Award for his performance and for introducing major managerial innovations during the period of 1995-2006. He was able to reduce the backlog to eight months when he left the Section.
He managed the computerization of the UN treaty database which contains over one million pages of information and the UN treaty collection consists of over 50,000 bilateral treaties registered with the UN Secretariat and over 500 multilateral treaties.
The person that Dr. Kohona holds in reverence is Nelson Mandela but he is also very much attracted to Stephen Hawking, a man who was suffering from lugarics disease, from his young days. "Today despite the fact that he is totally paralysed, he continues to produce unbelievable thoughts on cosmology and physics. This man's determination is simply mind-boggling", he admires.
There is no stopping Dr. Kohona when it comes to serving the country. "One can never be satisfied with the service that one gives to one's country. There is lot more to be done. I only wish that I have all the strength to do more to my country".
Reading and cooking his favourite dishes are his past time but his greatest hobby is photography. Ask Dr. Kohona who he is, apart from being the Secretary of the Foreign Ministry? "I am a photographer", the man who totes his camera wherever he goes.
No specific area to click his camera, he takes everything and anything that pleases his eye.
Having a vast collection of pictures ranging from wildlife to scenery to human life, Dr. Kohona, who started photography in his teens, is yearning for more time to do photography.
"I wish I had more time.
Wherever I go I carry my camera. I take pictures at every opportunity I get", he smiles. Guess ...! What is his greatest satisfaction in life ...? "I want to make the lives of the orphaned children at the Polygala Children's home better.
I am so proud that Sampath of that home has been selected to play for the National Junior Cricket Team", That is Dr. Palitha Kohona, who was the former Secretary-General of the Secretariat for Coordinating the Peace Process (SCOPP) and a member who represented the peace talks with the LTTE in Geneva and Oslo.
---
*SAARC countries need to take action to eliminate terrorism from the region.
*SAARC countries have to help each other to overcome terrorism.
*SAARC has achieved its goals within a short period of time.
*Sri Lanka will propose to set up a food buffer zone in the region.
*Indian and Sri Lankan governments have close dialogue about Sri Lankan IDPs in India.
* Need to be very cautious about ceasefire declarations by the LTTE as they use it as a ruse to bolster its fire and manpower.
* SAARC is not a 'tamasha' and Sri Lanka will get enormous benefits.
*We should not believe everything that is reported in the media.