Punya Heendeniya, the evergreen silver screen star
As a kid and teenager, she perused many classical literary works of renowned writers both in the Western and Eastern world such as Shakespeare, Wordsworth, Tolstoy, Munidasa Kumaratunga and Martin Wickremasinghe, and enhanced her literary appreciation bilingually.
She was a gifted singer of folk songs as well as a talented pianist of Western music. She was the best dancer when the drum sounds a beat. In the playground, she was the captain of the school Netball team.
At the Sinhala Literary festivals, she was the talented poet. When she holds the needle and thread, there was hardly anybody to beat her needlecraft.
In the kitchen she was the chief chef. When the paint brush was in her fingers, she became the talented artist. She was the imp and the Tom boy who would not let herself get defeated.
Simultaneously she was the `Upasaka Amma' who would not fail to observe Sil on every Full Moon Poya Day. And she was the `Pancha Kalyani', the beauty queen who shed the serene village innocence to enter the Sinhala Silver Screen during 1960s.
Punya Heendeniya, the evergreen star of the Silver Screen still holds an unshakable fame, leads a tranquil life today attending more to her literary work. On the other hand an actress becomes a writer, seems not a new thing at all.
Arts, culture, history, crafts and performing art; all are the shiny pearls of the same necklace. Punya is celebrated as `Nanda' since her incompatible role played in the Internationally acclaimed film `Gamperaliya', directed by veteran Lester James Peiris which was based on the Sinhala novel by renowned Martin Wickremasinghe. `Brinda' would be the newest name that should be associated with her name after she put her aesthetic thoughts into a collection of short stories in 2005.
Heendeniya Vidanaralalage Punya Heendeniya was born on a July 31, and grew up in a little villa its boundaries triangular with the village temple, school and an evergreen paddy field in the beautiful village of Meerigama. The triangle nurtured her character providing her atmospheres - spiritual, educational and aesthetical. Punya is a blend of all three.
"I have two birthdays, just like the queen. My Birth Certificate says - I was born on August 1. But, according to my father I came to this world on July 31. I found it only when I tried to get my Passport to go abroad in 1978," laughs Punya.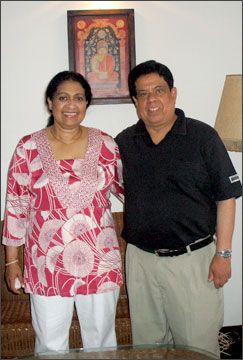 Punya was the fifth in her simple folk family which comprised three sisters and three brothers. Her small scale landed proprietor father and mother provided her a blissful and a benevolent childhood which a child could ever expect.
Her close family group consisted of her musical father, religious mother and aesthetic passionate offsprings provided her a well balanced mind which later was nourished under the guiding light of her school dancing teacher famous Panibharatha Master and Siyambalapitiye Osthad David Master (who later became a Professor and Vice Chancellor of Gwalier University, India).
Punya was selected to sing the welcome song for Prime Minister D. S. Senanayaka at the foundation laying ceremony held at Meerigama College which later developed into a National School in the area with its new name D. S. Senanayaka College, Meerigama.
Along with that memorable experience Punya, an adventurous village damsel who used to walk in the mud on the paddy paths (`Niyara') carrying `Ambula' (lunch) for her father and the workers during the harvest reaping time, found the first rare opportunity to appear in a dancing sequence choreographed by Panibharatha Master for `Asoka' film, directed by Sirisena Wimalaweera in 1954-1955. Though she was still a teenage schoolgirl, the rhythm this folk lass had in her soul was being discovered.
"Panibharatha Master always had some instinct that I would be a star one day, though I had not even dreamt of such a thing. Meanwhile, Siri Heendeniya, my cousin who had some connection with the film industry introduced me to S. D. S. Somaratne, producer and to L. S. Ramachandra, director of the film `Deyyange Rate' (the country of gods) based on a novel of W. A. Silva. It was the beginning of my film career," she recollects.
Punya's conservative mother who was tolerating her Chooti Duwa's exposure to the performing arts, rang the alarming bell when she heard about the offer Punya got to act in `Deyyange Rate'. But her father and her music teaching elder brother, and all the other siblings gave her the utmost support. From school to the Silver Screen, Punya played the main role of Catherin in the film.
"The main location was in the sacred `Sripada'. The story was also based on a pilgrimage to this holy place. We had to climb the `Mahagiridamba' up and down for 16 times. I think I was really lucky as I got the opportunity to start off my film career at a place like `Sripada', one of the most venerated spot of Buddhists. (The Buddha paid a visit to this place and determined to imprint his foot print there). The shooting dragged on for about one year. I had just finished my O/Ls. It was in 1958, exactly 50 years back," recalls Punya.
Deyyange Rate, Suneetha, Shri-296, Gamperaliya, Kurulubadda, Sikuru Tharuwa, Parasathumal, Ransalu, Kaliyugaya and Ranvan Karal were all the films she took part in so far. Martin Wickremasinghe with greatest joy gifted almost all the books he wrote to Punya after he saw her role in `Gamperaliya' which was just as if she had given life to `Nanda', the exact character he created in his distinguished novel.
Punya was almost `summoned' down to Sri Lanka from her residence abroad to take part in `Kaliyugaya', the second episode of `Gamperaliya', as there weren't any substitute for that role. `Ranvan Karal' was a semi documentary she took part in.
"I was at the peak of fame. My lifestyle was disturbed, though I accepted it with good spirit. Our village home was just adjoining the main road, so that I had to restrict my passion to sit at the open verandah and watch the passing vehicles as everybody who passed used to peep out to have a glance at me.
My house was flooded with fans. Sometimes buses of schoolchildren used to come to see me. Though my mother was not appreciating my films, never hesitated to treat my fans well with meals and tea, and in every way she could. That was because, hosting the guests was an enthusiastic must in our orthodox village culture, and my mother was part of that," reminisces Punya.
Except for going out for shooting or shopping with her father, elder sister and elder brother, Punya rarely came to Colombo or went outstation. She knew where to retain her identity and lead a humble and down-to-earth role in real life. Hence, the village fragrance filled in her soul never vaporized.
Among the female male, young, old, married, unmarried, folk, urban, illiterate and educated fans she had one special mail fan who constantly wrote to her. Without just satisfying himself only by sending her mails, this fan too decided to pay her a visit at her place.
To avoid him, she once wrote to him and said that she had to go to Kalutara Bodhiya, on the very day he was planning to come. "It's better as Kalutara is closer to my place than to Meerigama," was his answer in returning post. Punya knew she had no choice so she decided to tolerate his visit. Dr. Milroy Beverly de Silva Nanayakkara, DMO of Moneragala Hospital, drove all the way from his home in Galle to Meerigama.
Punya was lazily sitting at the verandah expecting her fan who seemed going to be another pain. She saw a car stopping at the gate. The door opened and two cocker spaniel dogs who came out, climbed up the steps and went straight to Punya who was sitting at the verandah, sniffed her feet and legs and hands, and hurried away back to the car.
Then got off a gentleman wearing a pair of sunglasses to reminiscent of a filming. Punya was wondering what was happening. DMO Milroy Nanayakkara stepped into the house introduced himself offered Punya a bouquet of fox-tailed Orchids. The two Spaniels were his best companions who used to go wherever he went. It seemed that he had to wait until they watched, cleared and okeyed the situation.
"My mother who loved to entertain my fans never asked them to come again, as I'd noticed. But, for him she went on to say, `Aye enne Puthe' (Please come again son). She even called him `Putha'. So, this `Putha' started his visits regularly, saying `I'm coming to see your mother. She is so kind and nice to me'. And it continued until I too said `Ok' to him," laughs Punya, relating her love story.
Dr. Milroy first came to see Punya in 1967. Within a year their love blossomed, and however much `Nanda' of `Gamperaliya' had male fanatics, the only fan who could make her heart faster was Milroy. Once she made a strong cup of Coffee for him in order to keep him awake throughout the night until he drove from Meerigama to the DMO office, Moneragala. Though it was bitter like `Kasaaya', Milroy had to gulp it under her supervision, thinking it was quite a mild sacrifice in comparison for their fiancees in ancient times everywhere in the world.
Milroy and Punya tied the knot on September 9 in 1968. Milroy's family which belonged to the urban English speaking Down-South upper-class Buddhists was first apprehensive to receive Punya, not knowing who she was. "But, she was the first daughter-in-law to worship my mother offering a sheaf of betel. And they couldn't believe that. She kept the traditions in fact," said Milroy.
"It was my decision to leave films," she sounds firm. "I decided to do that sacrifice for my family. Milroy never wanted me to quit. He didn't want me to lose my name. We got married and were staying at Moneragala. He was from Mahinda College, Galle and I was from Meerigama. Though we applied, our son didn't get a Colombo school. That was the turning point that provoked us to leave the country as we, both knew the value of a good education," reminisces Punya.
Milroy and Punya went to Zambia in 1978. Dr. Milroy served as the Chief Medical Officer of Zambia Consolidates Copper Mines, looking after the medical side of the workers of the institution.
After serving there for 12 years, they shifted to England in 1990. Dr. Milroy has been working as a Consultant Psychiatrist for the National Health Service in Watford in North West London.
"Today, our eldest son, Anupama Dyvupathy is a Consultant Physician. He who played the role of my son in `Kaliyugaya' when he was 10 years. He is married to a English girl and having two kids. Our second is a daughter, Thapthi Purnami Shashi Prabha. She is also a Consultant Physician. Both my children were born in Sri Lanka.
They were 8 and 5 years when we left the country. We never forgot our traditions, and always spoke in Sinhala at home. Hence, our children are quite fluent in Sinhala in all three areas - reading, writing and talking," says Punya.
"My favourite films out of the few I've done are 'Kurulubedda', 'Sikuru Tharuwa' and `Gamperaliya'. Unlike today, though our script writers and producers had natural artistic eyes, they lacked the technical knowledge of the film industry. Hence we had to get down South Indian directors.
But, with the script writers like P. K. D. Seneviratne and some eminent directors like Lester James Peiris this deficiency was filled excellently," she says. Punya was the first to receive the Best Actress Award (for `Gamperaliya') at the first Sarasaviya Award Festival in 1964. And she got the Medal (the second place) for `Sikuru Tharuwa' at the same festival. The President's Award for the Lifetime Achievement was awarded to Punya in 2000.
Punya was on a short holiday in Sri Lanka, when the Sunday Observer wanted an appointment with her. "Now...!" she pauses. "Hmm, I'm leading a very serene and tranquil life, observing Sil and meditating at the Amarawathi Buddhist Monastery in UK. It was a monastery which is run by an English Sangha Trust," says Punya.
"She is a great lover of animals. There is a small wood adjoining our place, and wild foxes come there looking for food in the night. So, you know what Punya does? Along with the food for birds, cats and other animals, she keeps rice for foxes as well," butts in Milroy.
"If you are observing Maithree to the `Sathva' you should be able to do so unconditionally to every human being as well as animals, and even the nature and environment," points out Punya.
"I believe in Kamma. That's why I try my best to keep the Five Precepts of Dhamma (Pansil) unbreakable. I never even zip a drop of wine or champagne", she says. "I read a lot, Classics, English and Sinhala books and journals. I browse the Internet a lot. I know both the English and Sinhala keyboards, and when I wrote `Brinda', my ability for Sinhala typewriting, really helped me.
I did it all by myself. It comprised 14 Sinhala stories and two English stories," she claims.
"My husband is the best companion I've ever met. I have no regrets in sacrificing my career and fame even at the peak of my success," she concludes. The name `Punya' gives the meaning of `fortune or luck', I (the writer) would emphasise that Punya has been truly one of the luckiest woman born to Sri Lanka.