arts
Truly a Sri Lankan production
Machan - a daring escape to prosperity:
Inspired by a daring act of 23 young Sri Lankan youth entering Germany in the guise of a non-existence Hand-ball team, famed filmmaker Uberto Pasolini conceived the idea of making the skilled film Machan which was shown to the press last Thursday.
The film is woven around desperate slum dwellers, who have caught up in the vicious circle of poverty, trying to migrate to the West by unauthorized means.
Manoj, a barman and Stanley, a fruit seller firmly believe the answer to their abject poverty is laid in migrating to the West. They did not give up their quest even after visas were rejected on several occasions. A chance encounter of an invitation to a handball tournament in Bavaria seems to be the god-given chance for the desperate youth.
Mock training sessions were conducted without knowing the basics of handball and the team is gradually augmented with new members from diverse ethno-linguistic backgrounds. The team is made up of a grave-digger, barman, fruit seller, peon and couple of stranded foreign would-be illegal immigrants.
Following the rejection of visa on the ground of not obtaining permission from Sri Lankan authorities, Manoj seeks the assistance of a master forger Ruan. Team who successfully entered Germany and after being defeated thrice, vanished into thin air never to be found again.
Written by Ruwanthie de Chickera and Uberto Pasolini, the film Machan explores the very rationale behind strict migration laws which favour professionals from poor countries against economic migrants aspiring better life in the West and helping their kith and kin in their countries of origin.
Though wrapped in humour, Machan gives an insight into the mindset of 'illegal immigrants' and circumstances that led to their daring escapes into Europe which they believe would be the answer to crushing poverty in their countries of origin.
Underneath the fabric of story is the perennial question whether each and every member of the global community enjoys the freedom of travel. While some have access to all parts of the globe, others, travelling is restricted on political, economic, racial and regional lines.
There are some who are denied to travel outside their place of birth. These hapless economic migrants, who crossed the seas risking their lives, are categorised as illegal immigrants.
Impressive script
From the very first frame, it is amply clear that the filmmaker has not wasted even a single frame. The dog, which comes in search of rotten food in a heap of garbage, urinates on Stanley's leg while the latter is pasting political posters on the walls of the shanty town.
The abject poverty and kind of life these youth lead in deprivation is depicted through the exclusively edited footage. Rather tight-dialogues cover diverse aspects of society.
It seems that especially the Marxist politicians who claim to be working for the downtrodden are only rendering a lip service to the under privileged segments of the society.
Deprived youth like Stanley from the shanties would remain either as politicians' poster-pasters or thugs. Stanley (brilliantly portrayed by Dharmapriya Dias) scornfully reject the projected objectives of politicians who claim to represent them.
Stanley also questions the notion that whether they are really 'first class citizens 'in Sri Lanka when the argument mooted that non-Europeans are always treated as second class citizens in the West.
Ruwanthie de Chickera should be commended here for the apt dialogues and excellent script which not only manifest diverse mentalities of characters drawn from different ethno-linguistic backgrounds but also captures the quintessential political message of the film.
Cinematography
Beneath the satire and humour, lies a well-crafted narration and cinematography which has given a fine texture to the plot. Editing has also been impressive and filmmaker has exploited light and shades especially in scenes depicting life in the shanty town. One of the instances where the filmmaker has expertly manipulated light and shade effect is the scene shanty town youth pasting political posters in the bazzaar.
This is, perhaps, a fine example for film makers to use dark scenes with shadow details. The deserted street in the city of Colombo in the night and policemen on night duty reflects so-did-life in the city.
Pasolini is at best in shooting street scenes. Stanley's selling fruit under scorching sun in the midst of traffic in streets in the city is a fine example for this. Among Sri Lankan film makers Dr. Dharmasena Pathiraja is marked for his street shooting. In the recent production of "Yahaluwo", directress Sumithra Peiries completely failed to exploit the properties of street scene.
Depicting reality
Amalgamation of people of diverse races and nationalities for a common course is also realistic and vindicates the fact that those artificial barriers would vanish in the face of an adversary.
Director Uberto Pasolini brilliantly portrays not only the landscape of poverty and deprivation in shanty towns in Colombo but also graphically manifests mind-escape of population.
It is these impoverished and uneducated populations who constitute criminal syndicates and also provides a fertile breeding ground for social evils such as prostitution and drug peddling.
Film excels in many aspects including casting, cinematography and the sound effect. Sri Lankan and Western music scores have been well-integrated into the core of story making it a part of the composite cinematic experience.
Fusion in excellence
Composers Stephen Warbeck and Lakshman Joseph de Saram add much needed tone colour to the film with their music scores representing very souls of distinct cultures in the West and the East.
The music captures the essential characteristics of the world which the desperadoes aspire to enter and the world they leave behind.
Almost all the actors and actresses portrayed their allotted characters in a realistic manner.
It is hardly that over acting or real-life-characters of the cast is manifested in portraying diverse characters. It is clear that actors and actresses had done their homework well and really got into the shoes of the characters.
Malani Fonseka (Manoj's mother), Hemasiri Liyanage (Manoj's father), Saumya Liyanage (Angry Foreigner) and Dhamitha Abeyrathne (Post Mistress) though played minor roles, portrayed their characters well.
Dharmapriya Dias as Stanley and Gihan de Chickera as Manoj stand out among the cast and it should be mentioned here their portrayal of characters is natural. Irangani Serasinghe (Auntie Magie) shows natural portrayal.
Mahendra Perera as Ruan will incise in the minds of the viewers as it is one of the lively characters which really represents a crook and master conman.
Gihan de Chickera has demonstrated that he is quite capable of expression complex emotions through the manipulation of facial expressions. This is proved on many occasions throughout the film.
Morale message
All in all, Machan stands out as one of the best productions in the contemporary Sri Lankan cinema which discusses a serious social issue in a humorous way.
It should be an eye opener for developed countries in taking a more sympathetic approach towards tackling issues of 'illegal migration' (it does not mean that 'illegal migration' should be promoted) as well as for politicians to stamp out abject poverty which compels under privileged segments of the population to migrate to the West by illegal means often risking their lives.
Politicians in developing countries like Sri Lanka should not exploit those impoverished segments of population as slum dwellers to achieve their ends. Instead they should be empowered so as to guarantee them, at least, optimal conditions for them to lead a decent life in their land of birth.
It is a film that every Sri Lankan including politicians and policy makers should watch in order to understand the plight of less fortunate citizens of Sri Lanka.
The film is shot in Sri Lanka and in Germany. The German crew and actors also portray the important segment of the story which takes place in Germany. Machan is produced by Prasanna Vithanage, Conchita Airoldi and Uberto Pasolini. The cast include Dharmapriya Dias, Gihan de Chickera, Dharshana Dharmaraj, Namal Jayasinghe, Sujeewa Priyalal, Dayadewa Edirisinghe, Mahendra Perera and Saumya Liyanage. Machan is also nominated for the Venice Film Festival 2008 which is one of the most prestigious film festivals in the world.
---
The Whale - a unique theatrical experience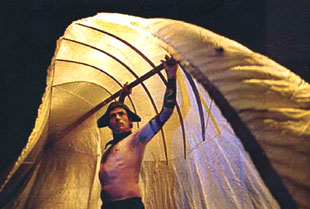 Herman Melville's classic tale of one sea captains epic pursuit of "The Whale" will be presented by the American Embassy's original theatre direct from New York. Actor Carlo Adinolfi will perform an innovative one-man adaptation of 'the whale' on August 22 at 7.30 p.m.
The show will be held at the British School, 63, Elvitigala Mawatha, Colombo 8. Entrance to the show is free! Passes are available at the American Centre, 44, Galle Road Colombo 3 and the British School. Addition passes for the performance will be available at the door on a first come first serve basis with limited availability.
The Concrete Temple Theatre from New York and its artistic directors will be sharing their writing. Puppetry and performance abilities in four workshops for young Sri Lankan students both in Kandy and Colombo.
The Whale is a unique theatrical experience, not to be missed. Carlo Adinolfi using only his body, voice and an extraordinary collection of hand-crafted and rigged props to create life on a whale ship invokes a variety of storytelling traditions to turn the stage into a raging sea.
With direction by Renee Philippi, dramatic lights and staging by Casey Mc Lain and original music by David Pinkard, the effect of one man embodying this enormous literary epic in sixty minutes is both playful and profound. Pic. Carlo Adinolfi.
---
Narthana Rekha
Uthum Liya - 2008 awarded Miss Nadeeka Jeewanthi Samarakoon who trained dancing at Miranda Hemalatha Kala Ashramaya is now preparing to hold her solo dancing concert at the John de Silva on August 21.
In 2004 Miranda Hemalatha presented the "Diriya Narthana" concert at the BMICH with the participation of two mentally retarded children Uditha Kumara and Yasas and focused the much attention and application of the Audience on them this time she expects to showcase the talents of these children by presenting a solo dance concert of mentally retarded girl for the first time in the history.
At present Nadeeka Jeewanthi works as an Assistant Teacher at Ladies College, Colombo. In addition to dancing Nadeeka is capable of cooking, and preparation of different dishes, sewing and crocheting. She has shown a progress in her reading, writing and comprehension skills.
---
Albert Sassmann in Colombo and Kandy
Internationally renewed musician Albert Sassmann will perform in Colombo and Kandy on August 23 at Goethe Institute at 7.00 p.m. and on August 24 at the EOE Pereira Auditorium, Engineering Faculty, and University of Peradeniya at 6.30 a.m.
---
Exhibition of paintings
The exhibition of paintings by Dianthi Wijeratne and Nadine Madiwaka will be held on August 23 and 24, 2008, at the Lionel Wendt.