15% VAT on water - Hobson's choice - NWSDB
The National Water Supply and Drainage Board (NWSDB) had no alternative but to impose the 15 per cent VAT on all consumer categories to cover the expenditure, said an official of the NWSDB.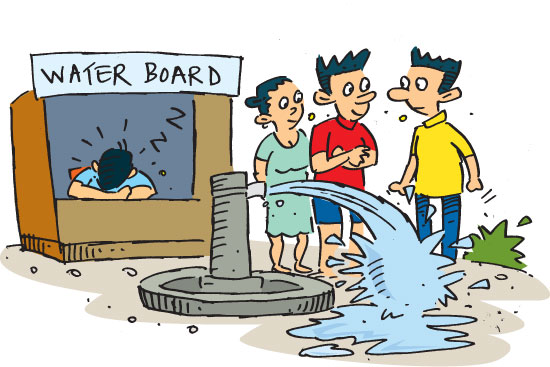 The NWSDB did not impose the VAT earlier on consumers using less than 15 units per month. The call by the Inland Revenue Department to impose the tax on all consumer categories compelled the Board to introduce the tax to all consumer categories.
Though the NWSDB did not impose the tax earlier it had to bear the cost and pay the government.The loss from arrears to the Board is Rs. 300 million a year. "The NWSDB cannot bear the cost on fuel, labour and transportation which is growing at an alarming rate. We need to meet our overhead costs and transform the institution to a profit making one", he said.
When asked whether the Board will include the arrears to the water bills in the future, he said the arrears will not be added.
The NWSDB in the recent past has come under severe criticism for mismanagement, inefficiency and corruption. The number of complaints about the lethargic officials who delay to attend to public needs has increased. Complaints about damaged pipelines and public taps often fall on deaf ears. Bribes and favouritism are the guiding principles of many officials in the institution.
A senior tax consultant said that this was not a new tax as it had been introduced by the Water Board. Earlier consumers who used over 15 units were liable to pay a 15 per cent tax but now all consumers will have to meet the payment.
"This move shows the financial constraints of the Water Board and its inability to meet its costs and targets. People have given a mandate to the government and there is no option but to face the situation," he said.