Technology
Computer hardware market grows around 25% annually - PC House chairman
A young seaman who sailed around the globe saw countless business opportunities emerging in the globalising world. He grasped the IT business and started assembling PCs.
PC House, the small venture he started 11 years ago has now grown into the largest computer hardware vendor in the country with a skyscraper headquarters building in downtown Colombo, widespread distribution network with 48 branches and own branded PC Panora.
S.H.M. Rishan, chairman, PC House (Pvt) Ltd who reminisces the past says that the assembled PC with pirated software slashed the PC price and contributed to the growth of the IT sector in the country.
Following are excerpts from his interview with the Sunday Observer.
The computer hardware market in Sri Lanka is vast and highly competitive.It is growing by around 25% annually. Assembled computers hold 60-70% share of the market and the rest by branded computers. All renowned global brands are available. PC House holds a 25% share in the assembled computer market.
As mobility became an important factor there is a shift in the market from PCs to laptop and notebook computers. With the advancement of technology the price of notebook computers dropped.
Earlier a notebook computer was sold at over Rs.100,000 and today the lowest price is around Rs.60,000.This price decline has boosted the notebook market. In 2007 it was estimated that around 10% of the computers used in Sri Lanka were notebooks and today it has increased to 30%.
Rishan said that in the future the notebooks would overrun two-thirds of the PC market and PCs would be limited to a few industries such as designing and desktop publishing.
The assembled computers are very important for a developing country such as Sri Lanka due to many reasons. Firstly, it is affordable to the masses as it is 20-30% cheaper compared to branded computers.
Secondly, you can buy your PC with all specifications that you need. Therefore, you can obtain a PC to match your requirements as well as your budget.
There is also no significant quality difference if you purchase the right assembled computer. All the hardware components such as processor, motherboard and hard disk are manufactured by the same manufacturers mostly in China. Today even the assembling of the branded PCs are off-shored and done by, third party companies. The mother companies do only the marketing.
The only issue was the pirated software that was used in the assembled PCs. However, today the situation has changed and with strict IP legislation enforced in the country vendors are using genuine software. You can choose software as well to match your requirement and budget. For instance, the Windows Vista operating system has different versions from Vista starter at $ 25, Vista home $65, Vista Premium $90, Vista business $140 and Vista ultimo $200. One-third of the cost of a computer is the software cost.
Rishan said that there are huge benefits in using genuine software. It enables the user to upgrade the software through the internet. The genuine software also provides various security features free.
On the other hand we should protect and respect the IPs, as the country is on a rapid growth in the IT BPO industry and engaged in R&D.
The government has waived the tax on computers and it is a very prudent policy decision. There are tangible results of these policies and the IT sector is growing fast. Though there are environmental concerns, the import of used computers is also important at present. This is because poor students too can afford a computer and they do a lot of innovative things, with those machines. As a developing country we should use all resources to develop our capacity.
Talking about PC House, Rishan said, "I started this business in 1997 and we are successful in the hardware business. Today PC House is the largest PC vendor in Sri Lanka".
We have diversified our business today and we are in different sectors. Four years ago we entered the software industry. We have a partnership with Reliance India in managed service business. We started hosting and data storage business that facilitates other business. In the software business we have clients in UK, USA and Australia, Rishan said.
---
ACBIT ties up with EC-Council
The AIMS College of Business and Information Technology (ACBIT) has taken an initiative to introduce a Master of Security Science degree course for the first time in Sri Lanka for students who want to assume leadership positions in the information security arena.
The AIMS College of Business and Information Technology (ACBIT), a subsidiary of AIMS Holdings and Information Technology tied up with the International Council of Electronic-Commerce of the USA (EC-Council) to launch Sri Lanka's first Master of Security Science Degree course.
The program is concerned with the design management and implementation of network management and implementation of network security in corporations and public and private computer net works. Chairman, ACBIT Kithsiri Manchanayake said that Cyber security is of vital importance in today's business world and experts are in great demand.
---
ASUS introduces Bamboo Notebook 2008
Epsi Computers, authorised distributors for ASUS in Sri Lanka has introduced the Eco-friendly ASUS Bamboo notebook in Taiwan.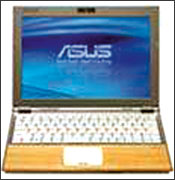 ASUS is a leading company in the new digital era. With a global staff of more than eight-thousand and a world-class R&D design team, the company's turnover for 2007 was 6.9 billion US dollars.
ASUS ranks among the top 10 IT companies in Business Week's "InfoTech 100", and has been on the listing for 11 consecutive years. ASUS was also selected by the Wall Street Journal Asia as No.1 in quality and service in Taiwan.
Group Product Manager, Epsi Computers, Sankha Jayaratne, said that ASUS, a leading company in the new digital era, has brought forth a new concept line that focuses on alternative material design aimed at helping save the earth. ASUS is committed to green computing, and this new lineup of concept products serves to keep users in touch with the future of environmentally-friendly technology.
He said that the concept Series a Mix of the Old and the New stands for the continuous commitment to bring cutting edge products that are sensational in all senses and forms.
In nature, bamboo carries a touch of spiritual warmth with its unique tactile surface and its refreshing fragrance.
In the Chinese culture, this unique character symbolises a serene wisdom that takes the soul through a journey of aesthetic realms. It's this poetic quality of bamboo that the ASUS designers strived to convey in our product designs.
With limited resources and ever increasing demand, it is vital that everyone - consumers and hardware providers included; strives to protect the environment in every possible way. ASUS' commitment to green computing has resulted in the research of alternative materials in its production of components and products. With such innovative technologies, ASUS has created an image of the future for computing - showcasing environmentally-friendly designs for notebooks, LCDs and Mini PCs with bamboo as an alternative material in the manufacturing process.
---
Abans partner Lumen Technologies for Xerox products
Lumen Technologies Ltd, authorised distributor for Xerox in Sri Lanka recently appointed Abans Ltd as a partner for Xerox products.
Abans will henceforth showcase a range of Xerox products throughout its strong branch network islandwide.
Lumen Technologies currently markets Xerox products and services including copiers, printers, scanners, fax machines, document management software and related supplies throughout Sri Lanka. Its imaging product lines include colour and monochrome models, and range from small office printers and copiers to large scale production presses.
The company also provides consulting, outsourcing services, data storage and complementing products and solutions to its core businesses.
Chief Operating Officer of Lumen Technologies Rukshan Sheriff said that the vast coverage Abans commands across Sri Lanka was the main reason for this tie-up. "I am confident that this partnership will afford customers islandwide more access to the Xerox brand".
Director Abans Ltd B. Pestonjee said, "I consider it a privilege to tie up with a world renowned brand of the stature of Xerox. With this partnership we are undoubtedly enhancing our product range, by taking a step forward with Xerox, a brand known the world over for its innovation".