Business travel
Deccan to meet needs of domestic tourists
Ready to assist in oil exploration projects: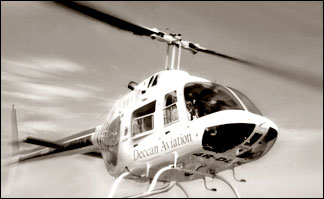 Deccan Aviation Lanka is ready to enhance its fleet to meet the needs of the domestic tourism industry and assist in oil exploration projects.
CEO Aviation Aerospace, Denham Schokman said Deccan operates a helicopter and a fixed wing aircraft to cater to the current market requirement.
Since starting operations in 2004 our reach has grown to cover a range of aviation related businesses in Sri Lanka and in the region.
"Though the tourism industry is down due to the drop in the number of arrivals, the company has been able to sustain business as a charter operator. Deccan's tie-ups with overseas private flight operators will help to expand its aviation activities", he said.
Schokman said the up-market sector of the tourism industry developed in 2002 and 2003 but due to the tsunami the industry was hit badly and Deccan had to transport VIPs.
The company operates a 17-seater Beach 19100 fixed wing aircraft which flies 10 times to Jaffna and twice to the Maldives per week for First Choice, a UK company.
The aircraft could fly non-stop to the Maldives or India while being able to take off and land in most airstrips in Sri Lanka.
The Bell 206 B3 Jet Ranger, the four-seater helicopter caters to the needs of domestic tourism.
The Favourite Group has entered into a partnership with Jet Charter Asia, a company in Singapore to transport patients as a charter operator for medical evacuations.
The Group has also tied up with Best Air of Bangladesh to coincide with the 15th SAARC Summit to connect Dhaka and Colombo with direct air services.
The Embassy of Bangladesh issues around 400 to 500 visas per month for Sri Lankans to travel to Bangladesh. Best Air flights connect Male, Bangkok and Colombo.Deccan Aviation Lanka is a joint venture between the Favourite Group and Air Deccan Kingfisher Group, India's largest airline operator.
Deccan Aviation Lanka is the only helicopter and fixed wing aircraft operator in the country.
---
Condor to boost German travel to Lanka
Condor Airlines, the Charter operator of Germany will resume its winter operations to Colombo from November.
"Condor's uninterrupted operation every fortnight to Colombo will ensure a steady flow of German visitors to Sri Lanka," said Managing Director, SLTPB, Dileep Mudadeniya.
"Sri Lanka Tourism having agreed to provide concessions in landing and handling charges, are currently engaged in discussions with Condor and their local agents Walkers Tours to carry out a joint marketing campaign to boost consumer sales to Sri Lanka," he said.
Condor, owned by Thomas Cook AG, has been flying to Sri Lanka continuously over the past decades and is a symbol of confidence for German travellers.
Sri Lanka Tourism will also conduct special joint promotions with Condor such as teaser campaigns, info banners, advertising campaigns, video on board and in-flight magazine highlighting tourist attractions in Sri Lanka.
---
Lankan and Indian cricketers hosted at Cinnamon Lodge
Cinnamon Lodge, Habarana gave the Sri Lanka and India cricket teams a taste of its inimitable indulgence during their stay at the resort hotel.
Located in the heart of the world renowned Cultural Triangle and surrounded by three nature reserves amidst manicured gardens and lawns with magnificent, ancient trees giving it shade, lies the Cinnamon Lodge.
With excellent gastronomical fare and a personalised service, the venue was a perfect getaway for the two teams that needed to unwind before the start of a competitive five-match ODI series.
The teams were welcomed at the hotel by dancers and the lighting of the oil lamp.
They enjoyed relaxing at the resort and many commented on its beautiful location and picturesque scenery.
The players also maintained their rigourous fitness schedule, by working out at the gym.
The highlight of their stay was a lakeside cocktail and barbeque evening hosted by Jayantissa Kehelpannala, Executive Vice President - John Keells Holdings and Sector Head - Resort Hotels, at the Sooriya Sevana, Cinnamon Lodge. Officials from Sri Lanka Cricket, umpires on the tour, Ambrish P. Jain, COO, IDEA Cellular Limited (of the Aditya Birla Group, the main sponsors of DEA Cup 2008) and Mrs. Jain were present.
Jayantissa Kehelpannala said, "It was an absolute pleasure and privilege for us to host the two teams at the Cinnamon Lodge.
This has been long, tough and surprising tour and we thought it would be a welcome break for them to relax away from the hustle and bustle of the city at a sanctuary such as this.
---
Hilton Colombo - 21st birthday bash
Hilton Colombo will hold its biggest, most anticipated celebration yet - their 21st birthday bash on Sunday, September 21, from 6 p.m.
Marketing Communications Manager of the hotel Gigi De Silva said that in the lead up to this massive celebration, the hotel will transform their sports centre complex into a spectacular setting where guests can indulge in an evening of food, entertainment and enjoy a carnival atmosphere.
"There has never been a party like this in the country before", she said.
At the spectacular celebrations, guests will be able to feast on a mind boggling 21 varieties of cuisines from across the world.
The multi-award winning chefs from the Hilton Colombo will put together this scrumptious selection of authentic dishes from countries including Japan, China, Germany, France, America and Italy, among others.
Guests attending the 'Big 21' will also be treated to the very best entertainment acts in Sri Lanka, with favourites Marians, Iraj, Centigradz, Chinthy, Ashanti, Natasha, Phase 3, dancing stars Dushyanth Weeraman and Hashini and the World Choir Champions Revelations signing up for the event.
General Manager of the Hilton Colombo William Costley said, "We've had a great 21 years here in Colombo and we have always wanted to provide our guests with the very best in hospitality. As such we intend to make the Big 21 a truly spectacular and memorable event; the biggest of the year.
"I must thank the entire team for their tremendous dedication and commitment throughout the year. They have done an amazing job of coordinating a celebration of this magnitude.
It has taken six months of planning to create the six hours of fabulous entertainment for our 21st anniversary in Sri Lanka and we want everyone to remember it!".