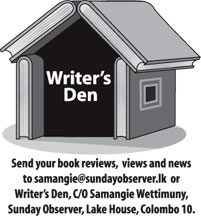 A study of lasting value
Critical analysis of the epic Janaki Harana:
'Janaki Harana Pilibada Vicharathmaka Adyanayak' (A critical Study on Janaki Harana) by Ven. Lenagala Sirinivasa Thera is a study of lasting value as the author looks into many aspects of the Sanskrit epic Janaki Harana by poet Kumaradasa.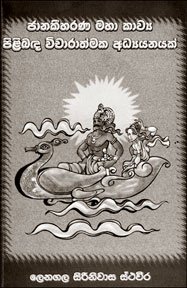 Though Janaki Harana is one of the jewels of Sanskrit literature, the author pointed out that it is strange that a comprehensive and critical study on Janaki Harana has, so far, not been done. The epic is made up of 20 sections containing 1425 stanzas (Slokas) and is based on Valmiki's Ramayanaya.
The book grotesquely describes the rescue of Princess Sita from Ravana following a fierce battle and taking her back to Ayondhya where Prince Rama's coronation ceremony was held.
The study is divided into three sections; the first chapter describes the biography of Kumaradasa, his nationality, period in which he lived and his myriad personality as an intellectual and the second deals with the salient characteristics of an epic, the plot associated with Janaki Harana, a study on the depiction of pricipal and other characters, zest, language and style and sub-plots.In the third chapter, the author presents an analysis on the socio-cultural backdrop against which Janaki Harana was written.
At the end of the study the author arrives at a conclusion on the significance of the great work in Sanskrit literature.One of the interesting chapters in the book is the one which describes the salient characteristics of an epic. This is of universal value as the principles and characteristic that constitute an epic is applicable to any work of art irrespective of time and language and the socio-economic backdrop against which the work of art is made.
The work at hand should be neatly divided into sections and should not contain any vulgar expressions.An epic should also be written in an elegant style with a philosophical message in it. An epic according to Sanskrit literature should also describethe defining moments of leaders and contained descriptions of state visits, conference and battles. It has also pointed out that epic should generate diverse zests.
The author concludes the work with a striking sentence describing the epic as the only Sanskrit epic written by a Sri Lankan which is only second to Khalidasa's Raguwansa.
"Janaki Harana is a great work which depicts Sri Lankan as well as Indian cultures" states Ven. Lenagala Siriniwasa Thera.
This is perhaps the most comprehensive study done on Janaki Harana, a major work in Sanskrit literature, in Sinhala.
The author has intensively gone into the myriad aspects of Sanskrit epic and the details of the author, his personality and knowledge spreading into many disciplines not only shed light on the life and times of Kumaradasa but also the rich Sanskrit literature and vast body of works in it.
Ven. Lenagala Thera has done the critical study in a simple diction without using didactic language and complex structures. Technical terms in Sanskrit have always been described in simple Sinhala so as to avoid any misunderstanding on the part of the readers.
'Janaki Harana Pilibada Vicharathmaka Adyanayak' is a must read for all Sinhalese scholars and those who are engaged in production of works of art in any medium, and would be an informative read for general public.
---
'Colombo Poet' returns to the scene
I wonder whether I am qualified for this task of assessing a Sinhala poetry book. I hold a doctorate not in literature but in Chemical Engineering awarded by Martin Luther University-Halle-Wittenberg, Germany. But I couldn't suppress my temptation to pen these few lines on Sundas Poetry Book named Ehetuwewa authored by Mr. W.P. Somawardana.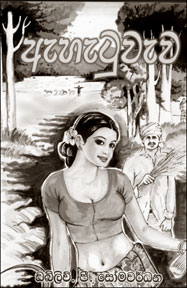 Though I left my mother-country for my higher studies in the late 60s, we used to read much poetry at school, written by Colombo poets like P.B. Alwis Perera, Meemana Premathilaka, Keyas, Kudaligama and so on and so forth. We enjoyed their poems thoroughly. When I came back to Sri Lanka after many years to spend my retirement peacefully, one question always haunted in my mind, when I read present day poems.
"Where have those Colombo Poets gone?" and I was amazed when I found such a poet when I read Ehetuwewa which is quite a replica of those of Colombo Poets. The booklet contains 30 poems written in such a way that even a layman could understand and enjoy the deep meaning of the content. I belong to that category since I was out of the country for more than 30 years.
I had no or little opportunities to educate myself in Sinhala literature, but I found his poems are easily understood and quite enjoyable. His combinations of wordings are soft and very smooth and at no instance bothered my mind.
Many feel that using high level language or wordings reflect some one's intellect but I believe it is not the case. What is important is to convey the message through simple wordings and that is exactly what Somawardana does.
By going through the poems, I realised that many are his lifetime experiences. In many of them he had taken the shortest way to explain his story whereas many would have taken you for a long ride and come to the point. He is very generous in thanking all those who contributed to expand his knowledge. I really appreciate the way he admits the influence he received from the Colombo Poets such as 'Keyas' and Sri Chandrarathna Manawasinghe."
The book contains very beautiful and meaningful sketches too for each and every poem. And the dates the poems were written also stated. I noticed that in the Introduction, Professor Chandrasiri Palliyaguru, names 'Vevara Landey' as one of the poems he admires much. The reader can excuse Somawardana for writing such a romantic poem not now,but at his prime youth as revealed by the date on which it was written.
It seems that Somwardana has started his career as a teacher. His first posting was at Ehetuwewa the name of the book and in it, I read with interest his 3 months stay. His explanations are such that you could visualize the school, surrounding, nearby village and the activities of its people.
He also writes about his departure well in Samu Ganeema. I found his Sinhala Avurudda very delicately written where we could visualize the experience we had in the 70s in Sri Lanka.I particularly liked Poojawa and felt that he could have built it up to a long story. Some other interesting poems are Dadayame Giya Samiyata, 'Ahimi Vu Surathe Kathawasthuwa' and the translation to Robert Frost's poem. In general, all these poems dealt with some romantic topics and explanations and their meanings could easily be understood.
---
Sri Lanka in pictures
In an attempt to highlight the best aspects of Sri Lanka and the glory that it has to offer, the New Holland publishing company has released a pictorial creative collection of the wonders of Paradise Isle. Enlisting the services of photographer Gehan De Silva Wijeyeratne, the journey around Sri Lanka transports us from the ancient ruins of Anuradhapura to the green foliage of Sinharaja forest and everything in between.
It is a collector's item for it gives the curious traveller hidden treasures that will stun anyone who isn't familiar with the Pearl of the Indian Ocean. The delightful images are organised in an easy and comprehensive manner with sections labelled 'The West', 'North of Colombo', 'North Central Province', 'Central Hills', 'Highlands' and 'The South'. This book gives an insight as to where travellers should go.
New Holland's goal is to accelerate the development of tourism in Sri Lanka as a destination, which goes beyond beaches because of a diverse culture and breath-taking biodiversity. 'The Portrait of Sri Lanka' will help position Sri Lanka as a must-see destination with vast ancient metropolises, big game and beautiful scenery.
---
Once upon a time....
Though with advancing age we realise that the incidents we come across in fairy tales are far from reality, even as adults we would love to return to the same stories as they are fantastic stories of which we never tire. The memory of fairy tales always takes us back to our past when we fully believed in what we read!
Fairy tales are clearly a distinct genre. Amidst more influential genres of literature such as novels, poems, or short stories, fairy tales have always been able to retain their celebrity status throughout the centuries. They however did not have a 'fairy tale' beginning, though today we always use the term to connote something blessed with unusual happiness.
Way back in history the term "fairy tale" was ascribed to them by Madame d'Aulnoy.Ironically the nature of a tale does not depend on whether fairies appear in it. As English novelist and journalist Angela Carter in her introduction to Virago Book of Fairy Tales mentions that many of the famous fairy tales do not depict fairies at all.
Fairy tales have been classified in various ways, the most significant classifications being the Aarne-Thompson classification system and the morphological analysis of Vladimir Propp. Prop had always been critical of the common distinction between fairy tales and animal tales in his "Morphology of Folktale".
As he says many tales contained fantastic elements as well as animals. The oldest known written fairy tales are said to be from ancient Egypt. Today, fairy tales is a popular genre in written literature throughout the literate cultures.
It is in fairy tales that we come across fairies, goblins, elves, trolls, witches, giants and talking animals, but we never question their presence. Historical time is immaterial in fairy tales- they are not of a place, not of a time , but "once upon a time " and would never become 'stale'! They always have a happy ending as almost everything turns out for the best for the hero or heroine.
Two theories of their origin have attempted to explain the common principles in fairy tales that are popular around the world. One theory is that a single point of origin generated any given fairy tale, which then became popular around the world. Next is that common human experience provide the themes for these tales, so that they can appear separately in many different origins. It was only in the 19th and 20th centuries that the fairy tale came to be associated with children's literature. At the beginning, they were meant for adults as well.
Almost all the fairy tales give us a moral in the end.The moral "Cindrella" leaves is that beauty is a treasure, but graciousness is invaluable. A person can achieve anything if he/she is blessed with that. Without graciousness, nothing is possible! "Beauty and the Beast" shows us that true love can do miracles! The prince who was turned into a hideous beast by a fairy to take revenge as he refused to let her in from the rain, could break the curse only by finding true love.
Throughout centuries fairy tales like Little Red Riding Hood,The Bear, Hansel and Gretel, Snow White, The Pied Piper of Hamelin, The White Dove, The Blue Bird, Ali Baba and the Forty Thieves, The Golden Bracelet have been entertaining children across the world. Gender, race, caste or class were never an obstacle to enjoy them. One major reason for the undiminished fame could probably be that it is only in fairy tales that virtues are 'definitely' rewarded.
---
Teen author Lishan, a guest speaker at the World Book Fair
Teenage author Lishan Perera was invited as a guest speaker at the World Book Fair 2008 which was held in Singapore recently. His debut novel was 'The Killer' (2006). He is also the author of 'Time to Die' and 'Pure Evil'. His short story "In the Hands of Fate" was selected to be published in a Daily News anthology. Lishan's novels are available in number of countries such as Singapore, Malaysia, Hong Kong, Vietnam and Indonesia.