Missing jewellery unveils 'love' story
Efforts of Kadawata police pays off: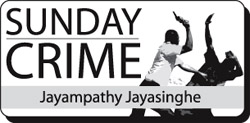 jj@sundayobserver.lk
August 20 was unusually a busy day at the Kadawata police station with so many persons calling over at the police station to lodge complaints and to meet the Chief Inspector M.K.R.K. Guneratne, OIC of the Kadawata police station regarding matters pertaining to land disputes and serious crimes such as thefts and burglaries of their households.
People usually came to see him in the evening hours as it was the most convenient time for them after finishing the day's work. However it was a routine for the OIC concerned to meet people at his office and discuss their problems and to hear progress of their cases especially when suspects were not arrested by the police.
It was around 7.15 pm when a respectable looking couple walked into the OIC's to make a complaint which they lodged that day at the Kadawata police station. It was regarding the theft of gold jewellery worth Rs. 450,000 stolen from their home. Both the husband and his wife looked as a couple who maintained a facade of respectability in married life, but looks could be deceptive, thought OIC Guneratne.
However the complaint they lodged appeared to be genuine one at first. But after OIC Guneratne, along with other policemen including OIC Crimes, Inspector Perera, Sub Inspector Nalaka and Police Sergeant 18890 Panditharatne were a bit sceptical of what took place, after visiting the couples home at Kadawata.
Who could have removed the jewellery, a thought flashed across the mind of OIC Guneratne. The policemen were surprised to find out that there wern't any finger or foot print marks of the burglars at their home. This was told to them by police Finger Prints experts after dusting the cupboards and the almirahs at their home.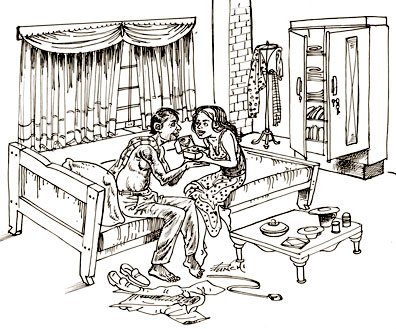 According to the Police Media Spokesman, SSP Ranjith Gunesekera, the Kadawata police worked tirelessly on this case to unravel the mystery behind the missing gold jewellery. The value of the jewellery was a staggering amount for them to ignore. It was a grievous crime according to statute books.
They had to work fast to get at the jewellery before it was sold to a goldsmith who could melt it down to erase its identity. But days rolled by without a clue at sight. But a few days later OIC Guneratne was tipped off by an informant that the woman who lodged the complaint about the missing gold has had a extramarital tryst with a trishaw driver in the area.
The policemen were dumbfounded when they heard the story. They simply could not believe that a respectable married woman in her early thirties with means was having a whirlwind of a romance with a Trishaw driver. After all her husband held a high position in a corporate establishment.
Following the tip off, police worked on the case and traced the trishaw driver. They questioned him at length and learnt about the missing gold jewellery. The trishaw driver in his early forties finally confessed to police about his passionate liaison he had with the married woman. He told them that he met her casually sometime ago and cultivated an illicit love affair.
However the affair had gone unnoticed by her husband. The Trishaw driver further told police the woman summoned him by telephoning when her husband was away at work. Thereafter they used to make love quite often in this fashion, he said.
According to Kadawata police, the woman had been obsessed with the man. She had a sexual relationship with him, fed him and gave cash for his daily expenses. So much so that she did not allow him to leave home to earn a living. One day the woman had suggested to break open her husbands almirah and steal the cash.
Thereafter a false complaint would be made at the Kadawata police station about the theft, she said. As the plan did not materialise she gave away all her gold jewellery to him on several occasions. She knew that he was a poor man. However when the woman was confronted by the police she spilled the beans. She said the man was her paramour.
Finally she confessed everything to the police. The dark truth buried under layers of silence surfaced. She said the gold jewellery was given away by her voluntarily. Police later recovered the gold jewellery that included seven bangles, two gold chains, four gold rings, four bracelets, etc.
Several pawn receipts found in the possession of the paramour were also recovered by the police. The suspect trishaw driver was later produced in court and was remanded pending completion of inquiries.
According to sociologists when matrimonial vows are broken more often by spouses these days than ever before with alarming frequency. According to Janus report on sexual behaviour more than one third of men and one quarter of women admit having had at least one extramarital sexual experience.
The report says that marital infidelity often destroys marriages and families and leads to divorce. Although marriage has been considered as sacrosanct adultery had been committed by spouses throughout history. The seventh commandment says "Thou shall not commit adultery".