Forget gender in business
You have studied in Sri Lanka and in France. Tell us about your school life...
I started at Sirimavo Bandaranaike B.V. Since they had only upto Grade five, I had to move over to Ladies College, where studied from Grade 6 to 9. When my father got a post, posting to Paris we had to leave for France and stayed there for two and a half years. I did my O/Ls at the British College in Paris. When We returned to Sri Lanka I had to re-enter the Ladies where I did my A/Ls and then got selected to the Faculty of Law, at the University of Colombo.
You have no paper qualification in marketing or advertising, except in law. Why did you switch over to a completely different field?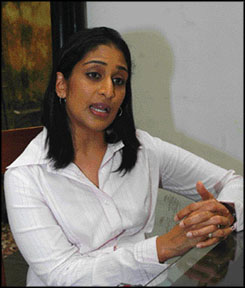 Varuni Amunugama Fernando
of 'Triad'.
My partners of this business also studied law with me. During the second year at the university, we decided to start some business or other on our own since we had missed quite a few years at the university, which was closed down at a stretch due to several political problems. During that period I worked at 'Phoenix Advertising' where I learnt the basics in advertising. We decided to enter into the arena of advertising. At that time advertising was not very much advanced or popular and there were only few avenues. We wanted to deviate from tradition and do something innovative in the field of advertising.
Another major reason was that it didn't require a huge capital to start and run an advertising firm. A person's skill, creativity, and hard work are the requirements to come up in business. That cannot be measured in monetary terms. Though we didn't have a big capital, to invest it was not a big challenge for us.
How was the name 'Triad' derive and how did you start the company?
There were two other partners with me initially. They were Ishini Wickremasinghe Perera and Dilith Jayaweera. The name "Triad" was given to imply a powerful threesome. At the beginning we started as a suitcase company. At the initial stage we didn't have a big capital or a proper premises to set up business. We started our firm 15 years ago in 1993.
How did you find the capital?
We really didn't need a big capital at the beginning. When we started, we didn't need the capital because advertising operations were such that we earned money by communicating with clients to find solutions to their marketing problems.
Since initially we didn't have sufficient resources like people, capital or equipment, but we worked with freelancers. At the beginning we would go and canvass a job from our clients and then we got it sealed by our freelancers. When we received payment, we settled with our freelancers and the balance was invested for another job. That way we carried on with it on a rolling basis.
When you earned from the business, how did you handle them?
We invested and saved the money we earned. We didn't unnecessarily withdraw money other than for official purposes, such as training people and development purposes and not for our personal expenses like food and clothing.
I think the reason for our success in this business was that we were financially disciplined. I can still remember the turning point of our business within the first year when we managed to save Rs 1.5 million. And that was the time we opened a bank account in the name of our company.
Are your partners still in business with you?
At the beginning, Ishini Wickremasinghe Perera, Dilith Jayaweera and myself were the partners. Although Ishini left the company after a short while, Dilith and I stuck with the business for the past 15 years. But our friendship with Ishini still remains the same.
The name 'Triad' remains intact too?
Yes. Though it's now run by two we didn't want to change the original name. Two of us, Dilith and if are the managing directors of the company.
Do the Managing Directors of the 'Triad' differ from those of other companies? Our company has a very flat hierarchy. Though we've the MDs, unlike most of the companies, our position is not confined to just sitting in the office room and signing documents.
Though, we are MDs we are involved in running the business as executives. Due to that reason perhaps, unlike other places, here everyone works as one team with a high level of team spirit. There's no big gap between the people who own the 'Triad' and the people who work under them. This is like one big family. 'Triad' has around 90 employees.
Don't you find it difficult to work with your staffers when you treat them as friends?
No, both the Managing Directors are enjoying it. It's a unique culture. There's a pleasant situation at office. We don't like to draw long faces before our subordinates or growl at them to get things done. Advertising requires a high-level of creativity. In order to bring out that creativity hidden in them, they should be treated in a pleasant manner.
We have cordial relations and a pleasant atmosphere at the 'Triad'. Back biting, carrying tales and all sorts of negative behaviours and attitudes are highly discouraged.
But people's attitude differ from one person to another. And they all come from different background. So, isn't it difficult for you to manage with their behaviour at the 'Triad' with people of diverse attitude?
We all started the job as amateurs. Everyone studied the profession by being in the job. Even if someone joins our company from another one, they easily get adjusted to the atmosphere here because of that culture at the 'Triad' is very strong. Even those who have left 'Triad' speak of 'Triad' as a home, not as an office.
Do you have any subsidiary companies?
Yes, 'Triad' is the mother company and we have subsidiaries in photography, printing. TV production etc. Although those operate independently.
What is the connection of 'Triad' to 'Derana' TV channel?
Triad is the investor of 'Derana', whereas 'Derana' is operated on its own without 'Triad's interference. Though my business partner and I are the owners of Derana, unlike most TV channels or media houses, we are not involved in the 'Derana' operations. Because we honestly believe that, if we interfere, they'll be unable to carry on their tasks in a proper and planned way. Then there would not be much creative works; they would just be followers of our orders.
Media have to be independent in order to be unbiased and to be successful,which will interest more people.
Since 'Derana' consists of qualified and dynamic panel of professionals, we do not have to worry.
What is the method you follow when it comes to decision making; you make decisions on your own or you consult someone else?
If you take any company for example, it should have a leader like wise we too have a leader at 'Triad'. Dilith, my partner plays the leader's role and I give a supportive role to him.
We have a management team for different departments. Any decision would be taken by the management and they would forward the proposal to us. We always make decisions as a management team.
You count over 15 years experience in the advertising field. You'd have been probably confronted with challenges as a woman.....
Advertising industry requires working 24x7, unlike a teacher, a woman working at an advertising agency cannot report to work at 8.00 a.m. and then set off at 1.30 p.m. or as in any other profession by 4.30 p.m. It's a challenge for a woman to balance her family life and the profession. I have been working with the motto that I have to make sure my family is doing well.
According to the Sri Lankan culture, for a woman, the homefront is very important. I had to attend to family requirements. When the work at office demands a large chunk of time, it really becomes a challenge to a woman. At such times I had to make choice.
I have been most of the times, able to give priority where it's due and leading a life in a Sri Lankan way. I have been able to successfully face challenges which came by my way.
When a woman enters the business arena, what are the qualities she should have in order to be successful in her role?
First and foremost you have to forget that you're a woman. Because to be a leader, you don't have to be of a certain gender. When she thinks that she's a woman, that attitude itself would throw her to one corner. She will never be able to improve the business. She has to identify what her target and the work hard at it.
People's attitude in a country like Sri Lanka is more conservative. That may become one of the reasons for a woman to be backward. One of the qualities of a successful woman is that to leave aside those negative comments and go forward to achieve her goal.