Indigenisation of creative capitalism
The very concept of CSR (Corporate Social Responsibility) has been practised in Sri Lanka for centuries which can even be traced back to the glorious days of the hydraulic civilization.
Although the concept was not known in its present form, community's responsibility towards its individual members and vice versa has been emphasised in the unwritten code of ethics practised in the hydraulic civilization which was built on the three cardinal pillars of temple, paddy field and the tank.
However, the earliest pieces of evidence vindicating that the business community patronised social endeavours are found in the Buddhist canons and in the jataka stories. It is mentioned in the jataka stories that Anatha Pindicaa, a wealthy merchant, was the main patron of Buddha. It was Pindica who built Jetavanaramaya, a temple complex for Buddha.
Indigenous practice
Although such patronisation for social activities can hardly be counted as CSR projects, they may have been the forerunners of the modern CSR projects.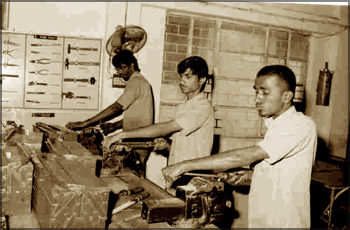 In the agrarian society which flourished under the spiritual guidance of Theravada Buddhism, the practice of helping one another was taught. Accordingly part of one's income was set aside for social welfare, or in other words, to help the community.
In later periods, under the feudal social set up, the landed gentry patronised religious activities and major cultural events in the community.
However, the relationships they had with members of the community, other than those of their class, can not be described as friendly. Under the monarchy, community welfare was either looked after by Ministers in charge of respective provinces or by the elite of the community.
The motive of their contribution to the welfare of the community would not have been to avoid taxation or build up a good rapport with the community or to promote brand names as most of the arch foes of CSR projects claimed to be but to assert their authority over the community by other means.
Tool of social integration
The resurgence of interest in creative capitalism was recently stirred by none other than the Microsoft chief Bill Gates. Gates in a series of lectures emphasised that although capitalism has improved the lives of billions of people, it has also left out billions.
He further argued that as these people who are stuck in poverty due to their inability to express their needs in a way that matters to the market, there is a greater role on the part of the governments and non-profitable organisations in helping them out of poverty.
However, Gates states that the fight against poverty can not be done by the government and the non-profitable organisation alone.
The cooperation should come forward as they have the skills to make innovations work for the poor. Gates states " we need a more creative capitalism: an attempt to stretch the reach of market forces so that more companies can benefit from doing work that makes more people better off. We need new ways to bring far more people into the system - capitalism - that has done so much good in the world. ".
Bill Gates points out that "Today companies like Gap, Hallmark and Dell sell (RED)-branded products and donate a portion of their profits to fight AIDS.
(Microsoft recently signed up too.) It's a great thing: the companies make a difference while adding to their bottom line, consumers get to show their support for a good cause, and - most important - lives are saved. In the past year and a half, (RED) has generated $100 million for the Global Fund to Fight AIDS, Tuberculosis and Malaria, helping put nearly 80,000 people in poor countries on lifesaving drugs and helping more than 1.6 million get tested for HIV. That's creative capitalism at work."
Although Bill Gates theory of creative capitalism emphasizes more on stretching market reach by empowering people on the bottom-line of the market who are often left out, the by-product of creative capitalism at work is social integration.
In other words, creative capitalism integrates more and more people into the system. The principal difference between conventional CSR projects launched by conglomerates and non profitable venture under creative capitalism is that it is not corporate philanthropy.
The aim of such projects is not to donate money for impoverished segments of the population thus making them perpetual dependents but to empower them.
Among the potential benefits that a company can derive from CSR projects are improving public perception on the company and improving business environments.
Companies that have been engaged in CSR projects are on an advantageous position over the competitors as modern consumers are more concerned about ethical business practices than products in a competitive market environment.
Changing faces of CSR
Given the changing nature of CSR projects launched by small and medium scale enterprises in diverse parts of the country, it can be concluded that CSR projects launched were designed taking into consideration of the specific immediate needs of the community.
K.P. Swarnaraj, the immediate past President of the Vauniya Chamber of Commerce, Industry and Agriculture, runs a business in the construction industry.
Northern Province Construction Association and the individual businessmen like Swarnaraj has launched vocational training projects for youth in the area and currently vocational training programmes operate at centres in Vavuniya and Jaffna. Apart from empowering the youth, CSR projects would supply skills needed for the industry.
While the CSR project launched in Vavuniya concentrates on skill development, the one launched in Galle had focused on building bridges among communities.Communal disharmony has become a flash point in areas like Lunuwila in Dewata, where, communal unrest had become the order of the day.
As a CSR project, Reconciliation Committee comprising members from the Sinhala and Muslim communities has been set up in Galle. Galle Chambers of Commerce coordinated by the Business for Peace Alliance (BPA) has joined hands with Reconciliation Committee to maintain communal harmony and peace in the area.
Galle is a case in point where business community's intervention through CSR projects has brought about tangible results in terms of improving conducive business environment in the area.Significant aspect of the changing face of CSR projects is that the projects have been designed to cater to the need of the community.
Lakshman Walapitagamage, an entrepreneur in Dahayagama, Anuradhapura who runs a factory which produces basic machinery like rice processing mills, has been conducting a CSR project where six month's vocational training is given in manufacturing machinery.
Suresh de Mel, owner of the Lanka Fishing Sliced Private Limited, has launched a community based handicapped rehabilitation project, "Navageevana" in Tangalle.
Through the engagement of handicapped or differently able persons in company activities, the CSR project has contributed to change the public perception on handicapped persons.
In addition to the CSR project, through the Hambantota Chamber of Commerce, small and medium scale entrepreneurs have been conducting CSR projects such as patronising religious activities, giving aid to flood and drought victims. It is clear that nature of project is case specific.
For instance, in Hambantota, CSR projects launched by SME sector are aimed at tackling issues relating to capacity building and human resource development.
Suresh points out that networking of regional chambers of commerce through Business for Peace Alliance has enabled the individual entrepreneurs to share the innovative application of creative capitalism in their CSR projects.
CSR at micro-level
Case-specific nature of CSR projects launched at regional level has been a common characteristic in most of the CSR projects in SME sector. CSR projects aimed at building communal harmony and understanding among diverse communities in Kagalle are models of CSR at micro-level.
I.R.A. Chandrasena, who is engaged in production of ornamental pottery in Kagalle, has launched CSR project where industrialists in Kagalle district joined hands in conducting the programme aimed at building communal harmony through social activities.
Religious and political leaders and together with industrialists in the areas like Aranayake, Hemathagama, Rambukkana, Mawanella and Kagalle have launched community activities like new year celebrations with the participation of Sinhala, Muslim and Tamil communities. Reconciliation Committee oversees the project.
In Trincomalee, extra classes have been conducted as a CSR project. Special evening classes are conducted for students who sit for the Year Five scholarship programmes. In addition extra classes have also been conducted for Advanced Level students. The classes are conducted in remote areas of Thampalakamam where pass rate has been very low.
According to K. Tiruchelvam, an entrepreneur in the area, pass rate has dramatically increased since the commencement of the extra classes.Although the CSR remind us of mega donations by corporate giants, time has come to change the entire perception on CSR projects. It is clear that creative capitalism at work at regional level is as effective as at national and international levels.